Low-Dose, Three-Drug Polypill TRIUMPHs for Blood Pressure
A single-pill approach "makes complete sense" say experts, who think this strategy can be adopted by any country or region struggling with BP control.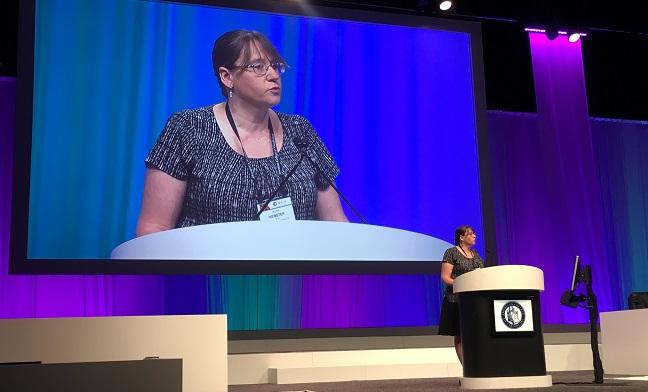 ORLANDO, FL—A polypill combining three, low-dose hypertension medications can achieve better blood pressure-lowering than standard care, the TRIUMPH study suggests.
According to Ruth Webster, MBBS (The George Institute for Global Health, Sydney, Australia), who presented the results here at the American College of Cardiology 2018 Scientific Session, the pill lowers blood pressure swiftly and effectively, without spiking adverse events.
Though the trial was conducted in Sri Lanka, she said, "it strongly supports a strategy of early use of low-dose triple therapy, in all settings. The most urgent need now is effective implementation and scale-up, not just in low- and middle-income countries with the greatest disease burden, but even in countries such as the US . . . where you still have pockets in high income countries where targets are not being reached." 
Getting Low
Current guidelines recommend dual therapy for patients with blood pressure > 20/10 mm Hg above target and triple therapy for patients who remain uncontrolled on maximal dual therapy, Webster said. No trial has yet evaluated a triple low-dose pill as a starting point for anti-hypertensive therapy. Having medications combined in a single pill could also be expected to help with patient compliance and physician "inertia" when it comes to adding on new drugs, Webster said.
To test this approach, TRIUMPH randomized 700 patients to usual care or to a polypill that combined telmisartan 20 mg, amlodipine 2.5 mg, and chlorthalidone 12.5 mg. At baseline, mean blood pressure among trial participants was 159/90 mm Hg, and 58% were women.
After 6 months, 69.5% of patients randomized to the polypill reached blood pressure targets (140/90 mm Hg or less, or 130/80 mm Hg or less in those with diabetes or chronic kidney disease). In the control group, target attainment occurred in just 55.3% (P = 0.0007). Mean change in systolic BP from baseline was -29.1 mm Hg in the polypill group as compared with -20.3 mm Hg in the control group (P < 0.001). Mean change in diastolic BP for each group was -13.9 and -9.3, respectively (P < 0.001). Adverse events occurred to a similar degree in both groups, and the rate of serious adverse events and trial withdrawals due to events was low in both groups, hovering between 6 and 7%.
"Early use of a low-dose, three-in-one combination, blood-pressure-lowering pill is safe and provides faster, better control of blood pressure compared to usual care," Webster concluded.
Hitting It Out of the Park
Commenting on the trial during a press conference following the trial's presentation, Karol Watson, MD, PhD (University of California, Los Angeles), called the results "a home run" and—without meaning to disparage the hard work of the trialists, she clarified—"not rocket science."
"This is something we've known for so long, but never do," Watson said. "We were told in older guidelines to take a single drug and push it as far as you could and then think of adding a second, and we've had decades of experience showing that when you do that, you increase side effects and you don't really increase efficacy."
This is something we've known for so long, but never do. Karol Watson
Newer professional guidelines allow for starting with two drugs, she continued, "but this is the first time we're [seeing] that you can not only start two drugs, you can start three, and you don't even have to go up that high. This really goes along with the pathophysiology that low-dose formulations in combination improve outcomes and they limit side effects."
Importantly, both Webster and Watson agreed that a number of different agents could be used for this approach. TRIUMPH used a long-acting angiotensin receptor blocker, a long-acting calcium-channel blocker, and a long-acting thiazide diuretic. "If you get long-acting drugs from these three drug classes that have been validated in other trials, I don't think the specific drug matters," Watson said.
Also commenting on the study, William White, MD (University of Connecticut School of Medicine, Farmington,) agreed that the findings are important for hypertension control, no matter the population. "A low-dose polypill for the masses, it makes complete sense," he said, particularly given the new, more aggressive goals set by the most recent—and contentious—American College of Cardiology/American Heart Association guidance. "We are now trying to achieve goals of 130/80 in most people or less, and that will require three drugs in most people."

Shelley Wood is Managing Editor of TCTMD and the Editorial Director at CRF. She did her undergraduate degree at McGill…
Read Full Bio
Sources
Webster R. A pragmatic trial of a low-dose triple-combination blood pressure lowering pill for initial treatment of hypertension. Presented at: ACC 2018. March 12, 2018. Orlando, FL.
Disclosures
Webster, Watson, and White report no disclosures.