Many ASCVD Patients Skimp on CV Meds Due to Costs: US Survey
One in eight patients can't afford to take their drugs as prescribed—physicians need to take an active role.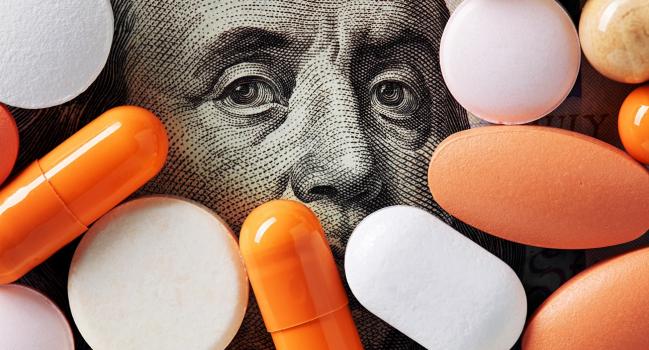 Fully one in eight US patients with atherosclerotic cardiovascular disease (ASCVD) say that medication costs have led them to skip or reduce drug doses or to delay filling prescriptions. The findings, from a nationally representative survey of more than 14,000 patients, provide a window into why people may fail to fully adhere to medical therapy that keeps their disease at bay.
Senior author Khurram Nasir, MD, MPH (Yale University School of Medicine, New Haven, CT), told TCTMD that over the past few days, he's been working to get help for a patient unable to afford his PCSK9 inhibitor and icosapent ethyl (Vascepa; Amarin) despite being on Medicare and having a supplemental drug plan. Each drug will still cost about $350 per month out of pocket, beyond the reach of this patient's budget, according to Nasir.
His team's study, published online today in Circulation with lead author Rohan Khera, MD (University of Texas Southwestern Medical Center, Dallas), spanned 2013 to 2017, so it didn't even capture the challenges of affording novel drugs that have debuted in recent years. "I think the scope of the problem is going to get bigger and bigger, especially now with insurance truly shifting the cost towards the patients with higher copays, coinsurance, and deductibles," Nasir predicted.
The consequences of such burdens, he pointed out, are many: difficulty paying nonmedical bills, food insecurity, stress over money, and being unable to receive needed healthcare.
It's a big problem and there is no one solution, but everyone needs to [be aware] and play their part. Khurram Nasir
Writing in an online commentary on the findings, William Borden, MD (George Washington University, Washington, DC), emphasizes: "Individuals and communities should be able to access the care and resources, including medications to manage heart disease, that they need to be healthy—which may vary from person to person—as we pursue health equity for all."
Borden, who serves as chair of the American Heart Association Council on Quality of Care and Outcomes Research, notes that these data offer ideas on where to focus efforts to improve the access and affordability of necessary drugs.
Drug Costs Prohibitive
Nasir and colleagues identified 14,279 adults with ASCVD who took part in the National Health Interview Survey between 2013 and 2017. Participants were asked if they had experienced cost-related nonadherence—defined as skipping doses, taking less medication, or waiting to fill a prescription in order to save money—in the preceding 12 months.
Overall, 12.6% reported taking one of these measures. That percentage translates into 2.2 million people affected, with 1.5 million missing doses, 1.6 million reducing their meds, and 1.9 million intentionally delaying a prescription.
Factors that independently increased the likelihood of cost concerns hindering adherence were age 18 to 39 years versus 65 or older (OR 3.15; 95% CI 2.01-4.93), age 40 to 64 years versus 65 or older (OR 2.26; 95% CI 1.87-2.73), female sex (OR 1.26; 95% CI 1.06-1.48), low versus middle/high family income (OR 1.61; 95% CI 1.35-1.92), lack of health insurance versus public insurance (OR 4.20; 95% 2.93-6.02), and high comorbidity burden (OR 2.11; 95% CI 1.66-2.68).
Nasir highlighted the fact that older patients, who tend to be insured under Medicare, were less likely to report money obstacles despite being less likely to be actively employed, tending to have more medical conditions, and relying on tight budgets. This indicates "that the current for-profit private insurance system maybe is failing those who it was intended to protect from financial risk" and should open the door for discussions on whether younger but high-risk patients might need a "public option" to ensure more-comprehensive coverage, he commented.
Interestingly, there also were no differences "identified by race/ethnicity or education," Borden points out. "This suggests that focusing efforts on low-income groups and increasing access to insurance, which cut across large groups of patient populations, might be highly beneficial."
Patients themselves take steps to raise their financial worries with providers, the survey found. Compared with those who didn't have money-related problems with adherence, those who did reported being 10.8-fold more likely to ask for low-cost drugs and 8.9-fold more likely to use alternative, nonprescription therapies.
Cost discussions should be a "bidirectional process," Nasir said. "Patients should speak up. If they are having any challenges, they should let physicians know because there are cheaper options," as well as programs for financial assistance. "More importantly, I think it's incumbent on [us as] doctors," he stressed. "We need to take an active role and have this . . . conversation, because unless we do that we are not going to [know] the scope."
Screening tools that identify patients in need would also be useful, he added.
Given that the current study didn't track how adherence affected patients' trajectories, Borden advises in his commentary that "future research should explore the direct effect of drug costs and cost-related medication nonadherence as factors influencing patient health outcomes."
Nasir further noted that, on a big-picture level, physicians should not shy away from playing an active role in shaping healthcare policy. Capping out-of-pocket expenses for low-income families, ensuring price transparency, and encouraging the use of generic drugs when possible are all possible steps, he suggested. Healthcare systems, too, should make efforts to create financial-assistance programs.
"It's a big problem and there is no one solution, but everyone needs to [be aware] and play their part," he emphasized.

Disclosures
Khera and Nasir reports no relevant conflicts of interest.