Many Patients Prescribed PCSK9 Inhibitors Never End Up Getting Them
Whether the cardiovascular outcomes data presented in FOURIER will improve the process is yet to be determined.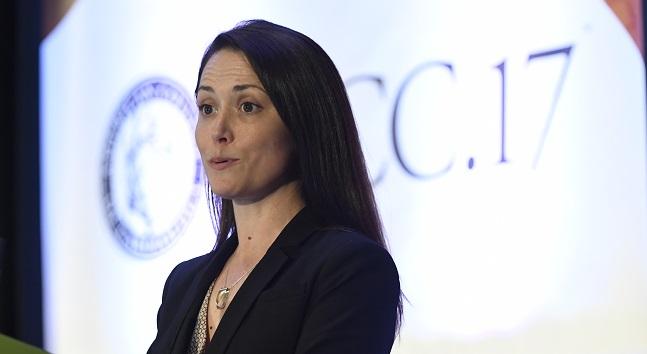 WASHINGTON, DC—In the first year of their availability in the United States, only about one in five prescriptions for PCSK9 inhibitors were approved by payers within 24 hours, according to new pharmacy data. Further, about one-third of prescriptions that were ultimately approved were never picked up.
"There's a disconnect between what providers are trying to do and what actually happens to the patients," said study presenter Ann Marie Navar, MD, PhD (Duke Clinical Research Institute, Durham, NC), in a featured clinical research session at the American College of Cardiology (ACC) 2017 Scientific Session earlier this week. "The fact that this varies so substantially by payor and is not getting better over time lends us to believe that nonclinical factors have dramatic impact on patient access," she added.
In the summer of 2015, two PCSK9 inhibitors were approved by the US Food and Drug Administration for the lowering of LDL cholesterol—evolocumab (Repatha, Amgen) and alirocumab (Praluent, Sanofi/Regeneron). Earlier at the ACC meeting, the FOURIER trial was presented showing the safety of evolocumab compared with placebo as well as a 15% risk reduction in cardiovascular death, MI, stroke, hospitalization for unstable angina, or coronary revascularization over a median follow-up of 2.2 years.
Given that cardiovascular outcomes data were lacking for this class of drugs prior to the presentation of FOURIER, Navar said she expects that pharmacy trends will change going forward, as demand will increase. In light of this, "it's important particularly . . . that we recognize that the complex interaction between patients, pharmacies, payors, and [pharmacy benefit managers] can dramatically affect patient access," she observed.
Over 1 year after the approval of PCSK9s, Navar and colleagues used pharmacy data from Symphony Health Solutions to identify more than 45,000 new prescriptions. Of those, 20.8% were approved within 24 hours and 47.2% were eventually approved. Yet only about two-thirds of patients with approved prescriptions ever fill them, most likely because they cannot afford the copay, Navar suggested.
Of the 13,892 prescriptions ultimately dispensed, the median time to approval was 3.0 days, with a 9.9-day median time to dispensing. More than one-quarter of patients with approved prescriptions waited longer than a month to receive them.
While the prescription volume increased over the study period, the proportion of approved prescriptions did not, Navar reported. Ultimate rejections varied by pharmacy (58% for retail vs 34% for specialty), provider (47% for cardiologist vs 59% for general practitioner vs 55% for endocrinologist), and payer (71% for commercial vs 40% for government vs 41% for patients who had both). Also, patients with approved prescriptions using a coupon program and those on Medicare were more likely to receive the drugs.
'Dirty Little Secret'
"I suspect that the prior authorization process is currently working as a very blunt instrument to identify patients who are eligible and not eligible for PCSK9s," Navar concluded. "Given the increased demand, we need to look back and perhaps reassess the prior authorization process including the burden on the patients and the burden on the provider. The amount of time that it takes from the first prescription being written for a patient and drug getting into the hands of the patient has potential to affect patient self-efficacy, patient adherence, as well as patient willingness to even initiate therapy once they receive drug in hand."
The prior authorization process is currently working as a very blunt instrument to identify patients who are eligible and not eligible for PCSK9s. Ann Marie Navar
Discussing the study after its presentation, Mariell Jessup, MD (University of Pennsylvania, Philadelphia), called the prior authorization process "the dirty little secret of American medicine."
Navar agreed but said for many providers, it is not a secret. "Many of us are very familiar with the burdens of the prior authorization process," she said, adding that perhaps the US process is even more difficult than that in countries with a single-payer system.
Cardiologists "had a little bit of an introduction to this [process] with the NOACs, but PCSK9s are going to be a different prescription category for us altogether," Navar said. "We probably can learn lessons from the rheumatologists on how they are getting biologics through. Some of that is using things like specialty pharmacies and standardized processes for prior authorization, but I think cardiologists have a lot to learn."
'Groundswell of Support' Needed
The results of this study "are somewhat indicative and perhaps even a little bit superior in terms of accessing the PCSK9 inhibitors than even my own clinical practice, where it seems a bit more difficult," Norman Lepor, MD (University of California Los Angeles), who was not involved with this study, told TCTMD in an interview.
He estimated that the rate of approval within 24 hours for the PCSK9 prescriptions he writes is in the "10-20% range" and the appeals process "only leads to an approval in about 40% of patients." Subjectively, though, Lepor said that the appeal process seems to have improved in 2017 versus 2016.
What Lepor calls "very high copays" are a big issue for patients who cannot afford these drugs. He tries to factor in cost during his initial discussions with patients, but this is difficult given the fact that many patients will not know their copays until going through the whole process, sometimes months later.
"Oftentimes once we even get the approval and a patient is notified, we find out that the patient has not been taking it on their follow-up appointment, which may be 2-3 months after the initial prescription," Lepor reported. "It's very frustrating, because it's a tremendous amount of work involved from staff to engineer this authorization and then the secondary appeal process."
Talking among colleagues, he said he knows many practices where physicians have given up prescribing PCSK9 inhibitors altogether because the administrative process is "just too difficult." In other cases, some physicians have been waiting for outcomes data to remove some of the barrier to entry for starting this process, he said, adding that this may change now that FOURIER is published.
As for what physicians might do now to improve ease of access to these drugs for their patients, "there's not much they can do on their own," according to Lepor. He cited what has happened with the heart failure therapy sacubitril/valsartan (Entresto, Novartis) as the root of his cynicism. For 2 years after the PARADIGM-HF trial, which was stopped early due to an excessive survival benefit in the study arm, and the subsequent approval of the drug, insurance companies were still "extremely difficult," Lepor claimed. "Great data doesn't necessarily lead to appropriate behavior by the payers."
Great data doesn't necessarily lead to appropriate behavior by the payers. Norman Lepor
It's possible that payers won't find the 15% improvement in outcomes enough to ease the process of getting PCSK9 inhibitors into the hands of patients, he said. In the meantime, what might lead payers to "loosen the strings," are guidelines that place greater importance on PCSK9 inhibitors, societal pressure, an increase in prescriptions, and "a groundswell of support," Lepor suggested.
However, he is more optimistic that upcoming results of the ODYSSEY Outcomes study of alirocumab—which includes approximately 18,000 ACS patients and should be presented next year—will lead to improvements in process.
Photo Credit: American College of Cardiology

Yael L. Maxwell is Senior Medical Journalist for TCTMD and Section Editor of TCTMD's Fellows Forum. She served as the inaugural…
Read Full Bio
Sources
Navar AM. Early challenges for PSCK9 inhibitor prescriptions & patients: rejections and rates unfilled. Presented at: ACC 2017. March 19, 2017. Washington, DC.
Disclosures
The study was funded by Amgen.
Navar reports receiving institutional research grants from Amgen, Sanofi, and Regeneron, serving as a consultant to Sanofi, and receiving a research grant from the National Heart, Lung, and Blood Institute.
Jessup reports receiving a salary from the Leducq Foundation.
Lepor reports serving as an investigator on several PCSK9 inhibitor trials, receiving research grants from Regeneron, serving as an advisor for Regeneron/Sanofi, and serving as a speaker for Regeneron/Sanofi and Amgen.