Marwan Saad, MD, PhD
After moving from Egypt to restart his training in the US, Saad has been prolific in publishing research and aims for an academic career.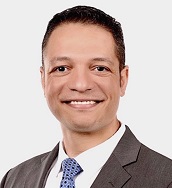 Marwan Saad, MD, PhD, is a structural heart disease fellow at Warren Alpert Medical School, Brown University (Providence, RI), where he also trained in interventional cardiology. Saad was educated at Ain Shams University (Cairo, Egypt), training in internal medicine, clinical research, and cardiology. Upon moving to the United States, he finished additional programs in internal medicine at Rutgers New Jersey Medical School/Trinitas Regional Medical Center (Elizabeth, NJ), and cardiology at University of Arkansas for Medical Sciences (Little Rock, AR). Saad has had more than 80 original research papers published in peer-reviewed journals, presented abstracts at more than 20 large international conferences, and written dozens of published editorials, letters, literature reviews, and case reports. He plans to pursue a career in academic structural interventions and continue his research in cardiovascular outcomes within interventional cardiology.
You've had an unusual training journey—can you tell us about why you took the path you did?
I graduated from medical school in 2005, so yes, that's 15 years of training. But it has been exciting, even though it was a little tough to repeat everything again, especially since I have a family—currently three kids. It took a lot of work for my wife to keep up with me, but I think it's rewarding. I love it and, as time goes by, I think that I would do it again.
In my home country of Egypt, our training is a combined clinical and academic track, so by the time I finished my fellowship, I had earned a PhD in clinical research. That experience was one of the main reasons why I decided to pursue my professional career here in the United States. I wanted to be among those who help advance the field through evidence-based knowledge, and I look forward to being one of those who participate in conducting large randomized clinical trials.
I've done multiple projects, both prospective and retrospective, using claim databases and national inpatient sample databases as well as running prospective studies at my local hospital here. I have multiple IRB projects going and most recently an accepted grant proposal. I try to investigate questions that we don't have clear answers to or things that are not well covered by previous research literature or guidelines—trying to find out the best way to treat our patients. Especially in the structural field, innovation grows very quickly, and every day there are new devices. Most of them are used off-label until research studies prove their safety and efficacy. So that's one of my biggest interests, and I hope I can continue to do that on my job one day.
What has it been like building your career in a country different from where you grew up?
It was initially difficult to go from being a fully trained interventional cardiology fellow about to start my attending career in Egypt to restarting again as a junior intern in internal medicine. I worked hard to advance my knowledge, but also to make sure I was not perceived as someone who takes advantage of prior experience and was not keen to learn more. Back home, I had minimal exposure to areas of internal medicine other than cardiology, and although my eyes were on cardiology, I took my residency here as a great opportunity to learn a lot about internal medicine, too, because I believe that a good cardiologist has to be a good internist first.
It took me some time to learn the system in the US, since it's different than the health system in Egypt, where everybody is covered by the government pretty much. Here, there are multiple sections of insurance and people who are not insured as well as Medicare and Medicaid. There was also a new system of medications and investigations for me to learn. It took me about 6 months until I felt I had a good grasp of what I was doing.
I also didn't know anyone here when I moved other than a cousin who lives in New York. It was tough. Thankfully, my internal medicine program was very collegial, at the peer, attending, and staff levels. I made a lot of friends, some of whom were international medicine graduates like myself. I have trained here at multiple institutes, and every place has been very friendly. When you have such a good work atmosphere, it makes the transition an enjoyable experience.
How has the COVID-19 pandemic changed your training experience and your future expectations?
As it was very unexpected, it definitely changed the way we think about treating our patients. We have started to utilize telemedicine more efficiently and broadly, where we can prevent our patients from coming to the hospital if we can and make sure they are doing okay at home. We want to make sure they are screened before we take them to the cath lab, and in cases of emergencies like STEMI, we must be in full PPE before we go into the lab, which can cause a little bit of delay. So, it's different than before, but I think it went pretty well and we're almost back to our regular numbers and operating times in the labs.
From a training standpoint, thankfully our center here at Brown University is very busy. Although our volume was lower for a while, we were able to finish with excellent case numbers. Over the past year, I completed more than 450 PCIs and I was one of four fellows in the program. While I might have completed more if COVID-19 didn't hit, I still think that's more than many fellows log at a large proportion of programs in the country. We are also very fortunate to have excellent attendings here who give us great autonomy. My interventional cardiology fellowship year was terrific, and my current structural training at Brown has been an awesome experience so far.
What is the biggest challenge facing interventional cardiology fellows today?
Interventional cardiology had expanded a lot to include many new procedures, and within these new procedures, many advancements. For example, not every interventional cardiologist now is an expert in CTO or structural interventions, and it can be hard to keep up with all the branches of our field. It's really important to know what you want to do and your long-term learning goal and just focus on that. In my opinion, if we try to learn and do it all, it will be very hard to excel and offer a top-notch experience for our patients.
If you weren't a physician, what else could you see yourself doing?
I would probably be an electronic engineer or software programmer. I love math and enjoy spending time with my kids at home doing some electrical circuits, simple robots, and stuff like that.
What do you like to do in your free time to balance out your work life?
I have three kids—13, 11, and 2 years old—so I try to spend my free time with them. But if I'm by myself, I usually read a lot, mostly history. Sport-wise, I like to play soccer. It's sometimes difficult because of working hours, but I try to get together with friends on the weekends.
What his nominator J. Dawn Abbott, MD (Brown Medical School, Providence, RI), says:
Dr. Saad exemplifies the traditional "triple threat" by demonstrating outstanding talent in clinical cardiology and procedural skills, teaching, and investigation. He seeks answers to clinically important questions through research investigation and to improve the care of patients with cardiovascular disease. He is collaborative and professional in all his efforts.
*To nominate a stellar cardiology fellow for the Featured Fellow section of TCTMD's Fellows Forum, click here.

Yael L. Maxwell is Senior Medical Journalist for TCTMD and Section Editor of TCTMD's Fellows Forum. She served as the inaugural…
Read Full Bio