MITRA-FR in the Hot Seat as Experts Debate Impact on Guidelines and Practice
It's 2 weeks since the first randomized trial of MitraClip in functional MR was presented and 2 weeks before the next trial, COAPT, takes the stage.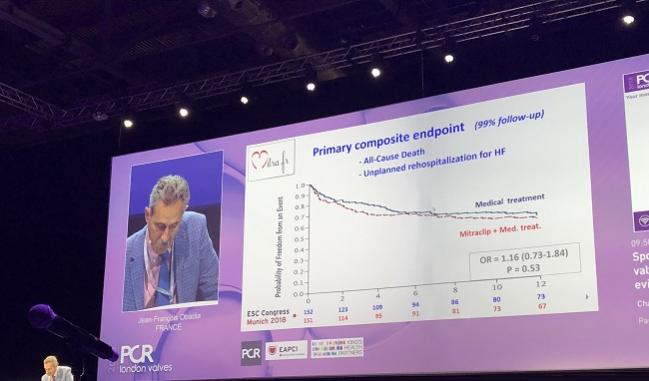 LONDON, England (UPDATED)—It is exactly 2 weeks since the MITRA-FR results were unveiled at the European Society of Cardiology Congress 2018 and 2 weeks before the next MitraClip trial will be presented at TCT 2018.
Not surprisingly, rushing into the lull are opinions from physicians who study and treat functional mitral regurgitation (FMR). They had plenty to say about the trial here at PCR London Valves 2018, as well as a host of predictions as to what should happen next in terms of guidelines and practice.
Jean-François Obadia, MD (Hôpital Cardiovasculaire Louis Pradel, Bron, France), lead investigator for MITRA-FR, was allotted just 6 minutes to recap the trial. As reported by TCTMD last month, MITRA-FR—the first randomized, controlled trial of the percutaneous clip coaptation in FMR to reach the finish line—showed no benefit of the MitraClip (Abbott) on top of best medical care. At 12 months, 152 patients randomized to MitraClip experienced improvements in MR grade and NYHA class, but similar improvements were seen in the 137 patients treated with optimal medical therapy. At 12 months, the primary composite endpoint of all-cause death and unplanned rehospitalization for heart failure was no different between groups: 54.6% in the intervention group and 51.3% in the control group (OR 1.16; 95% 0.73-1.84).
"MITRA-FR is a negative study," Obadia summarized. "The safety of the device is confirmed, the efficacy and the reduction in MR is confirmed, but the presence of the MitraClip does not impact the prognosis in this severe MR population."
The only thing to do now is to wait for other prospective randomized studies, he continued. RESHAPE 2, in particular, is addressing the same kind of severely ill patients, "and also COAPT, which will be presented very soon," Obadia added. "COAPT addresses a less severe population, and it will be interesting to compare all of those prospective randomized studies."
Impact on Guidelines
The question at the heart of today's session was whether guidelines and physician practice should change on the basis of the MITRA-FR results. Alec Vahanian, MD (Hôpital Bichat, Paris, France), an author on the 2017 ESC/EACTS guidelines for the management of valvular disease as well as a steering committee member for MITRA-FR, took the stage to speak on whether MITRA-FR should impact of formal society recommendations.
His answer: no. The current guidelines, he reminded the audience, state that a percutaneous edge-to-edge procedure may be considered in patients with severe secondary mitral regurgitation and LVEF > 30%, and for patients with severe FMR and LVEF < 30% a heart team may consider a percutaneous clip. Recommendations for both groups of patients are class IIb, level of evidence C, he said.
"The main point here is we stressed the role of the heart team that has to make the final decision, and we were very cautious, just like the US guidelines," Vahanian summarized. "We said we had a gap in the evidence and we needed more trials with hard endpoints to evaluate the evidence."
Under no circumstances should guidelines change until more than one trial has delivered results, he continued. "We have new evidence coming; let's wait before making any adjustments. . . . We need to digest and reflect on the data."
In the meantime, said Vahanian, a key takeaway for physicians should be the importance of truly putting patients on best medical therapy, as was done in the MITRA-FR trial. Other research, conducted in seven European countries, suggests that only one-third of cardiologists recommend optimization of medical therapy in patients with mitral regurgitation, he noted.
What About Clinical Practice?
The question remains whether physicians should alter their clinical practice on the basis of MITRA-FR. Several members of the panel insisted that their practice will not change, despite the negative results of this long-awaited study.
MITRA-FR "does not really impact my daily practice because we are [already] treating patients due to symptomatology, so we know that patients treated optimally on medicine still have symptoms," Hüseyin Ince, MD (Vivantes Klinikum Am Urban und im Friedrichshain, Berlin, Germany), observed. "We need another option and that option is not to increase medication, because that does not work any more, so it's nice to discuss with the heart team what else can we do for this special patient."
"It's too early to really change our behavior and to stop clipping," added Hendrik Treede, MD (Mid-German Heart Center, Halle). "There are still some questions that we could now potentially try to answer and one is: are we coming too late with the clip?"
Mean LVEF in MITRA-FR was 33% and median NT-pro BNP was over 3000 ng/L in both groups, Treede noted. "Maybe it's better to treat these patients a bit earlier, and COAPT will answer that question."
Also unanswered, suggested Treede, is the possibility that the clip needs to do a better job at reducing MR for hard benefits to be seen. "We've always called 2+ MR a success after clipping, but maybe we need to be a bit more bold here and ask for a 1+ result and then we might end up with better results.," he said.
Obadia, however, clarified that no benefit was seen in an analysis that took into account the degree of MR reduction. "What we've learned with MITRA-FR is when too late is too late," he agreed, with a nod to complaints that the trial enrolled a trial too sick to benefit. But this does not mean that the clip didn't work; rather, it says that there is now proof that it did not work in these patients.
"I cannot agree," he said, addressing Ince's comments, "when you say it will not change policy in people who implant the clip, because I'm pretty sure that there is large number of clips that are implanted today [in individuals] who are the same as the patients we enrolled in MITRA-FR. So there [are] probably some patients where we should avoid the MitraClip and this is the lesson of MITRA-FR. Too late is too late. It's not that when medication doesn't work that you need to add a clip."
Speaking with TCTMD following the presentation, Obadia agreed with Vahanian, as well as with session co-moderator Marie-Claude Morice, MD (Cardiovascular European Research Center, Massy, France), that guidelines should not change on the basis of a single trial.
"The problem is not with the way guidelines are written, the problem is with how physicians read the guidelines," Obadia told TCTMD. "If you respect the 2b, it means you have a huge selection of therapies to use, and you need to have a real heart team to help decide."
What may be needed, in the future, are specialized centers where individualized patient decisions are made by truly diverse heart teams, he said. "Because today, as soon as [regulators] say you can use the clip, poof! There is a diffusion of the technology and that is probably too high."
One criticism of the MITRA-FR has been that patients weren't taking optimal therapy prior to randomization, while others have aired the possibility that patients in the medical therapy arm were managed more aggressively. Obadia rejected both suggestions, noting that major changes to drug treatment were avoided during the run-in phase and that compliance to medical therapy was "absolutely no different" between groups.
On this point, Obadia got some support from Frank Ruschitzka, MD (University Heart Center Zurich, Switzerland), the only heart failure specialist on the panel, who said: "This is one of the best-treated trial populations that I've ever seen in a heart failure population."
The MITRA-FR results, he added, should hammer home a point made time and again in the heart failure population, namely that highly effective therapies work in certain heart failure patients and not in others. Cardiac resynchronization therapy and ICDs are perfect examples. "If you think there such a thing is an unmitigated good in heart failure therapy, you've come to the wrong place. You have to find the sweet spot, and that's where COAPT will help us and RESHAPE 2 will help us and that's why I'm thankful to Jean-François. He has ended the drought. After 7 years of talking about MitraClip registries and blah-blah-blah, we finally have reached the time where we can analyze this. There's hope."
Different Populations
Ted Feldman, MD (Evanston Hospital, Chicago, IL), who also spoke during today's session, took pains to remind the audience of the ways in which the MITRA-FR population is different from other study populations. One-year mortality in MITRA-FR is the highest seen to date, albeit primarily from registry studies. Moreover, the lower LVEF limit in MITRA-FR is also substantially less than that seen in other, nonrandomized series that have shown reduced rehospitalizations and better symptom improvement with MitraClip. All of this, said Feldman, should help operators understand which patients will be the best candidates for percutaneous leaflet repair.
"It's really important to note that the patients who have better ventricles, where the MR is the main problem, may be the better patients for MR therapy," Feldman said.
Beyond COAPT, RESHAPE 2, and MATTERHORN studying the MitraClip, there are several other devices also being studied in patients with FMR, Feldman reminded the London Valves audience. These include studies of the Cardioband Mitral System (Edwards Lifesciences) and the Carillon Mitral Contour System (Cardiac Dimensions), both targeting a dilated mitral annulus. Several of the upcoming trials are enrolling patients with lesser degrees of MR at baseline, which may help answer the much-asked question as to whether intervening earlier may make the difference with percutaneous approaches to MR.
Michael Haude, MD, PhD (Städtische Kliniken Neuss, Germany), who gave the "take-home" message for the study, finished the session with a reminder: "Currently when we talk about secondary MR, we have to appreciate that the source of the pathology is the ventricle and the valve is secondary. We have to keep this in focus."
Interpreting all the incoming trials is complicated by the fact that they all are enrolling patients with different degrees of heart failure, with different echocardiographic definitions of FMR, and use different endpoints. As such, trial results will need to be applied to those specific populations.
"Can we do better with all the technology we have in our hands, if we intervene at an earlier stage?" Haude asked. "We will need to evaluate that in the future."

Shelley Wood is Managing Editor of TCTMD and the Editorial Director at CRF. She did her undergraduate degree at McGill…
Read Full Bio
Sources
Multiple presentations. Transcatheter mitral valve repair - Where is the latest randomised evidence taking us? Presented at: PCR London Valves. September 10, 2018. London, England.