Negar Salehi, MD
This fellow had to repeat her cardiology training in the US after being an attending in her native Iran, but still finds joy in learning.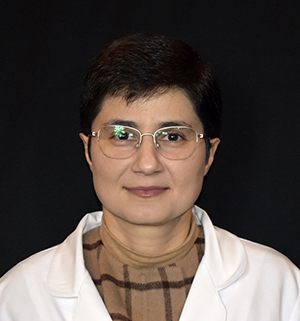 Negar Salehi, MD, is an interventional cardiology fellow at the Icahn School of Medicine at Mount Sinai in New York. Originally from Iran, she attended medical school and trained in cardiology and interventional cardiology at Shahid Beheshti and Iran University of Medical Sciences, both in Tehran, before coming to the US to repeat her training with the goal of furthering her career. Salehi has held research fellowships at the Cleveland Clinic and Michigan State University, where she also retrained in internal medicine. In addition, she completed her cardiology training at the University of Arkansas for Medical Sciences, Little Rock, and will serve as the first female structural interventions fellow at her current institution next year. Salehi is passionate about teaching and learning, and she plans to pursue a career in academic medicine in the United States.
What initially piqued your interest in interventional cardiology?
As a medical student in Iran, I enjoyed procedures. I was initially very interested in surgery until one of my professors suggested that cardiology would fit me well. I was fortunate to get into one of the best programs in Iran for cardiology. One of my first challenges upon entering the cath lab was figuring out how to survive as a lefty. I was thinking: "How can I move forward? Everything is set on the right-hand side." One of the professors just laughed at me and said there are many left-handed interventionalists and not to worry. I'm happy that he said that, because it calmed me down. As time has gone on, I've been able, interestingly enough, to work with both my right and left hands.
After I finished my training there, I worked as an attending for 4 years, but I wanted something more. I thought I needed to have more opportunities to do research, learn, and progress professionally. So I moved to the US in 2012, although I knew that it would not be easy when I made this decision. But in my mind, I knew that sacrifice would eventually bring me happiness.
What has it been like to repeat cardiology training after serving as an attending physician?
I'm redoing 10 years of my life. But I have still learned a lot, mainly because the practice of medicine can be different in Iran and the United States. Definitely, in the first year of my residency, I learned a lot about the culture and EMR here, but the basic concepts of medicine and cardiology remain the same. Also, I had only done 1 year of internal medicine in Iran. I kept thinking that every patient would teach me something new, so even though I'm going to redo some years of my life, I will learn more and more from each of my experiences.
What has been challenging is that most of my family is still in Iran, although I have some cousins in New York and have made very good friends in many places I've lived. I was lucky to get a Green Card soon after moving to the US, so I was able to travel back and forth at least once a year.
Thinking back, what has been your most meaningful clinical experience?
I can think of two. I was very young and in a surgery rotation for the first one. I followed a patient in the emergency department who came with abdominal pain and nausea. First, he was diagnosed with a gallstone, and they decided he needed to have surgery, cholecystectomy. Because he was older than 40 years, he required pre-op cardiac clearance. They got the EKG, which changed the game: he apparently had an acute STEMI. So as a very young medical student, I learned that I should always think about cardiac problems no matter what, even though symptoms can be atypical. And actually, that was one of the reasons I got more attracted to cardiology. I thought that there were mysteries in this subspecialty.
The second one was when I was an attending. Another young man was brought to our emergency department from another hospital when I was on call for STEMI. He was in his 40s, unconscious, with acute STEMI and postresuscitation. We had no information, no family around, and although he was very high risk, I accepted all the risk and decided to take him to the cath lab. We opened the vessel and saved him, and when his family—the kids, the wife—arrived, they were so thankful and the amount of happiness coming from all of them was immense. I think that feeling will never be replaced with anything, and I will remember it for the rest of my life.
Next year, you are slated to be the first female structural interventions fellow at Mount Sinai. What does that mean to you?
I was humbled and honored to get the position. When I found out, that was one of the best things to have happened to me. At the same time, I feel that I'm fortunate that I have Dr. Annapoorna Kini and Dr. Roxana Mehran as my mentors. They're two of the most successful female interventionalists, and having them as mentors and seeing what they're doing is a great experience and opportunity for me. Of course, being the first person in any position will give you some honor.
What are you looking forward to after you finish training?
A job, finally! The goal would be a mix of coronary and structural, because I don't want to lose my coronary skills. After all, that's where I often find joy in being an interventionalist. When patients come with a STEMI on the table, very sick, and you open the vessel and help them, that's a blessing. I would also like to pursue my career in academic medicine, because I think that's how I can continue to grow myself and teach the next generation. Honestly, many people have done an excellent job mentoring me. I owe them now to pass on what I have learned. I want to be a role model, especially for females, to let them know nothing can hold you back, whether gender or geography. If you want anything, you work hard for it, you have good mentors, and you will go for it. As part of this goal, I'm working with Dr. Kini to develop a Twitter group to share ideas and help guide anybody interested in medicine toward success.
What is the biggest challenge facing fellows right now?
One of the biggest challenges is the quick transition from the more-extended training to the job. We all have very long training, and then only within a year of when we start interventional cardiology fellowship we have to find a job. It's different for me because I've practiced interventional cardiology for years, but for others, it's hard to know every aspect of the field after only 2-3 months, which is when you have to start applying for jobs. So that's one of the significant challenges, because we still don't know where we are standing when looking for a job. Also, as a female, I feel that we have more challenges facing us when finding jobs or leadership positions. Because of culture, I think any of us who start on this route thought we would contribute to change and are moving forward by working harder and showing that we can be the same as males.
Do you have any advice for someone who might want to follow your path and retrain in the US?
I would say: if you are firm in your decision, do it and don't think even twice that you will not be successful. Hard work will always be pay you back. Definitely, it would help if you were humble because working as an attending, you may think you know everything. To go back to being an intern again and having other people tell you what to do is not easy. Accept that others have different views of life and medicine, and maybe they know the system better. If what they are doing is not wrong and won't harm the patient, you should follow their lead and move forward. Make more friends instead of being resistant or against what you are receiving from new people, and acceptance will help a lot. Remember that every patient, every colleague can have something to offer you.
What is something that people might not know about you?
I'm a very adventurous person. I like to travel a lot, and so far I have traveled to different countries, even different states of the US. Whenever I have time, I will travel since I like to learn and know about different cultures, and I think this is a way to open my mind. At the same time, I really like photography, which complements traveling and consistently helps me record the beautiful moments I have experienced. Horseback riding is another hobby. I grew up riding horses with my uncle and cousins every weekend in Iran, and I also got to do some riding in Little Rock. However, I don't have much opportunity to do it in New York City these days.
What her nominator Annapoorna Kini, MD (Icahn School of Medicine at Mount Sinai), says:
I am a strong supporter of women entering the field of interventional cardiology and structural heart disease, and I can see Negar's passion for her field. I want her to be an inspiration to all aspiring women to make it big and significantly impact this field. Negar Salehi is a highly motivated, focused, knowledgeable, and hardworking individual. She has an intelligent and inquiring mind supplemented with a vast fund of medical knowledge. She is always striving for improvement and excellence in her work, whether it's patient care or academic assignments. Dr. Salehi has a very bright future ahead of her. I strongly believe that she will do exceedingly well in her career as a cardiologist, both in interventional and structural heart disease, and succeed in all aspects of the academic practice.
*To nominate a stellar cardiology fellow for the Featured Fellow section of TCTMD's Fellows Forum, click here.

Yael L. Maxwell is Senior Medical Journalist for TCTMD and Section Editor of TCTMD's Fellows Forum. She served as the inaugural…
Read Full Bio