New Cardiogenic Shock Definitions Create Common Lexicon for Healthcare Teams
Experts at SCAI agree that pending validation, this long-awaited, five-category tool will enable patient differentiation and triage.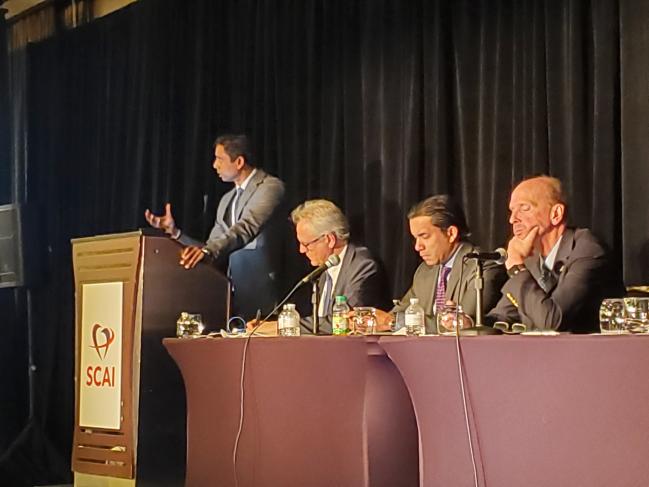 LAS VEGAS, NV—The first-ever standardized set of definitions for cardiogenic shock were released here at SCAI 2019 on Sunday and experts are reacting positively, saying that this was a necessary initial step to enable care teams to speak the same language and provide researchers with precise terms for more accurately studying this heterogeneous patient cohort.
"For a long time, if you came in the hospital and your wedge [pressure] is 25 and your blood pressure is 90, in NCDR or ACTION or a lot of registries, you check the box 'cardiogenic shock.' If you were an out-of-hospital cardiac arrest and were shocked 75 times and have a Lucas device doing [cardiopulmonary resuscitation (CPR)], and your blood pressure is 50, that's check the box 'cardiogenic shock,'" writing committee member Timothy Henry, MD (Lindner Research Center at the Christ Hospital, Cincinnati, OH), told TCTMD. "Well, those are not the same patient, and it's obvious that they're not. But if you look at NCDR, it's the same patient. So clearly to make any progress, we needed a classification scheme."
The traditional definition of shock—persistent systolic BP < 90 mm Hg not responsive to fluid administration alone, secondary to cardiac dysfunction, and associated with signs of hypoperfusion or a cardiac index < 2.2 L/min/m2 and a pulmonary capillary wedge pressure > 15 mm Hg—"left a lot to be wanted," said writing committee chair Srihari Naidu, MD (Westchester Medical Center and New York Medical College, Valhalla), in a Monday afternoon session dedicated to the topic. "You can have multiple different trials having multiple different shock patients with various different definitions," he said, "and how are you going to determine what is the shock that's in front of you?"
You can have multiple different trials having multiple different shock patients with various different definitions, and how are you going to determine what is the shock that's in front of you? Srihari Naidu
A yearlong effort by Henry and Naidu along with a team of interventional cardiologists, heart failure specialists, critical care cardiologists, an emergency medicine doctor, a critical care nurse, and a cardiac surgeon resulted in the publication of the SCAI shock definitions in Catheterization and Cardiovascular Interventions on Sunday. Summed up, the paper stratifies cardiogenic shock into five categories:
A or At Risk: The patient has risk factors but is not experiencing any signs or symptoms of cardiogenic shock

B or Beginning: The patient has clinical evidence of relative hypotension or tachycardia without hypoperfusion

C or Classic: The patient presents with hypoperfusion without requiring intervention beyond volume resuscitation

D or Deteriorating: The patient fails to respond to initial interventions

E or Extremis: The patient is being supported by multiple interventions and may be experiencing cardiac arrest with ongoing CPR and/or extracorporeal membrane oxygenation
Additionally, the consensus document breaks down the physical exam, biochemical markers, and hemodynamics that should be allocated to each category. It also allows for the risk modifier of cardiac arrest to be added to any category.
Naidu listed several goals the writing committee had in creating these definitions. First, they wanted a simple and intuitive tool that wouldn't require lots of calculation and would be easy to remember. They also wanted to be able to "add granularity to the severity of shock" and come up with definitions that are "suitable for rapid assessment at the bedside." In addition, the document needed to be something that would both allow for "frequent reassessment and reclassification" and could be "applied to retrospective databases in future trials to better define the included population," Naidu said.
Ultimately, "we wanted to provide a new lexicon for communication between providers, so it's very easy to pick up the phone and tell somebody that I have a [patient with] class whatever type of shock, as opposed to just having typical cardiogenic shock," Naidu explained.
The consensus document was endorsed by the American College of Cardiology, the American Heart Association, the Society of Critical Care Medicine, and the Society of Thoracic Surgeons.
Clarity and Simplicity
Complimenting the writing committee, Emmanouil Brilakis, MD, PhD (Minneapolis Heart Institute – Abbott Northwestern Hospital, MN), told TCTMD, "This is a conversation that's been coming up for years, and we've always kind of been thinking this way, but this is more formalized."
The well-defined categories should help with the prevention of bad outcomes in some patients, he said. "People come in and they seem to be okay, but there are many underlying factors that suggest they may not be as okay as they seem and they can deteriorate pretty quickly. That's a great advantage of this. It makes you think for every patient: what is the chance that this is just the tip of the iceberg and there's much more under the surface? So I think that's a huge thing."
Commenting during the Monday afternoon session, Sandeep Nathan, MD (University of Chicago, IL), called this "a fantastic paper" which has strength due to its simplicity.
"The consensus statement has greatly brought clarity to this, and hopefully this will be adopted very widely and not just in cardiology [but] across all the different specialties that touch these patients," he said during a presentation. "It's also important for us as interventionalists to speak in the language of the advanced heart failure specialists in the vernacular of heart failure and transplant docs."
'Spreading the Word'
From here, Naidu said the next step is "spreading the word to the wider cardiovascular and critical care communities. . . . The timing is right now to embrace the definition and to get the other people to rally around how we handle cardiogenic shock on a global scale." Then the prognostic power of the classification tool will need to be evaluated, a process Naidu reported is already ongoing with a Mayo Clinic database of 10,000 patients. Ultimately, "this does not work unless we all embrace it, understand it, digest it, and then use it at our institutions," he said.
Henry added that it will need to be validated in not just the intensive care unit (ICU) setting but in STEMI, advanced heart failure, and structural heart disease. "It may work better in some places than others," he said.
Also, Henry observed, "it's definitely clear that this cardiac arrest modifier is a really important issue. When you actually look at the literature of cardiogenic shock, the percentage of people with cardiac arrest and the severity of that . . . is not very well defined," he said, giving the example of patients with or without the potential for full neurologic recovery, a nuance not typically captured in the prior definitions. "I think accounts for a lot of the differences in mortality that we see in trials."
"It's an important first step," Nathan said. "The challenges are going to be at what point do the patients enter your field of vision? Is it in an instantaneous assessment versus a delta in terms of how quickly does a C patient become a D patient or a B patient become a C patient?" The second challenge relates to the high rate of cardiogenic shock that occurs in the medical ICU that is "unfortunately" often siloed away from other shock categories and can suffer "from some degree of misclassification bias," he added.
Panelist Larry Dean, MD (University of Washington, Seattle), said he is especially interested in future data on the E population. "At what point do you not take these huge amounts of resources and everyone's time and effort to try to salvage a [patient] who's unlikely to survive?" he asked, noting that physicians struggle with these patients given that they usually do not fare well.
Henry said that using public reporting data can potentially help with setting the threshold for futility in certain patient cohorts. "We should be encouraged to take care of these patients, but then we should use that data to define [in whom] should we be aggressive."
"We'll see how it goes going forward, but we can't advance this part of our practice until we all agree on a definition and start looking at these patient populations in a more precise way than what we've done in the past," Dean said.

Yael L. Maxwell is Senior Medical Journalist for TCTMD and Section Editor of TCTMD's Fellows Forum. She served as the inaugural…
Read Full Bio
Disclosures
Naidu, Henry, and Dean report no relevant conflicts of interest.
Nathan reports serving as a consultant for Abiomed, Maquet, Cardiovascular Systems, Inc, Medtronic, Merit Medical, and Terumo and on the speaker bureau for Cardiovascular Systems, Inc, Janssen, and AstraZeneca.
Brilakis reports receiving consulting/speaker honoraria from Abbott Vascular, the American Heart Association (associate editor for Circulation), Boston Scientific, the Cardiovascular Innovations Foundation (board of directors), CSI, Elsevier, GE Healthcare, Infraredx, and Medtronic; receiving research support from Regeneron and Siemens; being a shareholder of MHI Ventures; and serving on the board of trustees for the Society for Cardiovascular Angiography and Interventions.