No Doctor? No Problem: Remote, Pharmacist-Led Intervention Cuts CVD Risk
Eliminating the need for in-person visits, the initiative could serve as model to expand access and reduce healthcare inequities.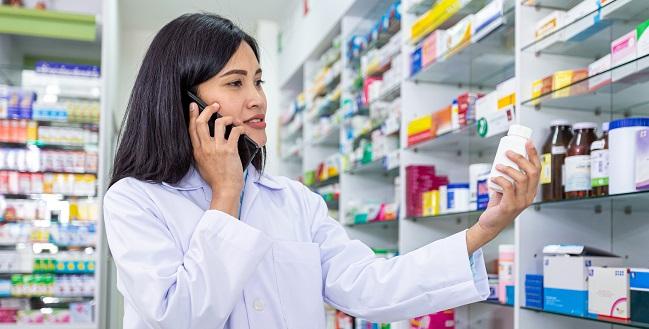 A novel program that identifies individuals with poor cardiovascular risk factor control and employs nonphysicians and pharmacists as frontline managers led to significant improvements in blood pressure control and LDL-cholesterol levels, a new study shows. 
Presenting data on the first 5,000 patients enrolled as part of a remote algorithm-based cardiovascular risk management program at Mass General Brigham health system, investigators reported that mean LDL-cholesterol levels were slashed from 125 mg/dL to 73 mg/dL in patients once active titration of treatment was completed. For these patients, use of any lipid-lowering therapy increased from 78% to 97%, statin use increased from 78% to 94%, and ezetimibe use increased from 9% to 17% among patients.
Equally impressive reductions in blood pressure, as well as increased utilization of antihypertensive medications, also were observed.
Benjamin Scirica, MD (Brigham and Women's Hospital, Boston, MA), who led the study, which was presented this week at the virtual American Heart Association (AHA) 2020 Scientific Sessions and published simultaneously in Circulation, said the remotely delivered program "eliminates the need for in-person visits" and also does away with "the need for physician treatment decisions at every step." These types of initiatives, he added, could serve as a model to "expand remote healthcare delivery, increase access to care, reduce healthcare inequities, and improve quality of care."
[Patients] really liked talking to people, and it doesn't need to be a doctor, it turns out. Benjamin Scirica
Donald Lloyd-Jones, MD (Northwestern University Feinberg School of Medicine, Chicago, IL), president-elect of the AHA, said this is not the first study to show that removing the physician from patient management improves outcomes while leading to greater patient and provider satisfaction.
"The provider needs to set the goals, set the overall plan initially, but then the pharmacists and navigators are much better at connecting and using that algorithm to get patients to the goals we want to get them to," he said during a press conference. "Getting providers out of that equation really frees them up for more high-level work of diagnosis and setting treatment plans. It allows patients more interaction with people who have time to talk to them. It's a win-win."
'High-Touch' Healthcare Model
The study is an attempt to address prevalent undertreatment of high cholesterol and hypertension in clinical practice, said Scirica, noting that 30% to 50% of patients don't receive optimal medical therapy even though most of these medications are effective, cheap, and strongly recommended by clinical guidelines.
As part of the novel Mass General Brigham disease management program, nonphysician "navigators" and pharmacists, supported by specialists, are at the forefront of care. Once patients with uncontrolled LDL cholesterol and/or blood pressure were identified through medical record screening, pharmacists were responsible for initiating and titrating medications. The navigators served as the primary contact with patients, ordering tests, and providing education at preset intervals until the patients reached the guideline-recommended LDL target, which varied depending on their cardiovascular risk profile, and home blood pressure levels of less than 130/80 mm Hg (home monitors were supplied to patients).
Overall, 12% of the first 5,000 patients enrolled were older than 75 years, 55% were female, 8% didn't speak English, and 71% were non-Hispanic Caucasian. One-third of patients had established atherosclerotic cardiovascular disease (ASCVD), one-third had LDL-cholesterol levels > 190 mg/dL, and one-quarter had diabetes. Just 8% were classified as high-risk primary prevention patients.      
For all enrolled patients—including those in the maintenance phase and those in active titration—mean LDL-cholesterol levels were reduced from 133 mg/dL at baseline to 109 mg/dL. Among the patients in the maintenance phase of the program, the reduction in LDL cholesterol was observed in all subgroups, including those with ASCVD, diabetes, those considered high-risk primary prevention, and those with LDL levels > 190 mg/dL at baseline.
The number of patients treated with two, three, and four antihypertensive medications increased as part of the digital outreach program. Consequently, patients in the program had a reduction in mean systolic blood pressure from 138 mm Hg at baseline to 124 mm Hg, as well as a reduction in mean diastolic blood pressure from 78 to 72 mm Hg.
Patients and Providers Like Program
To TCTMD, Scirica said the response from patients has been very positive.
"They really liked talking to people, and it doesn't need to be a doctor, it turns out," he said. "To have that connection, especially for a lot of the patients in chronic cardiovascular disease, who may not have the greatest digital literacy, the telephone is still one of the strongest telehealth tools we have. We also saw good provider satisfaction. Many primary care doctors were happy to have some of these management decisions taken off their plate so they could focus on other things."
Getting providers out of that equation really frees them up for more high-level work of diagnosis and setting treatment plans. Donald Lloyd-Jones
Karen Joynt Maddox, MD (Washington University School of Medicine, St. Louis, MO), who commented on the initiative during the morning press conference, said that when it comes to the "care cascade," which includes diagnosis, initiation and maintenance of treatment, and ultimately control of chronic disease, physicians perform incredibly poorly. "It's really a breakdown in patient-centered care delivery," she said. "It's not that we don't know what to do. It's that we don't know how to do it." 
Putting the patient at the center of care, like in the Mass General Brigham initiative, surrounding them with a pharmacist and navigator, and tying all of this together with technology to facilitate clinical decisions without a physician, said Joynt Maddox, "is a sea change in how we think about delivering care." The results achieved, she added, were impressive.
In terms of what needs to come next, Joynt Maddox said these types of programs are not reimbursed by payers, which is required if they're to become widespread. "Here we have a solution where it's good for patients, it's good for physicians, and it's good for the system, yet most of the ways we pay for care require a patient to be physically in a doctor's office," she said.  
Clinical studies will also be needed—maybe not a classic randomized controlled trial but possibly a step-wedge cluster randomized design—"to fine-tune our understanding of what works and what doesn't, so we can scale programs like this and optimize strategies," added Joynt Maddox. More evidence showing that these initiatives work, the more likelihood they'll be supported by payers, she said.

Michael O'Riordan is the Associate Managing Editor for TCTMD and a Senior Journalist. He completed his undergraduate degrees at Queen's…
Read Full Bio
Disclosures
Scirica reports institutional grants though Brigham and Women's Hospital from Pfizer, Merck, Eisai, Novo Nordisk, and Novartis; consulting fees from AbbVie, Allergan, AstraZeneca, Boehringer Ingelheim, Eisai, Esperion, Hamni, Lexicon, Medtronic, Merck, and Novo Nordisk; and has equity in Heath at Scale.
Joynt Maddox reports contract work with the US government and grant funding from the National Heart, Lung, and Blood Institute, National Institute of Ageing, and Commonwealth Fund.
Lloyd-Jones reports no relevant conflicts of interest.