Novel Percutaneous Suture-Based Solution for PFO Closure Shows Promise
Initial efficacy results with the NobleStitch EL are comparable to device-based systems, with no major device/procedure-related adverse events.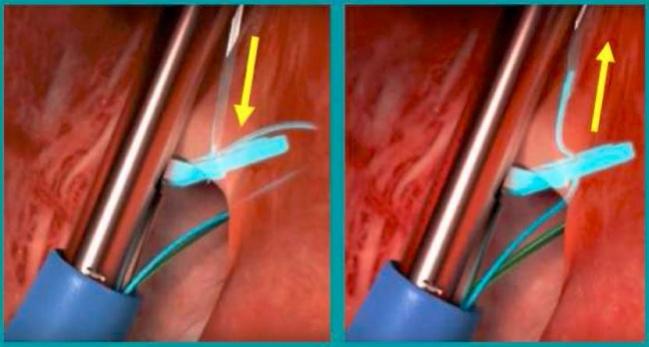 DENVER, CO—A percutaneous, suture-based system for patent foramen ovale (PFO) closure is showing potential, given its lack of postprocedural complication risk—something observed with traditional device-based systems.
Devices like the Amplatzer PFO Occluder (St. Jude Medical), which was approved by the US Food and Drug Administration last year for recurrent stroke prevention, and others that have been used off-label for PFO closure have become generally accepted as better than medical therapy for patients needing treatment, but concerns remain regarding device- and procedure-related complications.
The NobleStitch EL (HeartStitch, Fountain Valley, CA) essentially turns a surgical procedure into a percutaneous one by deploying three catheters to first suture the septum secundum and septum primum and to then secure the stitch. "The system can overcome many of the major limitations of a device-based procedure to close PFO, because basically you don't use a device. So there is no risk of embolization, there is no risk of thrombus at the site of the device, [and] there is no risk of erosion. So most of the major limitations of the procedure can be easily overcome," said presenter Achille Gaspardone, MD (San Eugenio Hospital, Rome, Italy), yesterday at TCT 2017 during a moderated poster session.
To assess the efficacy of the NobleStitch EL system, Gaspardone and colleagues looked at 76 patients with a previous stroke or TIA (61% women; mean age 42 years) who received the polypropylene suture at their institution between June 2016 and September 2017. Twenty-one percent of patients had a baseline right-to-left shunt, including 14% with a grade 2 shunt and 86% with grade 3. Fluoroscopy (46%) or transesophageal echocardiography (TEE; 54%) were used for imaging. Procedure length varied from 30 to 112 minutes, and the average radiation dose per patient was 87 Gy·cm2.
Over a mean follow-up of 250 days, 10 and 11 patients had a residual right-to-left shunt of grade 1 or 2, respectively, on max-contrast transthoracic echocardiography. There were no major device/procedure-related adverse events. The findings, Gaspardone said, were "comparable to any of the device-based PFO closure procedures."
Outcomes of Various PFO Closure Studies
Study

RLS < 2

 

RLS < 0

 

Major Device/Procedure-Related Adverse Events

CLOSURE I

86.7%

-

16.9%

PC Trial

91.1%

-

21.1%

Gore Helix

94.5%

75.6%

12.8%

RESPECT

93.5%

72.7%

4.2%

NobleStitch

89.0%

81.0%

0

"The suture-mediated closure of PFO with the NobleStitch system is quite efficacious, and is possible to carry out in the majority of the patients," Gaspardone said. "Most importantly, the [system is safe] because there is no device left behind."
Anatomy and Learning Curve Questions
Following the presentation, session moderator Eustaquio Maria Onorato, MD (Humanitas Gavazzeni Clinic, Bergamo, Italy), asked Gaspardone about the learning curve required for mastering the procedure, speculating: "I don't think it's for beginners."
Gaspardone said he initially "thought it was a very complicated technique." But after receiving feedback from operators reporting they hadn't found it particularly difficult to learn, he along with the system's inventor, Anthony Nobles, MD, set the level of cases to be proficient in the procedure to 20. However, "it's not 20 procedures in a short period of time," Gaspardone said, explaining that the learning period must take place over 3 or 4 months. "It is very important to standardize the technique, and [you] must be very meticulous. . . . It's not like the device technique where you can do push and pull, maneuver, and nothing happens."
Discussant Steven Goldberg, MD (Community Hospital Monterey Peninsula, CA), asked about the use of TEE versus angiography. Gaspardone responded that while TEE was assumed to be necessary in the initial cases, the fact that echo couldn't visualize the catheter or suture made stand-alone angiography an attractive alternative. Without TEE, "it's a pure angiographic procedure," he continued. "This is quite important for us because we don't need an anesthesiologist [and] we don't need general sedation, just local anesthesia. That's why the timing of the procedure is quite comparable to the traditional one: because we don't need the echo monitoring."
Onorato also questioned the ability to use the NobleStitch EL system in any type of anatomy, including large shunts or aneurysms. While it's likely that this can be used in a "majority of anatomies," Gaspardone replied, "it's too early to say" which anatomies specifically it's best for. His team is creating an Italian registry of about 200 cases, so the additional data should help to clarify this, he added.

Yael L. Maxwell is Senior Medical Journalist for TCTMD and Section Editor of TCTMD's Fellows Forum. She served as the inaugural…
Read Full Bio
Sources
Gaspardone A. Percutaneous suture-mediated patent foramen ovale (PFO) closure: early results with NobleStitch EL device. Presented at: TCT 2017. October 30, 2017. Denver, CO.
Disclosures
Gaspardone reports no relevant conflicts of interest.
Onorato reports receiving consultant fees/honoraria from Occlutech International and COMED BV.
Goldberg reports receiving consultant fees/honoraria from Cardiac Dimensions and Abbott Vascular.