Papers Probe Temporal Link Between COVID-19 Vaccines and Myocarditis
Researchers stressed that the risks are small, and that the benefit of vaccination far outweighs concerns about myocarditis.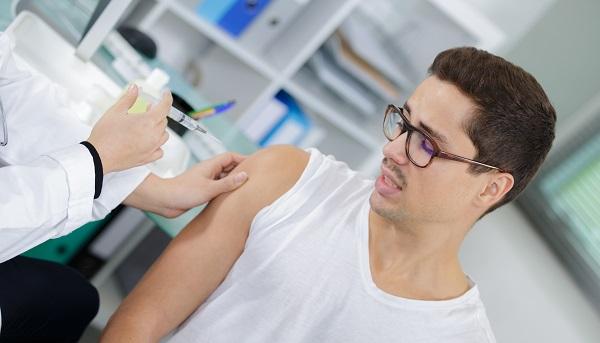 Two new research letters and one case report, published in Circulation this week, are highlighting the temporal association between vaccination for COVID-19 and the onset of myocarditis, a rare side effect that has the attention of regulators in the United States, Europe, and elsewhere.
Fortunately, the adverse event that appears to be linked with mRNA-based vaccination—a direct cause-and-effect relationship has not yet been established—is quite rare and the 15 men included as part of the two research letters were discharged home after their symptoms fully resolved.
Carolyn Rosner, MSN, NP (Inova Heart and Vascular Institute, Fairfax, VA), and colleagues, who published their experiences treating seven younger men hospitalized for acute myocarditis-like illness following vaccination at two US medical centers (Falls Church, VA, and Dallas, TX), point out that the "clinical course of vaccine-associated myocarditis-like illness appears favorable."
And given the potential morbidity and mortality of COVID-19 infection even in younger adults, the benefits of vaccination still outweigh the potential risks, say the researchers.
"We are all very mindful and sensitive to the fact that [the data] need to be reported responsibly and put in the context of the unprecedented, widescale vaccination effort currently ongoing," Rosner told TCTMD. "I think it's a very small number compared to the number of patients vaccinated and it's also very small compared with the annual global incidence of myocarditis related to viral illnesses or other etiologies."
Additionally, Rosner said they were reassured that patients presented quite typically for myocarditis, which allowed them to quickly identify it and start treatment.
In no way do we want to create any alarm about these really remarkable vaccines. James de Lemos
James de Lemos, MD (UT Southwestern Medical Center, Dallas, TX), a coauthor on the case series with Rosner and colleagues, said the clinical profile of the male patients presenting with myocarditis tends to be quite similar, but all responded well to treatment and there isn't anything at this point to suggest they won't completely recover. With myocarditis being an extremely rare adverse event, he stressed, the benefits of vaccination continue to far outpace the risks.
"In no way do we want to create any alarm about these really remarkable vaccines," de Lemos told TCTMD. "This is probably a real association, but a rare one. The most important message is that it doesn't change the highly favorable risk-benefit [profile] of the vaccines. [Myocarditis] happens uncommonly and appears to be self-limited. Patients do well and the risk is so much lower than the cardiac risks of getting COVID-19, even in young people."
Last week, the US Centers for Disease Control and Prevention (CDC) generated headlines when it reported a higher-than-expected number of myocarditis cases among young people who received the Pfizer/BioNTech or Moderna mRNA-based COVID-19 vaccines. Based on data from the Vaccine Adverse Event Reporting System (VAERS), there have been roughly 475 cases of myocarditis and pericarditis in people ages 30 years and younger.  
Even though the CDC and the European Medicines Agency are continuing to monitor the number of reported cases, experts stressed that vaccination's benefits exceed the relatively small risk of myocarditis. The American Heart Association (AHA) also came out strongly in support of vaccination, urging "all adults and children ages 12 and older in the US to receive a COVID vaccine as soon as they can, as recommended by the CDC."
On June 18, 2021, the CDC's Advisory Committee on Immunization Practices (ACIP) is scheduled to meet and provide an update on vaccine safety, including myocarditis after receipt of one of the mRNA-based vaccines.   
Two Case Series Totaling 15 Patients
In the series by Rosner, de Lemos, and colleagues, six of the patients had been vaccinated with an mRNA-based vaccine (Moderna or Pfizer/BioNTech) and one patient received the adenovirus-based Janssen vaccine (Johnson & Johnson). The patients were hospitalized 3 to 7 days after vaccination with acute chest pain and evidence of myocardial injury as documented by elevations in cardiac enzymes. The ECG was normal in some patients but showed ST-segment changes in others. Three of the patients underwent invasive coronary angiography, but none had evidence of obstructive CAD. On cardiac magnetic resonance (CMR), multifocal subepicardial late gadolinium enhancement (LGE) was seen in all seven patients and myocardial edema was present in three patients.
The good news is that patients did very well and recovered. James de Lemos
Regarding treatment, patients received beta-blockers and anti-inflammatory medications and all symptoms resolved by hospital discharge. The mean hospital stay was 3 days.
"The good news is that patients did very well and recovered," said de Lemos. "The patients didn't have any high-risk markers. Myocarditis comes in several flavors, but these patients didn't have any high-risk markers that would suggest long-term consequences."
To TCTMD, Rosner stressed that given the number of Americans vaccinated to date, the risk-benefit profile remains "overwhelmingly favorable."
The second case series, which was reported by Kathryn Larson, MD (Mayo Clinic, Rochester, MN), and colleagues, involved eight healthy males ages 21 to 56 years diagnosed with myocarditis 2 to 4 days following mRNA-based vaccination. Seven patients developed symptoms of chest pain after receiving the second dose. Cardiac troponin values were elevated in all patients and peaked the day after hospital admission. LVEF was reduced in two patients (< 50%). On CMR, "patchy" LGE consistent with myocarditis was seen in all patients and most had evidence of myocardial edema.   
For therapy, three patients received NSAIDs, two were treated with colchicine, two with prednisone, and three received no medications. All were discharged following the resolution of symptoms.
"As a case report collection, the current research letter emphasizes the real incidence of acute myocarditis after mRNA COVID-19 vaccine, which appears to be extremely rare," according to the researchers. However, they recommend that providers remain alert to the possibility of myocarditis after mRNA-based vaccination.
No Smoking Gun
In addition to the case report, de Lemos, along with lead investigator Alagarraju Muthukumar, PhD (UT Southwestern Medical Center), also published an in-depth case report of a 52-year-old patient hospitalized with acute chest pain 3 days after receiving the Moderna vaccine. During clinical workup, it was revealed cardiac troponin I levels were elevated and there was evidence of incomplete right bundle branch block without ST- or T-wave changes on ECG. He was taken to the cath lab where mild nonobstructive CAD was found (there was no stenoses, visible thrombus, or evidence of embolism or dissection). On day 3, CMR was performed and revealed mid-myocardial and subepicardial linear and nodular LGE.
The patient was treated with low-dose lisinopril and carvedilol but received no immunosuppressive or anti-inflammatory medications. The patient was asymptomatic at discharge.
To TCTMD, de Lemos said that the patient presented in January 2021, a time when the possibility of myocarditis following vaccination wasn't well known. They performed an extensive evaluation, pulling together a team from clinical chemistry and pathology, along with basic scientists, to try to understand if the presentation was linked to the vaccine and if they could gain any insights into the potential mechanism.
The analysis, on the whole, didn't identify "a smoking gun" that would explain the immune pathway driving the development of myocarditis after vaccination, however. Interestingly, the patient did not have an exaggerated antibody response to the COVID-19 vaccine, and while there was evidence that some cytokine levels were elevated, the researchers didn't see an elevation of the types implicated in more-severe forms of myocarditis, such as interleukin-17.
De Lemos said that it's just a single patient and not too much should be made of the findings aside from helping to guide other studies. The most important message, he said, is that people should continue to be vaccinated against COVID-19 to help put an end to the pandemic.
"This a math exercise, and this doesn't change the math, either for the individual or the population," he said. "The math strongly favors getting vaccinated."    

Michael O'Riordan is the Associate Managing Editor for TCTMD and a Senior Journalist. He completed his undergraduate degrees at Queen's…
Read Full Bio
Disclosures
Larson and Rosner report no relevant conflicts of interest.
Muthukumar reports grant support from Abbott and Roche Diagnostics.
De Lemos reports consulting income from Siemens Health Care Diagnostics, Ortho Clinical Diagnostics, and Quidel.