Pascal TEER Device Performs Well in Patients With Complex Anatomy
The registry patients, who had degenerative MR, were ineligible for randomization in CLASP IID due to their complexity.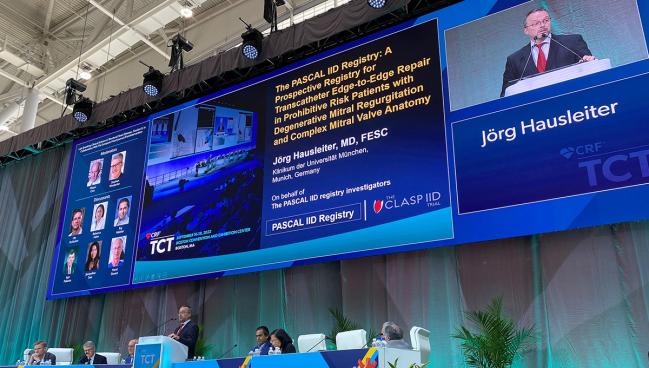 BOSTON, MA—Patients with significant symptomatic degenerative mitral regurgitation (MR) who had complex anatomy making them ineligible for inclusion in the CLASP IID trial can be treated safely and effectively with the Pascal transcatheter edge-to-edge (TEER) system (Edwards Lifesciences), according to data from the Pascal IID registry.
The Pascal device was just approved for degenerative MR by the US Food and Drug Administration earlier this month, based on data from the CLASP IID randomized trial directly comparing the two devices and showing noninferiority. As reported by TCTMD, the trial results were released to the public 2 days later on the opening day of the TCT 2022 meeting.
Historically, patients have been judged suitable for TEER based on their anatomy using "traffic light" categories: those patients with anatomical features similar to patients in the pivotal COAPT trial are designated as green by a 2021 consensus document published in Structural Heart, whereas others, denoted as yellow, have features that make the procedure more complex but who may still benefit from TEER. Those with prohibitively complex anatomy, designated as "red category" patients, have been considered unsuited to clip repair.
"These data . . . are making me feel better about myself and my program because it's capturing a real-world population that we're seeing where we—too programmatically—have been employing this green-, yellow-, red-based patient selection based on anatomy," commented Michael Young, MD (Dartmouth-Hitchcock Medical Center, Lebanon, NH), during a press conference at TCT 2022. "I feel like a lot of green patients that have been operated on [have] very yellow/orangish, if not reddish, type of anatomy. [While] there are, of course, other technologies . . . that may offer complementary arterial approaches, the technology we have now available to us seems like it's safe."
Presenting the results of the Pascal IID registry, Jörg Hausleiter, MD (Klinikum der Universität München, Munich, Germany), said the findings indicate that "the Pascal system is a beneficial system for patients at high risk in terms of MR with a complex mitral valve anatomy. In patients who have been considered to be less suitable for transcatheter edge-to-edge repair, these results may expand the different options for patients in this very complex patient cohort."
Pascal IID Registry
The PASCAL IID registry enrolled 98 patients (mean age 81.1 years; 61.2% male) who were not eligible for inclusion in the CLASP IID trial on the basis of their complex anatomy. At baseline, 69.4% of patients were considered NYHA class III/IV, mean STS score was 4.6, 69.4% had atrial fibrillation, and MR grade was 3+ in 27.3% and 4+ in 71.2%. Complex anatomical features included:
At least two independent significant jets (30.1%)

Mitral valve orifice area < 4.0 cm2 (15.9%)

Bileaflet/multiscallop prolapse involvement (15.0%)

Significant jet in the commissural area (11.5%)

Flail width 15 mm and/or flail gap 10 mm (9.7%)

Other (17.7%)
The procedure was successful in 92.9% of patients, with a mean procedural time of 111.0 minutes and a device time of 79.5 minutes. A mean of 1.6 devices were implanted per patient, and mean total hospital length of stay was 1 day. Most patients received the original Pascal device (55.4%), while 33.7% received the Pascal Ace and 10.9% received both.
At 6 months, the composite rate of major adverse events was 11.2%, including one CV death, one stroke, one MI, one need for renal replacement therapy, one nonelective mitral valve reintervention, and seven severe bleeds. This translated into an adjudicated rate of freedom from adverse events of 85.6%.
There were significant reductions in MR seen from discharge through 6 months (P < 0.001 for all). At 6 months, 56.1% and 92.4% of patients were classified as MR 1+ or 2+, respectively. The lowest postprocedural gradients were sustained below 5 mm Hg.
Additionally, NYHA functional class improved: 84.2% of patients were categorized as I or II at 6 months, up from 31.6% at baseline (P < 0.001). There was also a significant improvement noted in Kansas City Cardiomyopathy Questionnaire (mean 57 vs 72; P < 0.001), whereas increases in 6-minute walk distance and EuroQol 5 Dimensions Health Questionnaire scores were not statistically significant.
'Very Complementary' Findings
During the press conference, moderator David Cohen, MD (St. Francis Hospital, Roslyn, NY), called the results "very complementary to the randomized data."
Hausleiter agreed but clarified that these patients "were more complex in terms of their anatomy but also in terms of the clinical risk. This was a much more comorbid and fragile patient population."
Also commenting to the media, Federico Asch, MD (MedStar Health/Georgetown University, Washington, DC), called these "wonderful data." However, he noted, "this is pointing out the fact that the definition of complexity [used for TEER] is old and . . . actually outdated." Patients who were considered complex even only 10 years ago may not be "as complex as we thought," Asch added.
"Maybe we improved technique, maybe the device has improved, maybe we're not that afraid of them anymore. But clearly," he said, "these patients are still doing well. Maybe we need to change our thresholds for these different criteria."

Yael L. Maxwell is Senior Medical Journalist for TCTMD and Section Editor of TCTMD's Fellows Forum. She served as the inaugural…
Read Full Bio
Sources
Hausleiter J. The PASCAL IID registry: a prospective registry for transcatheter edge-to-edge repair in prohibitive risk patients with degenerative mitral regurgitation and complex mitral valve anatomy. Presented at: TCT 2022. September 17, 2022. Boston, MA.
Disclosures
Hausleiter reports receiving consulting/speaker fees from Edwards Lifesciences.