PCI's Role for Patients With HFrEF and Extensive CAD: Experts Debate
It's clear the REVIVED-BCIS2 trial hasn't put an end to PCI in this setting. But it should be used cautiously, Eric Velazquez says.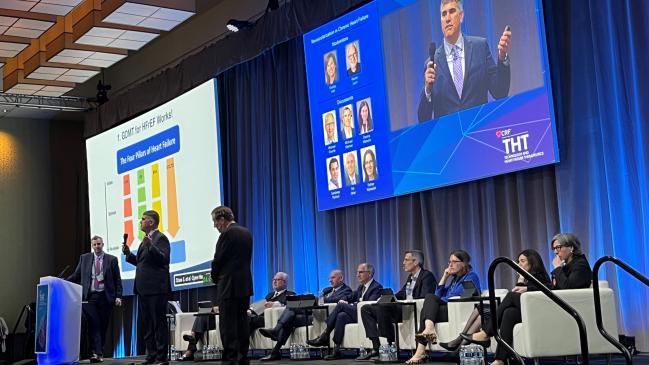 BOSTON, MA— Despite the neutral results of the REVIVED-BCIS2 trial, PCI will retain a place in the management of patients with severe ischemic cardiomyopathy and extensive coronary disease, alongside CABG, as long as there are compelling reasons for needing revascularization, experts argued during a debate here at the Technology and Heart Failure Therapeutics (THT) 2023 meeting.
REVIVED-BCIS2, released in August 2022 at the European Society of Cardiology Congress and published in the New England Journal of Medicine, showed that PCI did not improve outcomes in these types of patients compared with guideline-directed medical therapy (GDMT) alone. Subsequent analyses additionally demonstrated that there was no benefit from PCI in terms of reducing arrhythmic death and that myocardial viability, predominantly assessed using cardiac MRI, could not identify a group of patients in which the intervention would be worth it.
At THT, a debate centered around a specific high-risk case, however, made it clear that PCI is not going to be abandoned completely in this setting, even for patients with heart failure with reduced ejection fraction (HFrEF) whose GDMT is optimized.
Dor Lotan, MD (NewYork-Presbyterian/Columbia University Irving Medical Center, New York, NY), presented the case of a 60-year-old patient who presented with shortness of breath and an LVEF of 35% on transthoracic echocardiography. A chest X-ray revealed pulmonary edema, and invasive angiography a 50% left main stenosis and an 85% proximal LAD lesion. There were subsequent hospitalizations involving heart failure exacerbations and a TIA, with the patient started and optimized on various heart failure therapies. LVEF declined over time to 20% to 25%, and PET imaging showed more than 30% myocardial viability in the area of the LAD.
Is GDMT Enough?
With that background in mind, Eric Velazquez, MD (Yale School of Medicine, New Haven, CT), was tasked with discussing whether—in light of the REVIVED-BCIS2 trial—GDMT is enough for patients with severe ischemic cardiomyopathy and extensive CAD. He started out by highlighting the proven benefits of treatment with four foundational therapies for HFrEF:
ACE inhibitors/ARBs/angiotensin receptor-neprilysin inhibitors (ARNIs)

Beta-blockers

Mineralocorticoid receptors antagonists (MRAs)

Sodium-glucose cotransporter 2 (SGLT2) inhibitors
"We know guideline-directed medical therapy for heart failure provides massive risk reduction," he said, pointing to one study showing a 73% relative reduction and a 26% absolute reduction in the risk of all-cause mortality with quadruple therapy.
And while CABG reduced long-term mortality in patients with CAD and severe LV dysfunction in STICHES (the 10-year follow-up of STICH), the trial was completed in an era when GDMT didn't include ARNIs or SGLT2 inhibitors.
Now, REVIVED-BCIS2 has provided randomized evidence indicating that PCI has no benefit versus GDMT, Velazquez said. "Don't believe me. Believe the guideline committees," he said, pointing to recommendations for GDMT and surgical revascularization bolstered by trial evidence.  
Applying REVIVED-BCIS2 in the Cath Lab
Jeffrey Moses, MD (NewYork-Presbyterian/Columbia University Irving Medical Center), followed up by defending the use of PCI in certain patients with ischemic cardiomyopathy based on indirect data pulled from a variety of studies supporting the benefits of surgical or percutaneous revascularization.
He also argued that the types of patients getting taken to the cath lab are generally different from those included in REVIVED-BCIS2. Moses cited the RESTORE EF trial to support his case. The retrospective, nonrandomized analysis of patients undergoing Impella-supported, nonemergent, high-risk PCI showed a median 10% improvement in LVEF—more than the 5% change seen in REVIVED-BCIS2—along with reductions in angina and NYHA class.
Although the median age was similar in REVIVED-BCIS2 and RESTORE EF, angina was more frequent and more severe in the latter trial, and a greater proportion had NYHA class III/IV symptoms. There was also a higher rate of left main disease and more-extensive coronary disease in RESTORE EF, with all of this adding up to a "totally different clinical context" compared with REVIVED-BCIS2, Moses said. Moreover, he added, two-thirds of REVIVED-BCIS2 patients had not been hospitalized in the prior 2 years, and there were no NSTEMIs.
"You can only apply a study to those who were actually recruited" and the patients in REVIVED-BCIS2 are "not who we're seeing in the cath lab," Moses said. "The active patients we're seeing in the cath lab, such as [in the case presented by Lotan], should be treated as we have been. Whether the stable, well-compensated [ischemic cardiomyopathy] patients should undergo PCI remains an open question."
Careful Consideration of Options
Velazquez acknowledged that patients such as the one described in Lotan's case are what's being seen every day in practice, but said he would have liked to see consideration of surgery.
"Revascularization is what we're talking about, and honestly, in a case like this, we would definitely discuss with the surgeons as well," Moses responded, noting, however, that many of these patients are turned down for surgery.
Ultimately, based on viability, anatomy, and the history of multiple hospitalizations, this patient underwent high-risk PCI with good results, Lotan said. In recognition of the importance of GDMT, the patient had their beta-blocker dose increased, was placed on a maximal dose of ARNI, initiated an SGLT2 inhibitor, and continued on an MRA at a maximal dose. Two months later, there was no improvement in LVEF, but the patient reported an improvement in HF symptoms and has stayed out of the hospital.
Speaking to TCTMD, Velazquez predicted that REVIVED-BCIS2 would not have a major impact on use of PCI in patients with severe ischemic cardiomyopathy, but welcomed the  renewed focus on a heart team discussion among interventional cardiologists, surgeons, and others for consideration of revascularization in this scenario.
More and more of these types of patients are undergoing invasive angiography, and that's a good thing, Velazquez indicated, because knowing the coronary anatomy is critical to making management decisions. But that doesn't take away from the importance of GDMT, which should be optimized in parallel with coronary disease assessments.
Following invasive angiography, there should be a careful discussion about what should be done for patients, Velazquez continued. "If the patient remains symptomatic, there is an opportunity for revascularization, preferably with surgery if it's the right patient, because that's certainly evidence-based, or on an individualized, patient-by-patient basis in discussion with the patient and the surgical team, a high-risk intervention," he said.
But the key is to understand why PCI should be used in the first place, he stressed. "I don't think we should be pursuing it with some misguided perspective that it's going to provide an advantage in terms of mortality," which, to date, remains to be proven.
When it comes to selecting patients for PCI, myocardial viability is not a major consideration, Velazquez said, pointing to data from STICH as well as his own clinical experience.
Timing and whether a certain procedure is anatomically feasible and can be performed with an acceptable risk are the main factors that play into decisions about revascularization, which should be made after careful preprocedural, strategic meetings are held, Velazquez said. There should also be discussions about how to optimize a patient with GDMT, he added. "I think that timing discussion, that planning discussion, should be part of this. It should not be: you see a lesion, you treat a lesion."
When procedures are done in these high-risk patients, they should be done in specialized, experienced centers, Velazquez advised. "For us to advance this approach, we should do it very carefully, cautiously, and with a fair bit of humility."

Todd Neale is the Associate News Editor for TCTMD and a Senior Medical Journalist. He got his start in journalism at …
Read Full Bio
Sources
Multiple presentations. THT 2023. March 20, 2023. Boston, MA.