PCSK9 Inhibition Shows Promise for Severe COVID-19 in Pilot Trial
The preliminary findings suggest PCSK9 inhibition has anti-inflammatory effects relevant in COVID-19 and beyond.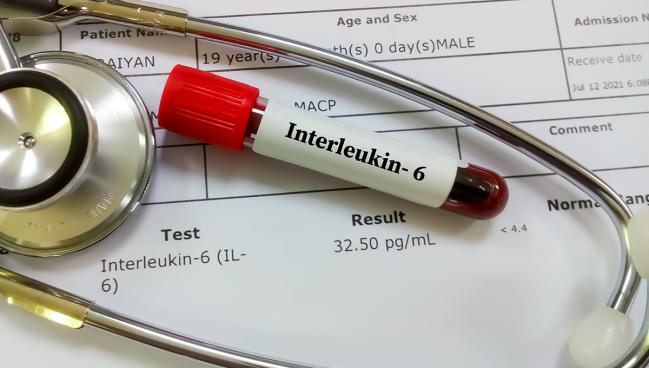 A single subcutaneous injection of the PCSK9 inhibitor evolocumab (Repatha; Amgen) is associated with better short-term outcomes in patients hospitalized with severe COVID-19, according to the results of a randomized pilot trial.
Compared with placebo, PCSK9 inhibition carried a lower rate of death or intubation in the first 30 days (23.3% vs 53.3%), with numerical reductions in both of the individual components of that primary composite endpoint, researchers led by Eliano Navarese, MD, PhD (Nicolaus Copernicus University, Bydgoszcz, Poland, and University of Alberta, Edmonton, Canada), report.
At the same time, patients who received the evolocumab injection saw a greater decline in the inflammatory marker interleukin-6 (IL-6), with a fall of 56% (versus 21% with placebo) over 30 days. Of note, the lower rate of death associated with PCSK9 inhibition appeared to be confined to patients with an elevated IL-6 level at baseline.
To TCTMD, Navarese said he was surprised by the consistency of the clinical and laboratory findings, published online ahead of the January 24, 2023, issue of the Journal of the American College of Cardiology. Based on the results, even though they're from a pilot trial, PCSK9 inhibition could be considered as a potential option in patients with severe COVID-19, he said, noting that there were no side effects identified in the study.
"At this stage, in extreme cases, in severe COVID, and most of all characterized by high inflammation at baseline, there is nothing to lose and only to gain by adding this therapy to the armamentarium that we have in COVID," Navarese said.
At this stage, in extreme cases, in severe COVID, and most of all characterized by high inflammation at baseline, there is nothing to lose and only to gain by adding this therapy to the armamentarium that we have in COVID. Eliano Navarese
In their paper, he and his colleagues note that "the study was not designed to statistically test any hypothesis of superior efficacy or safety of PCSK9 inhibition in patients with COVID-19. Therefore, no formal sample size calculation was provided, and no P values are presented in this paper. All findings should be interpreted as hypothesis-generating."
For that reason, they say, larger trials "are needed to confirm the findings, which, however, are consistent with COVID-19 cytokine storm reduction leading to improved survival."
Anti-inflammatory Effects of PCSK9 Inhibition
Severe COVID-19 has been characterized by a high level of systemic inflammation. IL-6 is a main component of this response, and high levels of the cytokine have been associated with a poorer clinical course in this setting.
It's possible that PCSK9 inhibitors, which have been proven to substantially lower LDL-cholesterol levels, have beneficial effects on vascular inflammation as well. "Experimental and clinical data suggest that PCSK9 inhibitors may exert anti-inflammatory effects related to interference with the IL-6-mediated inflammatory pathway triggered by PCSK9," the investigators note.
To test that concept in the setting of COVID-19, they initiated the IMPACT-SIRIO 5 trial, a pilot study conducted across four clinical sites in northern Poland. They enrolled 60 patients (mean age 66 years; 38% women) who were hospitalized for severe COVID-19 with ground-glass opacity pneumonia, an arterial partial oxygen pressure to fraction of inspired oxygen ratio of 300 mm Hg or less, and serum IL-6 levels above the upper reference limit. The participants were randomized to a single 140-mg subcutaneous injection of evolocumab or saline placebo.
All patients had been vaccinated against SARS-CoV-2 and received standard COVID-19 treatments, including steroids, remdesivir, antibiotics, heparin, and aspirin.
On that background, the addition of evolocumab was associated with a 30% lower absolute risk of death or intubation at 30 days, a much greater decline in IL-6 levels, a shorter median duration of oxygen therapy (13 vs 20 days), and a shorter median hospital stay (16 vs 22 days) compared with placebo.
Though mortality alone was roughly halved in the evolocumab group overall, that finding was driven by the difference observed in patients with a baseline IL-6 level above the median of 51.29 pg/mL (12.5% vs 50.0%).
Importantly, Navarese et al say, there were no side effects reported during the study.
Possible Implications Beyond COVID-19
Commenting for TCTMD, Sascha Goonewardena, MD (University of Michigan, Ann Arbor), who wrote an accompanying editorial with Robert Rosenson, MD (Icahn School of Medicine at Mount Sinai, New York, NY), pointed out the limitations of a pilot trial like this one, including the small patient numbers and potential issues with statistical power.
He said he believes there is a real clinical effect here, which is provocative but should be considered hypothesis-generating until it can be confirmed in larger trials. "Certainly people shouldn't be using this as evidence of initiating PCSK9 [inhibition] in isolation" for severe COVID-19, Goonewardena said.
In a broader sense, this trial is amplifying a debate about the effect of PCSK9 inhibition on inflammation, because studies have shown the agents don't affect high-sensitivity C-reactive protein, the best marker of systemic inflammation, he said. "This is really one of the first clinical trials showing that PCSK9 inhibition is modulating an inflammatory pathway, and it's on a short time scale."
And that, Goonewardena said, has possible implications as researchers search for targeted therapies for other conditions. "It's provocative and it's hypothesis-generating, not just for COVID-19, but for [atherosclerotic CVD] and more generally in the cardiovascular space," he noted.
Indeed, Navarese et al write, "the correlation between reduced inflammation, improved prognosis, and PCSK9 inhibition found in this study seems worthy of further investigation not only in COVID-19 but also other diseases (eg, viral, bacterial, rheumatic) characterized by heightened inflammation."
Moreover, they say, "Our study data suggest a role for personalization of PCSK9 therapy and/or stratification of outcomes by measurement of an inflammation marker. In addition to their role as lipid-lowering therapy, PCSK9 monoclonal antibodies might have a role as direct inhibitors of PCSK9, a powerful trigger of the inflammatory cascade."

Todd Neale is the Associate News Editor for TCTMD and a Senior Medical Journalist. He got his start in journalism at …
Read Full Bio
Disclosures
The study was supported by the Collegium Medicum of Nicolaus Copernicus University.
Navarese reports having received speaker and consultancy fees from Amgen, Sanofi-Regeneron, and Bayer; and having received grants from Abbott, outside the submitted work.
Rosenson reports receiving research funding to his institution from Amgen, Arrowhead, Eli Lilly, Novartis, and Regeneron; having received consulting fees from Amgen, Arrowhead, CRISPR Therapeutics, Eli Lilly, Lipigon, Novartis, Precision Biosciences, Regeneron, Ultragenyx, and Verve; having received nonpromotional speaking fees from Amgen, Kowa, and Regeneron; having received royalties from Wolters Kluwer (UpToDate); and having stock holdings in MediMergent.
Goonewardena reports having no relevant conflicts of interest.