Peripheral Vision: As Office-Based Practices Proliferate, Who Is Watching Out for Patients?
Doctors, payers, patients: all stand to gain as endovascular procedures shift to outpatient offices. Debate about oversight is just beginning.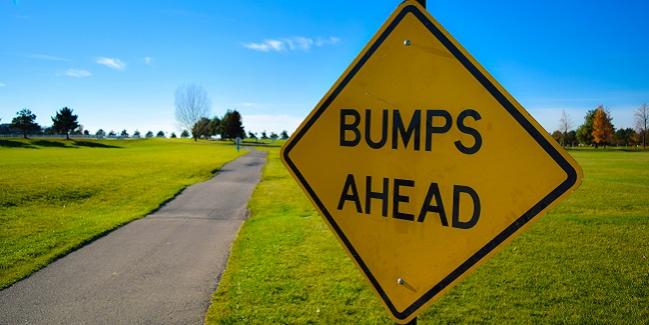 PORT ST. LUCIE, FL—It's been 2 years since an ambulance dropped Miriam D'Errico, age 84, at the St. Lucie Medical Center emergency department (ED). D'Errico, conscious but subdued, was able to communicate that she had just undergone a series of peripheral interventions at a nearby doctor's office.
Physicians in the ED scrambled to put together the pieces. "She looked like a ghost," said Rene Loyola, MD, the surgeon who treated her on April 26, 2017.
D'Errico had been an outpatient at Treasure Coast Heart & Vascular, an office-based lab (OBL) located less than half a mile away. There, according to medical records from the OBL, she underwent angioplasty, atherectomy, and stent placement in her right leg. The records, signed by vascular surgeon Obinna Nwobi, MD, and with a time stamp nearly 3 hours after D'Errico's departure, describe the procedures as successful, with the only concern being postoperative hypotension. Estimated blood loss: "minimal." Disposition: "recovery then home."
But in fact, as Nwobi and the OBL's owner told TCTMD, they had called 9-1-1. By the time D'Errico arrived at the hospital, her blood pressure was 60/40 mm Hg.
"We rapidly worked her up, got a CT scan. What you normally get when you have this sort of injury is a retroperitoneal hematoma, [but] she had an abdomen full of blood," as well as a 9-cm hematoma, Loyola said. He took D'Errico to the endovascular suite and deployed a 7 x 50 mm covered stent in the punctured proximal common femoral to stop the bleeding. Loyola's diagnosis: intra-abdominal hemorrhage and instability secondary to vascular intervention.
D'Errico ended up also needing an emergency embolectomy in her leg. She stayed in the hospital for nearly 3 weeks, much of it on a ventilator. With time, she became stable and was discharged to a skilled nursing facility. Several hospital readmissions for abdominal pain and wound infections later, she returned to St. Lucie Medical Center in renal failure and died there August 23, 2017, sparking a feud that continues to this day.
D'Errico is not the only patient on the minds of physicians practicing in Port St. Lucie—several others told TCTMD about patients first seen at Treasure Coast Heart & Vascular who wound up at their offices in recent years. Finger-pointing and turf wars between physicians in different practice settings are by no means new. But around the United States, a growing number of vascular specialists are speaking out about what they believe to be a lack of standards, accountability, and oversight that could tarnish the reputations of those doing lifesaving work in this field.
Throwing Stones?
Indeed, Loyola noted to TCTMD, there are several OBLs doing great work in the Treasure Coast area. But in 2017, he alerted the Florida Department of Health to what he saw as Nwobi failing to properly identify and manage D'Errico's complications. He also believes she may never have needed the interventions in the first place, since she didn't have severe enough symptoms. In his operative report, Nwobi had diagnosed D'Errico with atherosclerosis of native arteries of the extremities with intermittent claudication. Her family insists her symptoms had been minimal and likely due to co-existing congestive heart failure.
Intermittent claudication is not enough to justify an intervention in most cases, said Loyola, citing the 2015 Society for Vascular Surgery guidelines, which explicitly state that concomitant comorbidities "can markedly limit exercise capacity in a synergistic fashion." Given patient fears that claudication will lead to amputation, "reassurance about the expected natural history of claudication to alleviate their anxiety may be all that is required in such patients and should always predate a discussion of invasive treatment," the guidelines state.
"I'm not throwing stones at the complication itself, because it's happened to me and I've dealt with it," Loyola stressed, adding, "[These things] can happen but there was no indication for the procedure and they didn't deal with the complication appropriately" by addressing the bleeding themselves or by being forthright about what had happened.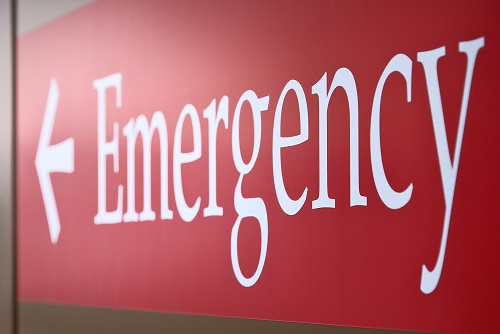 Nwobi and the clinic's owner, businessman Morgan Kane, vehemently dispute this account. Whatever problems D'Errico developed were not obvious at the time, they told TCTMD; rather, she simply had low blood pressure and needed observation, so they called 9-1-1. Their theory is that emergency medical services (EMS) might be to blame, having "put her in a wheelchair" rather than kept her supine for transport. This "most likely popped that closure device," Kane said. "By the time she got to the ER, her condition was different than when she left us."
Kane, mindful of HIPAA rules, shared an incident report with D'Errico's name redacted—the one they'd filed with the Florida Department of Health's Consumer Services Unit. It states she had hypotension related to acute anemia but no palpable hematoma, and that she also had pulses in both feet. A government analyst, responding to the report back in 2017, wrote: "We will not be investigating this matter because the healthcare providers involved have not violated the laws or rules regarding their professions."
While the link between D'Errico's periprocedural complication and her death 4 months later is impossible to establish, her family believes her OBL interventions were the tipping point. D'Errico's son Andrew D'Errico, DPM, a podiatrist, complained to the Department of Health about his mother's care.
As TCTMD has learned, others have gone not only to that agency but also directly to the St. Lucie County Sheriff's Office with allegations of inappropriate treatment. Loyola says he personally has treated at least three other patients who have had major complications after undergoing interventions, sometimes stretched over several appointments, at the OBL. Today, Treasure Coast remains open, Nwobi continues to see patients, and he flatly denies any wrongdoing. As of March 2019, when TCTMD spoke with Nwobi, Department of Health investigations were ongoing.
As the Field Shifts
Physicians who spoke with TCTMD say the friction over Treasure Coast Heart & Vascular exemplifies the problems that can arise as market forces shift the field of vascular medicine away from the hospital toward office settings. OBLs have the potential to not only lower costs to the system but also improve access to care. The pressing question is, who is looking out for the patients?
Oversight of OBLs is in its infancy—it varies by state, participation in nationwide registries is voluntary, and only like-minded clinicians take part on discussions of appropriate use and ethics. The uncertainty over where patients and physicians should turn to turn for guidance harkens back to the "unnecessary stenting" scandals that swept the coronary field in the early 2000s.
When you're in your own office, there's nobody looking over your shoulder. S. Scott Tapper
Manesh R. Patel, MD (Duke University Medical Center, Durham, NC), in the wake of that controversy, has become renowned for his work tracking usage patterns in cardiovascular interventions and developing appropriate use criteria (AUC). Speaking with TCTMD, he stressed that it's always important to look beyond isolated cases where a physician behaved badly, since this might be dismissed as "just a bad apple."
With time, cardiologists began to realize that they needed to take a closer look at quality and appropriateness in the coronary field, lest regulators step in. Patel believes the same now needs to happen in the peripheral space. Though outliers providing substandard care may be few and far between, "after there have been 10 or 15 bad apples," he added, you've got to ask: "Are some more bad apples out there?"
OBLs are in fact an opportunity to incentivize good behavior and align the interests of healthcare systems, physicians, and patients that are already present, Patel stressed. "Is there a sunny side and how do you grow the sunny side?"
Insurers, Physicians, and Patients: Who Wins?
OBLs like Treasure Coast permit a physician to own a practice where fluoroscopy, other imaging, and catheter-based procedures can be performed onsite. These facilities have been around for decades, but began to take off after 2008. That's when the US Centers for Medicare & Medicaid Services (CMS) modified reimbursement to encourage peripheral interventions to be done in outpatient hospital settings, ambulatory surgical centers (ASCs), and OBLs, theoretically saving the healthcare system money by paying a lower total amount for each procedure. Rather than have to share it with the hospital, though, physician-owners of OBLs get to keep the entire payment.
In 2018, a physician working at a hospital would receive around $600 for performing atherectomy in the femoropopliteal artery, for example, with the hospital getting additional funds on top of that. At an OBL, he or she would receive the entire facility fee of around $11,000.
As noted by Jeffrey Carr, MD (Tyler Cardiac and Endovascular Center, Tyler, TX), founding president of the Outpatient Endovascular and Interventional Society (OEIS), state regulations and reimbursement set by payers are the drivers of which interventions are done, and where. CMS reimburses for cardiac diagnostic services in OBLs and, starting this year, in ASCs. Today approximately 22 US states allow for coronary interventions such as stenting to be done in an office environment, according to Carr, but there's no CMS reimbursement for these interventions in either OBLs or ASCs.
That doesn't mean that the nondiagnostic procedures aren't happening, it's just a matter of who pays. "In the state of Texas," said Carr, "we've been performing coronary stenting on commercial payer patients for [at least] 12 to 15 years."
With peripheral interventions, the CMS-driven shift toward office-based procedures also offers perks for patients, Mehdi Shishehbor, DO, PhD (University Hospitals Cleveland Medical Center, OH), and others stressed to TCTMD. "Patients love it because they drive to the front of the building. They go inside. It's usually a small place. They're treated nicely. They sit in a lounge. They get their procedure and go home," Shishehbor said.
From the doctor's perspective, there are rewards beyond the take-home pay. "There's also frustration on the part of physicians, to be honest with you, with the hospitals," Shishehbor said. "In many cases, nowadays there's a lot of financial burden on the side of the hospitals, and there's a lot of pressure with consolidation of devices and technologies [there], which forces physicians sometimes to use devices that they do not believe are the best device."
Patients love it because they drive to the front of the building. They go inside. It's usually a small place. They're treated nicely. They sit in a lounge. They get their procedure and go home. Mehdi Shishehbor
As Patel noted: "In a perfect world, you would get high-quality care as close to home as possible and then when you needed more you would go to the right place. There would be an agreed-upon standard way where that's evaluated and managed. And the price points would then allow you to get the most efficient care that gets you back home and mobile as fast as possible."
Michael R. Jaff, DO (Newton-Wellesley Hospital, MA), said that OBLs are a complex issue, one that he sees from multiple perspectives: patient, vascular specialist, and hospital president.
"If my interventionalists open up an office-based lab it's bad for me because they'll take the high-value profit margin business out of my lab. So from [the hospital] standpoint it's not a good thing," Jaff commented to TCTMD. "If, on the other hand, they can provide a level of experience and efficiency that's way better than what I can provide and they can do it at the same degree of quality and outcomes, with the same rigor that I do, then for patients it's a great thing." Then all that remains is how this affects healthcare expenses on a macro level, he noted.
But Jaff also said he doubts physicians are making their decisions in a vacuum without considering the personal financial benefit.
Beyond the potential to receive the full cut of reimbursement, OBLs can work out cost-saving deals with vendors and co-ownership agreements, Jaff pointed out. "They have much more of a financial upside to doing cases in a place that they own and they control."
Even for the best-intentioned physicians, the independent work done in an office-based setting is different from the natural oversight that happens in hospitals among peers, stressed W. Schuyler Jones, MD (Duke University Medical Center), whose research has tried to tease out the effects of the 2008 Medicare change.
Jones himself performs peripheral interventions at Duke in an inpatient/outpatient lab, he emphasized. What inspired him to write the original grant application for American Heart Association funding in this area, Jones said, were "anecdotes and tales of what was going on in the community."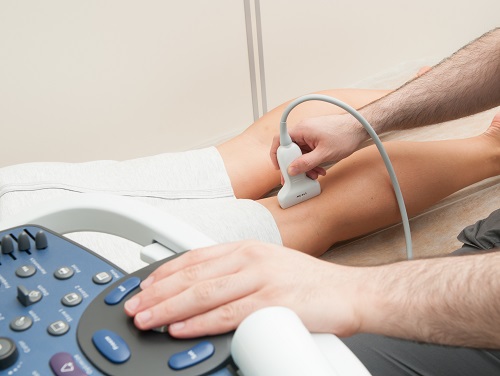 He recalled how, years ago, people who had worked in the Duke cath lab as techs or nurses would return, saying, "'You can't believe what I'm seeing down at [Town X], North Carolina. They're putting lasers down the legs without any disease and billing $10,000, $20,000, or more for this, and they're doing eight a day and it's just a cash machine.' And I said, 'Really?'"
The resulting research, with Jones as lead author and described in a 2015 Journal of the American College of Cardiology paper, showed that between 2006 and 2011 the rate of inpatient peripheral vascular interventions decreased in the United States while outpatient and office-based procedures increased.
Treatment choices also changed with the times, with a surge in atherectomy in OBLs and outpatient settings. "Payments for outpatient and office-based atherectomies were higher than payments for angioplasty, likely contributing to the continued rise in the use of these devices" and blunting the cost savings to Medicare, the investigators point out
Then, in 2017, Jones and colleagues took a step further by asking whether these trends had shaped outcomes. Between 2010 and 2012, Medicare beneficiaries who had peripheral interventions at an outpatient facility or OBL had greater risks of needing repeat revascularization within 30 days and 1 year than those treated in a hospital, they report in a paper published in JACC: Cardiovascular Interventions. On the flip side, the hospital setting carried higher rates of all-cause mortality, readmission, and major lower-extremity amputation, as well as a slight though significant increase in the rate of stroke/MI.
Is there a sunny side and how do you grow the sunny side? Manesh R. Patel
All of the vascular specialists interviewed by TCTMD stressed that OBLs have the potential to streamline services, and that many are already delivering excellent, appropriate care. But OBLs for the most part operate in isolation.
As S. Scott Tapper, MD (Symmetry Laser Vein Center, Stuart, FL), a vascular surgeon, observed to TCTMD: "In the hospital environment, it's much more difficult to get away with inappropriate care. It's possible, but it's much more difficult to get away with inappropriate care that's driven by money and not for patient benefit because of all the oversight committees. . . . When you're in your own office, there's nobody looking over your shoulder."
Another factor that complicates oversight here is that with peripheral vascular disease, unless something goes disastrously wrong, unnecessary treatment may be easier to conceal than in the cardiovascular realm, noted Tapper, who has spoken widely to his peers about the need to make ethical choices.
Cardiologists "are dealing with the heart and if you screw that up, somebody dies. But you can hide a lot of stuff in the legs, where nobody dies. You can hide a lot of indications. You can hide a lot of stents. You can hide a lot of bad stuff in the leg and get paid and the patient doesn't know any different," he said, explaining how some clinicians might abuse their position of power.
No question, these things happen, Jones commented. "The big question is how much is it happening and are patients being hurt by it?" That answer is almost impossible to come by, he said.
The Case of Miriam D'Errico
Without proper oversight and mandatory registries, the vascular field is wracked by he-said/she-said accusations and counter-allegations, as in the case of Miriam D'Errico. And, in the burgeoning area of office-based interventions, Florida's watchdog agencies seem ill-equipped to be the arbiters of right and wrong.
Standing 4 feet 10 inches, D'Errico was known for her active life and forceful personality. "She embraced being a grandmother and didn't let her many health issues stop her from going to their school events, dance recitals, and sporting events," her obituary reads. "She was a little dynamo who could work harder than most [and] didn't let barriers stop her."
D'Errico initially heard about Treasure Coast Heart & Vascular when the office's physicians visited her assisted living center, her son Andrew D'Errico told TCTMD. She had complaints that she felt tired and needed to nap during the day, he said. D'Errico used a walker and had a history of chronic obstructive pulmonary disease, kidney issues, diabetes, atrial fibrillation, and congestive heart failure.
Without telling her family, D'Errico went for evaluation at Treasure Coast Heart & Vascular, eventually undergoing treatment of her left leg. She returned a week later for her right leg. Between the two procedures, D'Errico, who was far from frail, traveled to Disney World with her daughter Linda Trabucco and her grandchildren.
What stands out for Trabucco about her mother's second trip to Treasure Coast is not any single medical decision, but the nature of her abrupt transfer when things went sideways.
Andrew D'Errico said he only heard from Treasure Coast long after his mother had left by ambulance. Right after receiving the call, he made the 7-minute drive to the hospital. By then, Loyola had already inserted the covered stent.
Here again, Nwobi and Kane have a different story. They insist that D'Errico, though hypotensive, was 100% stable when she left Treasure Coast; they blame EMS and the hospital for whatever happened next.
"When I knew she had arrived [at the hospital], I reached out then to the vascular surgeon and he was upset," Nwobi reported. "I told him that she had a complication and explained what the options were, but he just said, 'Look, don't tell me what to do. I'll take care of it.' And I was saying, 'Look, if she had a retroperitoneal hematoma she may just need a resuscitation then active transfusion and reversal of the anticoagulation. There's no intervention needed.'" The other possibility was pseudoaneurysm, Nwobi said, which he told Loyola would be apparent if she didn't recover after a blood transfusion.
Loyola, in contrast, remembers that he was the one to call Nwobi, and that Nwobi didn't believe him when he said the CT scan showed a large amount of free blood in the abdomen. Their conversation, he recalls, was short.
In October 2017, Andrew D'Errico contacted the Florida Department of Health to complain about his mother's care at Treasure Coast Heart & Vascular, but the process has repeatedly stalled over paperwork.
We're just hitting brick walls. We don't know what to do. Andrew D'Errico
Nor was D'Errico's family able to file a wrongful death lawsuit, they said. Multiple attorneys told them that because she had no spouse and no children younger than 25, Florida state law wouldn't allow it. The logic is that adult children are financially independent so do not require compensation.
In medicine, "everybody makes mistakes," Andrew D'Errico acknowledged, pointing out that he, as a physician, knows this firsthand. But he stressed the repeated frustration he's experienced trying to get answers and accountability for how and why a simple procedure landed his mother in the emergency room. "I don't want any family . . . to go through this," he said.
Trouble at Treasure Coast
Port St. Lucie, on Florida's eastern seaboard, has around 200,000 residents but feels smaller. Faded pastel ranch homes dot the area, which boasts an aquatic preserve, botanical gardens, and a handful of state parks nearby. As in much of Florida, there are many retirees as well as healthcare providers serving the needs of aging. Treasure Coast Heart & Vascular is located in a sprawling, Spanish Colonial-style office complex dotted with palm trees and adjacent to a lake. All of the tenants are medical practices, conveniently close St. Lucie Medical Center.
The facility began as Healthy Heart Center, owned for a decade by cardiologist Lawrence Watkins, MD, who sold the practice and a next-door imaging facility to Kane's company Diego Fallon, Inc, in late 2015.
Online, there are no signs that Treasure Coast has faced any scrutiny about the quality of its services or any disciplinary actions. Florida Department of Health inspections available in the public record reveal no surprises. Indeed, any complaints or Department of Health investigations remain confidential unless "probable cause" is found. An inspection by the Agency for Health Care Administration, which regulates facilities in Florida, on September 12, 2018, turned up no anomalies.
Nwobi himself is a board-certified vascular surgeon—the only one in east Port St. Lucie, Kane pointed out to TCTMD. The OBL's website highlights his qualifications.
Nwobi is not the only physician at Treasure Coast and during the 3 years the clinic has operated; at least four cardiologists have rotated through its doors, among them Manish Bansal, MD, known for a 2016 settlement with the US government over an alleged scheme involving prescription pain creams. Also affiliated with the practice is Vasso Godiali, MD, who in 2012 gained notoriety for being among the top 10 most-reimbursed physicians in the United States. That year, Godiali, then based in Michigan, received $10.3 million in Medicare payments.
Nwobi, too, has proven himself to be a high-volume operator with past or current connections to numerous vein clinics across Florida. He has held medical licenses not only in that state but also in Georgia, Wisconsin, Maine, and Connecticut.
CMS data from 2015, before Nwobi worked at the facility, show that he received a total of $2.3 million in Medicare payments, which ProPublica's Treatment Tracker says ranks him as Florida's #2 highest paid in his specialty. ProPublica has not produced a similar tool for later years, but the most recent CMS data indicate that Nwobi's Medicare payments in 2016 were $827,772. Neither figure includes reimbursements from private insurers.
Treasure Coast Heart & Vascular doesn't shy away from marketing its services. In April 2019, Kane—a former Wake Forest University football player who is not a physician—gave a 20-minute talk about peripheral vascular disease at a health and wellness festival in Port St. Lucie, appearing onstage in scrubs with Godiali at his side.
Describing the OBL as a "comprehensive cardiovascular practice" that aims to add a personal touch to the city's medical landscape, Kane told attendees they could text Treasure Coast pictures of their veins for free feedback. In 2019, the practice is aiming to prevent 50 heart attacks and 50 amputations by identifying people who aren't aware they are at risk for disease, he said. To achieve this, their outreach campaign is offering free blood pressure, ankle-brachial index, and ECG screenings.
"You guys aren't a number to us. You guys are people. We understand how you guys go through the medical system here and we want to treat you like family," Kane said, adding "We want to try to change how medicine is handled in this area."
Safe Transfers, When Needed
Yet Treasure Coast Heart & Vascular can't operate in a vacuum. Florida law requires that physicians doing procedures at OBLs using moderate sedation and analgesia or conscious sedation (level II) have staff privileges that would allow them to do the same procedure at a licensed hospital within 30 minutes of transport time. In the absence of this, the OBL or physician must have a written agreement with a hospital in reasonable proximity.
The logic behind a transfer agreement is having "a line of communication already in place, so that if and when things happen you're apprising the receiving people of what particularly went wrong to speed up the care for the patient who might have an emergency," explained Carr, of OEIS.
Documents obtained from the Florida Department of Health say that Diego Fallon, Inc, had two such transfer agreements: with Martin Medical Center, about 8 miles away, as of September 30, 2016, and with St. Lucie Medical Center as of February 1, 2017. Sometime in the ensuing years, sources told TCTMD, these relationships were severed.
Contacted by TCTMD, Martin Medical Center replied: "Since we do not have a relationship with this provider, we would prefer not to comment for the story." St. Lucie Medical Center said: "We cannot release information about transfer agreements."
Asked about their status, Kane first told TCTMD that Treasure Coast is a level I facility so it doesn't require a transfer agreement. In a subsequent phone interview he said that they had decided to switch from level II to I sometime in the summer of 2017. An inspection report dated November 13, 2018, specifies them as being level II and having an active transfer agreement. Onstage at the health festival this month, Kane said the OBL does not only venous ablation but also "complex, open procedures."
Looking Out for Patients
Pamela Roberts, MD, owns a vein clinic in Port St. Lucie and, as of late 2018, had seen four patients who underwent what she believes to be procedures of questionable appropriateness at Treasure Coast. In one woman, Nwobi had done four procedures but the patient was "still having complaints about her legs. I got her ultrasounds and the vein diameters didn't add up to what he had done to her," explained Roberts, who practiced as a cardiothoracic surgeon at Lawnwood Regional Medical Center & Heart Institute in Fort Pierce, FL, before turning her attention to treating varicose veins.
One of Roberts' patients had a bill with over $20,000 in charges submitted to the health insurer, Humana. This amount was reached by Nwobi doing radiofrequency ablation and phlebectomy of veins—and billing for it—across eight appointments, Roberts reported, something she would have done in a single appointment, for a single charge. "And he was having them come back for two ablations for the great saphenous vein and then a phlebectomy after that" in each leg, she said.
Another patient, Tamara Phillips, reached out directly to TCTMD after a vascular surgeon told her that her medical records from Treasure Coast appeared to include falsified information. In 2018, she said, Nwobi had diagnosed her with venous insufficiency based on ultrasound results, which she says she never saw, and performed numerous segments of endovenous ablation in a 2-month time frame. "I was never suffering from venous insufficiency," she said in an email, stressing that while she didn't have complications, she did go under anesthesia with propofol 10 times.
Phillips noted in a phone interview that her medical record states she had unsuccessfully tried wearing compression stockings for 3 months, something she says she was never advised to do—and did not do. She has since notified her insurer, Florida Blue, about the discrepancy.
Performing ablations in patients who don't have the venous disease to justify it is "wrong," Roberts said. "People shouldn't be closing off veins that they could potentially use later in their life if they need open-heart surgery [or] vascular surgery. So if someone has peripheral vascular disease or they have heart disease, and [physicians are] destroying a vein that doesn't need to be destroyed, . . . they're really harming the person, because they don't have as good of a conduit to use," she emphasized.
'Tail Is Truly Wagging the Dog'
Between 2012 and 2015, CMS data show the number of providers doing endovenous ablation increased annually by 10% nationwide and the number of ablations by 26%, according to a study published last year in the Journal of Vascular Surgery: Venous and Lymphatic Disorders. Most of the procedures (64%) were done by vascular surgeons, cardiologists, and general surgeons. More recently, another paper showed that physicians were more likely to perform a greater number of these procedures per patient if they worked in an outpatient setting; were trained in specialties other than surgery, cardiology, or radiology; and had a high overall volume of procedures.
"When you start looking at it from the provider perspective like we did in the paper, and you realize that it really seems to be the provider-level factors that are driving the variation in utilization, that's where it becomes disturbing," Andrew Meltzer, MD (Mayo Clinic, Scottsdale, AZ), lead author of the latter study, told TCTMD. Some providers in their data set treated hundreds of patients each year and averaged four ablations per patient.
Endovenous ablation, he said, "is a procedure that relative to the amount of work is incredibly lucrative and as a result of that you've had a proliferation of all of these outpatient vein centers. . . . Back in the days when the only treatment was surgical, it was exclusively done by vascular surgeons and it was utilized with much less frequency. Now you've got dermatologists, emergency room doctors, basically anyone with a medical degree getting into the game and getting involved in treating these patients."
The exponential growth in this field has raised concerns about overutilization and inappropriateness, Marc A. Passman, MD, a past president of the American Venous Forum, pointed out in an address at the group's 2018 meeting.
"In the venous world, the expansion of venous procedure volume has been further amplified by practice pattern shifts, which have included moving these procedures from the inpatient to outpatient setting; growth of self-standing vein clinics and outpatient imaging centers; a reimbursement system that favors outpatient delivery of care; and the overall capitalization of venous care with 'how to do it' vein courses, marketing platforms, industry promotion of devices, and the market forces that drive these trends," he said.
"The net effect," Passman continued, "is extension of these technologies into areas that they were not originally intended or indicated and the erosion of ethical boundaries to fraudulently allow further expansion of these lucrative procedures to financially support those that deliver inappropriate venous care. The tail is truly wagging the dog."
Among the dubious practices he highlighted are performing multiple ablations on both legs, documenting noninvasive approaches like compression stockings that never happened, and exaggerating patient leg complaints in medical records.
"Outliers on Medicare claims are also being identified, and the number of Medicare fraud claims against venous practitioners has been on the rise in recent years," Passman observed in his talk.
Meltzer said that "a very small percentage" of patients might have a disease burden that requires multiple ablations across several visits, but that proportion would be evenly distributed among practitioners.
The American Vein and Lymphatic Society, cognizant of the need to address potential overuse of venous ablation, launched its Improving Wisely project in 2017. Using CMS data, it provides confidential, individual reports so that physicians can see how their volume compares with their peers'.
"The national average proved to be 1.9 ablations per patient, with a median of 1.7. Of 2,462 physicians billing for venous ablation procedures, there were 106 physicians who were greater than two standard deviations above the average (ie, 3.4)," according to a recent article about the program.
Asked how variations in volume can be addressed, Meltzer said that this issue doesn't only relate to endovenous ablation.
"This is unfortunately just an outgrowth of a fee-for-service healthcare system. So the way that you circumvent overutilization, if you're going to talk really big picture, is that physicians and practices need to be rewarded for taking cost-effective care of patients, rather than simply for doing procedures," he commented, adding, "That's only way that I think you can really get around this. It's prevalent throughout healthcare, but it's very evident when you start looking at a low-risk procedure that requires relatively little training to do and that's reimbursed at such a high rate."
In mid-March 2017, the St. Lucie County Sheriff's Office opened an investigation into Treasure Coast following a tip from Mark Pamer, DO, a pulmonologist. According to the investigator's subsequent report, Pamer had concerns "in regards to this practice performing unnecessary medical procedures on patients in order to increase profit. [He'd heard] the practice owner and office manager, who are not licensed physicians, were explaining medical procedures and diagnosing patients."
Pamer, contacted by TCTMD, explained that he'd had a longtime patient who mentioned she'd been given conflicting information during visits to Treasure Coast Heart & Vascular. On one occasion she'd seen Bansal—when he still worked at Treasure Coast—who'd told her that her ultrasound results didn't point to the need for treatment. On a subsequent visit, after Bansal's departure, she'd been advised that she needed treatment for peripheral vascular disease, the detective's report notes.
Pamer then reached out for clarification from Bansal, who "agreed it didn't sound right that [the patient] would suddenly develop PVD. He called her, she went to see him at his new practice . . . and repeat ultrasound showed that she had patent veins. Clearly, it was fraudulent," Pamer explained.
The detective assigned to the case interviewed Bansal, who told the investigator he had left Treasure Coast Heart & Vascular after feeling pushed to do too many procedures, as well as the female patient, who said she'd been seen by Nwobi. The detective also spoke with Loyola and Andrew D'Errico.
Ultimately, after meeting with the detective to discuss the allegations, Assistant State Attorney Jonathon Libby concluded that no charges could be filed and that, if anything, unnecessary procedures came down to a medical malpractice suit.
Others interviewed by TCTMD, however, believe that investigations like this one should rise to a level beyond county and state scrutiny, since they involve payments by the CMS or private insurers.
"Unnecessary testing and procedures that don't benefit a patient is unethical and in some cases fraudulent and illegal. It can harm us all," Pamer commented, upon hearing the local investigation had closed. "It can harm patients financially and physically; it harms us as physicians because it raises everyone's insurance costs, takes away resources from an already-strained healthcare system, ultimately lowers reimbursements, results in additional regulation and oversight, and creates scandal and suspicion of our profession."
On a day-to-day level, too, it's disheartening for physicians trying their best to do the right thing, he emphasized. "In my practice, we 'cross every t and dot every i' and play by the rules. We don't commit fraud. It's infuriating to see practices or hospitals cheat the system and defraud patients and insurers for thousands or millions of dollars when we're battling over 5 and 10 dollars at a time."
A spokesperson for the sheriff's office, contacted by TCTMD asking whether any concerns had been escalated, replied via email that a "member of the health department's enforcement unit was with our detective and would have pursued any of these things." After the local investigation closed, however, the sheriff's office took no further action and no additional complaints have come in, he confirmed.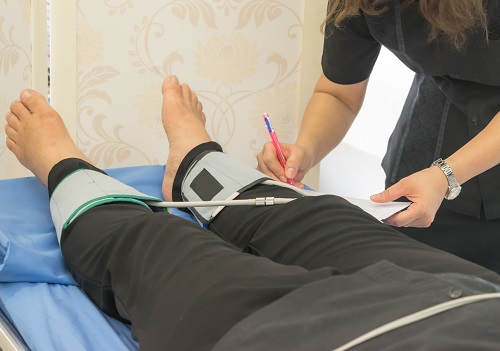 Meanwhile, Nwobi himself disclosed that the Department of Health's Investigative Services division began an inquiry into Treasure Coast in June 2018 that's still ongoing.
To TCTMD, he expressed frustration over being scrutinized for three instances of complications that sent patients to the ED among the 400 arterial cases done at Treasure Coast over the past 3 years, noting that he's reported these to the agency's Consumer Services division. "We send [details of complications] to them. All the patients [we've reported], the Department hasn't had any issues with the standard of care provided," Nwobi commented. "These cases are reviewed by several board-certified vascular surgeons, [who understand] the intricacies of this matter."
What about those who say this OBL is out to make extra money, hence the staged procedures? TCTMD put the question to Nwobi, who countered that vein ablations are done in multiple steps to improve patient comfort. "The majority of our patients do not even get any intervention, which will surprise you. . . . I want you to understand that and put that on record. We only intervene on patients that have pathology. In fact, some patients that have pathology, sometimes we don't treat. We tell them: go and wear compression socks, go and do conservative management first," he said.
Kane, likewise, said he believes those who have spoken out about Treasure Coast Heart & Vascular "are all people that benefit if we don't survive," adding: "If you look at the data . . . it paints a very different picture than what our competition is going to tell you."
Tensions among physicians competing for the same patients, said Carr, is exactly the reason why OEIS is pushing towards peer review on a national level, to encourage transparency and accountability, in both outpatient settings and hospitals. "It's really tough to know unless you have the records and go through and fairly [judge] them," he said. "We want to protect the patient for sure, but we also want to be fair in how things are adjudicated." Inflammatory, sensational news stories help no one, he noted, "but at the same time, if someone's doing something inappropriate or unsafe, repetitively, that definitely should be called out and looked into."
Push for Transparency
In the peripheral field more broadly, there is a push to try to track treatment patterns and outcomes across the diverse settings in which these interventions are performed. The Society for Vascular Surgery's Vascular Quality Initiative is looking at outcomes in hospitals, outpatient centers, vein clinics, and physician practices, while the National Cardiovascular Data Registry-PVI Registry is focusing on hospitals, the American Vein and Lymphatic Society's ACP PRO Venous Registry on vein care, and the OEIS National Registry on OBLs.
And the biggest stumbling block remains the lack of oversight. There are numerous guidelines and other documents aimed at standardizing PAD care, including the recently issued AUC for peripheral artery interventions, but as Tapper put it bluntly: "there's no enforcement."
Ideally, Patel suggested, OBLs would have uniform credentialing, an affiliation with a local hospital, and physicians with a deep connection to the surrounding community. However, small facilities may lack the motivation or money to take part in large registries. One option might be to create software for electronic health record reporting that uploads data to registries and provides physicians feedback on quality. Then, they "can put up a sign and say, 'I'm in the top 10% providers of X,'" Patel said.
What the patient gets out of quality assessment is also important, noted Patel, who along with Michael S. Conte, MD (University of California, San Francisco), is co-chairing a patient-reported outcomes in PAD working group created by the nonprofit Vascular Cures.
Don't mess around, doctors. You've got potentially a great thing here. All you've got to do is practice at the highest quality and no one will be able to criticize you. Michael R. Jaff
OEIS is a leading voice in the quest for OBL quality standards, several experts noted to TCTMD.
Created in 2013, the 450-member nonprofit group hosts annual meetings and maintains the OEIS National Registry. So far, the registry includes 85 sites, with more than 9,000 patients and 12,000 procedures entered, according to Carr. He estimated that there are 750-plus OBLs across the United States.
"OEIS is a collaborative society . . . made up of vascular surgeons and radiologists and cardiologists. And that's what makes us unique," Carr said, noting as others have that competition among specialties over the years has made it hard to come up with consensus.
More elusive than developing quality metrics is how to overcome the fact that any underskilled or profit-motivated providers will not opt in for more oversight when it's voluntary, he said. "There's a longer and more complicated [question] that I've been wrestling with since the beginning: what about the bad actors, how do you get them out?"
Jaff described a keynote address he gave at the 2017 OEIS annual meeting, remembering how he'd warned attendees: "Don't mess around, doctors. You've got potentially a great thing here. All you've got to do is practice at the highest quality and no one will be able to criticize you, but the minute Schuyler Jones' paper gets reproduced or this starts to hit the press, you are in a precarious position."
To TCTMD, he stressed, "Can you imagine a patient finding out a physician used a device that they might never have used if finances weren't at least, in part, a motivator? They'd be furious."
Jones, the researcher who has committed so much time to studying this issue, points out that it's not just the OBLs who deserve scrutiny.
"Very clearly people do great work in office-based labs and outpatient labs," Jones emphasized. "Likely a dark stain on the OBLs are at least the accusations of greed and fraud, and so ultimately, yes, someone needs to create a mandate to report so that there is peer review for these things. That goes for all vascular interventions, not only in the office but everywhere."
By the same token, the entire field would benefit. For now, said Jones, "it is the Wild West, still. Unfortunately, in vascular intervention in general, there's not any oversight."
What's Next?
Asked by TCTMD if Florida is particularly lax when it comes to OBLs, Christopher Nuland, JD, the general counsel to the Florida chapter of the American College of Surgeons, said the state "has perhaps the best office-surgery rule in the country" in terms of personnel, equipment, and credentials required by law. "But even the best of rules has to be vigorously enforced to be effective," he emphasized.
Even the best of rules has to be vigorously enforced to be effective. Christopher Nuland
In fact, following a string of deaths and complications at Miami-area cosmetic surgery clinics, Florida lawmakers proposed legislation (SB 732 and HB 933) earlier this year that would, among other things, enable regulators to revoke a clinic's registration and then prohibit its owners from opening another facility within 5 years, potentially also creating tougher oversight for OBLs that do peripheral interventions. Last week the Florida Senate passed the bill, and today the House of Representatives also did so; it must now be signed into law by Florida's governor.
For the time being, Loyola said he's baffled and angry at the lack of action taken against facilities with a pattern of problems. "Why is Florida so slow," he said, "so reluctant to do something?"
In early February, yet another patient was dropped by ambulance at the St. Lucie Medical Center ED. She arrived from Treasure Coast with two sheaths in her groin, barely conscious, and a severely ischemic leg. This patient told TCTMD the OBL did not notify her family of her transfer. She would eventually lose her limb above the knee and, more than 2 months later, is still dealing with two open, unhealed wounds.
The children of Miriam D'Errico say their push for justice is in part to help other patients at risk. "Most of the elderly people that I met who were friends of my mother had nobody," Trabucco noted. "My mother had a whole family for support and we still couldn't protect her—for crying out loud, my brother is a physician."
For both Trabucco and her brother, one of the biggest insults is what's contained in D'Errico's paperwork from Treasure Coast about her complication: nothing. Not a hint of information on her ambulance ride or her hospital admission.
"We're just hitting brick walls," Andrew D'Errico said. "We don't know what to do."