Point-of-Care hs-cTn Tests for MI Rule-out Could Save Time, Resources
A test that done by EMS providers in the field would be a godsend for rural patients with long transfer times.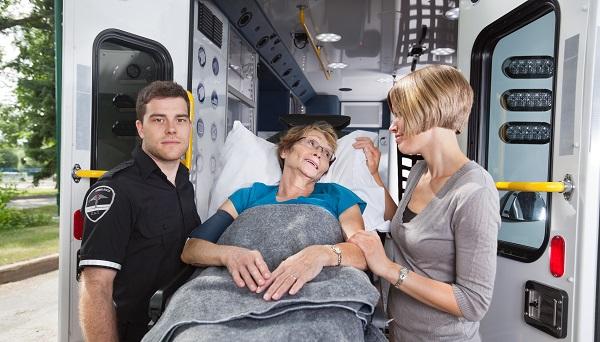 Point-of-care high-sensitivity cardiac troponin (hs-cTn) assays have the potential to safely rule out MI in the prehospital setting, thereby avoiding unnecessary ambulance rides, according to new research. Such an option would be particularly welcome for people living in rural areas who would avoid long, fruitless trips to hospital, the study authors say.
Today, most hs-cTn assays are conducted in hospital laboratories to help to diagnose and rule out MI, with newer accelerated algorithms enabling patients to be triaged within hours.
But what if patients were able to have their blood drawn and assessed before they even reach the hospital, potentially allowing them to stay home?
"For us, that would be the big win," lead author Jamie G. Cooper, MBChB (Aberdeen Royal Infirmary, Scotland), told TCTMD. "We've got a quite rural community . . . so for people to have to come all the way to hospital, [which takes] a few hours, and then get there and have a heart attack ruled out very quickly and then have to travel back home, it doesn't seem always the best use of time or resources."
He envisions emergency medical systems (EMS) personnel conducting the tests and discussing those results with the receiving hospital, and for patients found to not have troponin elevations, telling them "that doesn't look too bad, there's nothing to worry about" or "you need further tests but maybe come to the clinic in the next day or two."
Cooper acknowledged that one problem with point-of-care testing would be timing—in some cases, the tests might be administered too early in an evolving MI for troponins to be detected in the bloodstream. In the study, more than half of the patients were tested within 3 hours of symptom onset. As such, "limiting this approach to later presenters or those without known ischemic heart disease may improve performance," the authors acknowledge.
To explore the potential for point-of-care hs-cTn assays, Cooper and colleagues conducted a prespecified secondary analysis of the ACCESS study, in which patients with suspected ACS were assessed in ambulances fitted with Samsung LABGEOIB10 point-of-care analyzers (Samsung) between 2014 and 2018. While that study missed its primary outcome to show safe rule out in conjunction with the HEART score, the remainder of the patients' blood samples were transferred to the hospital for eventual testing with the laboratory-based ARCHITECTSTAT hs-cTnI assay (Abbott Laboratories).
Getting a Head Start
For the current analysis, published as a research letter in the December 7, 2021, issue of the Journal of the American College of Cardiology, Cooper and colleagues found that of the 966 patients (mean age 64 years; 42% women) with a prehospital hs-cTn measurement, 44% had known ischemic heart disease and 19% had a subsequent MI or cardiac death within the next 30 days. Median hs-cTnI concentration was 4.0 ng/L.
In total, 28.9% of patients had hs-cTnI concentration below the laboratory assay's limit of detection of < 2 ng/L, with a sensitivity of 97.3% and negative predictive value of 98.2% (95% CI 95.9%-99.2%). Further, more than half of patients (55.4%) had levels below the rule out threshold of < 5 ng/L, with a sensitivity of 88.5% and negative predictive value of 96.1%. Rates were similar in a subgroup found to have normal ECGs, as well as in subgroups stratified by age, sex, and smoking status. In fact, the negative predictive value was even higher in patients with a normal ECG without known ischemic heart disease (98.3%) who presented within 3 hours of symptom onset (98.8%).
"Our findings demonstrate how hs-cTn testing might be applied to risk stratify patients in the prehospital setting," Cooper and colleagues write. "We acknowledge the exploratory nature of our study using a core laboratory test is a limitation and that use of a contemporary troponin test as the gold standard potentially may have overestimated performance, but hope our findings will inform future research to determine how to integrate the next generation of high-sensitivity point-of-care tests into prehospital care pathways."
Hypothetically, if these laboratory assays had been available to EMS in the ambulance, Cooper said, many of the patients may not have needed to go to the hospital. However, many challenges remain with optimizing point-of-care assays, especially related to maintaining the instruments in a less-reliable setting as well as maintaining high-quality decision-making support in the field, comparable to what would be seen in the hospital.
"Our next step is doing the test on all the blood samples that we have . . . to see whether the same is true with these newer point-of-care assays," he said. "I guess the proof of the pudding is in running a trial where we get to the point where we actually start moving patients differently based on a point-of-care, real-time assessment by paramedics but with some physician support from receiving hospitals."

Yael L. Maxwell is Senior Medical Journalist for TCTMD and Section Editor of TCTMD's Fellows Forum. She served as the inaugural…
Read Full Bio
Disclosures
This study was funded by the Digital Health & Care Institute (DHI), Scotland, and by the NHS Grampian Endowment Fund.
Cooper reports being supported by a NHS Scotland Clinical Research Fellowship.