PORTICO I Postapproval Registry Outside the US Offers 'Teaser' for Pivotal Trial
Thirty-day results suggest low rates of early mortality and stroke, but the new pacemaker implantation rate raised some eyebrows.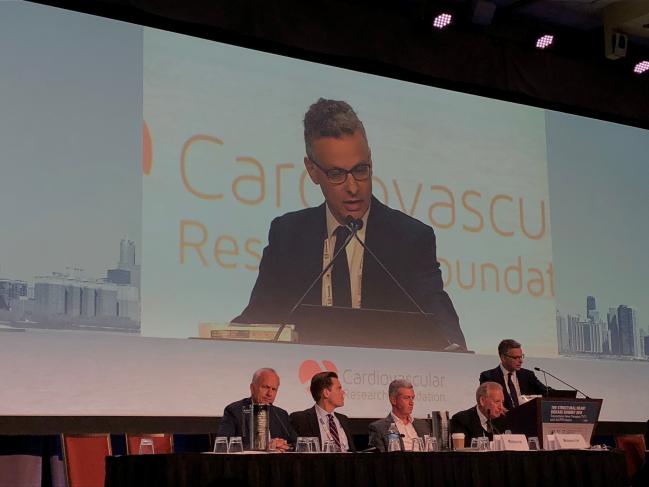 CHICAGO, IL—Thirty-day results from a multicenter, postmarketing study of the Portico self-expanding transcatheter valve outside the United States suggest that the procedure is safe and associated with low rates of stroke and death, but is associated with a new pacemaker greater than 18%.
The study "represents the first real-world, early commercial experience with implants beginning in 2013," said Francesco Maisano, MD (Klinik für Herz- und Gefäßchirurgie, Universitätsspital Zürich, Switzerland), who presented the results during a late-breaking trial session here at the 2018 Structural Heart Disease Summit.
The Portico valve, which holds CE Mark in Europe but is still being studied in a US pivotal trial, boasts the lowest profile delivery system of any commercially available valve, is highly flexible, Maisano said, and has a self-expanding mechanism that makes it fully recapturable, repositionable, and retrievable. The open-cell design helps minimize obstruction to coronary blood flow. The device is available in four sizes—23 mm, 25 mm, 27 mm, and 29 mm—and is designed for transfemoral delivery.
PORTICO I enrolled 973 patients at 61 centers in Europe, Canada, and Australia, of whom 922 ultimately received the valve and were available for 30-day follow-up. Three-quarters of the procedures were done using conscious sedation/local anesthesia.
As Maisano showed here, all-cause mortality at 30 days was 2.7%, 1.6% of patients had a disabling stroke, and 1.4% had a nondisabling stroke or TIA. Rates of other safety outcomes were low, with the exception of new pacemaker implantation, which was done in 18.7% of patients.
Hemodynamic performance of the valve was "excellent," Maisano said, and "competitive" with results seen with other transcatheter valves. The proportion of patients with greater than mild paravalvular leak at 30 days was 3.9%.
Pre-BAV Needed?
In a separate analysis that zeroed in on patients who had undergone preprocedure balloon aortic valvuloplasty (pre-BAV), as is recommended for the Portico device, investigators found that 88.9% of patients had received pre-BAV, with different centers demonstrating important differences in their predilection for that practice. No significant differences for major safety outcomes were seen, however, based on whether or not patients had undergone pre-BAV.
"One-month results of the Portico valve in real-world patients treated at multiple sites in various geographies demonstrate excellent short-term clinical outcomes when used by a broader implanter base, and were consistent with the Portico transfemoral EU CE Mark trial," Maisano concluded.
In discussion following Maisano's presentation, session co-moderator Martin Leon, MD (NewYork-Presbyterian/Columbia University Irving Medical Center, New York, NY), characterized the PORTICO I registry as "an exciting teaser to get our appetites whet to understand more about this device," especially in the US where the pivotal trial is expected to deliver results next year.
Leon said he was struck by the impressive hemodynamic results but also by the relatively high rate of device repositioning, which was used in 41.4% of cases.
In response, Maisano took pains to avoid naming a competitor's product but stressed: "When you look at this valve, it looks like another valve. . . . I think the positioning hasn't been as successful with this valve because it looks like another valve, but you do need to handle it differently, it's not the same as that other valve; it's special, with different mechanisms and a different way of positioning. So, people need to adapt to this different positioning."
Commenting on the PORTICO I registry for TCTMD, Alexandre Abizaid, MD (Instituto Dante Pazzanese de Cardiologia, Sao Paulo, Brazil), disclosed that he himself has "zero experience" with this device but thought the results looked promising. 
"It's a registry, it's not a randomized trial, so when you see all the numbers in terms of complications and success rates, it looks good," he said.
By way of a caveat, Abizaid added: "I was not totally impressed with pacemaker use. It doesn't compare very favorably with Sapien 3 [Edwards Lifesciences] or with Acurate Neo [Boston Scientific], because both have pacemaker rates under 10%. As a new valve, I think you have to bring something new to the table. So I think it's another good option, but I didn't see any real differentiation from the other devices."
Maisano, who also spoke with TCTMD, was happy to clarify the ways in which he thinks Portico is unique. "Number one it has been designed to improve access to the coronaries, and I think this is going to be an important topic as we move to a lower-risk population," he said, adding that this will be particularly important for valve-in-valve procedures down the road "Having a valve that has a limited impact on the access is important," Maisano added. "The device is designed with larges cells so that even if you do a valve-in-valve with two Porticos, access to the coronaries can be preserved."
He also praised the fact that the device and delivery system have "less metal," helping to make it much more deliverable. "In my practice it is the valve of choice in cases with difficult access. We do all patients sheathless in my institution so it is a true OD [outer diameter] 18-Fr, the smallest profile available at the moment," Maisano said.
On average, he conceded, the Portico device "is a little more challenging to be implanted, but it is much more adaptable to various anatomies. So for example, horizontal aorta: it's a valve you can also use in horizontal aortas."
In 2014, Portico developer St. Jude Medical issued a worldwide "pause" on Portico implantations following the discovery of reduced leaflet motion believed to be due to thrombus formation. A review later found no evidence of clinical adverse events related to the leaflet motion abnormalities and the US Pivotal IDE trial subsequent resumed in June 2015. The device is now manufactured by Abbott.

Shelley Wood is Managing Editor of TCTMD and the Editorial Director at CRF. She did her undergraduate degree at McGill…
Read Full Bio
Sources
Maisano F. Early commercial experience using the Portico transcatheter aortic valve: 30-day outcomes in 973 patients enrolled in the PORTICO I Study (cohort A). Presented at: Structural Heart Disease Summit. June 22, 2018. Chicago, IL.
Disclosures
Maisano reports consulting for Abbott, Valtech Cardio, Medtronic, Edwards Lifesciences, and St. Jude, and receiving research grants from Abbott, Valtech Cardio, Medtronic, Edwards Lifesciences, St Jude, and Biotronik. He is also the founder of 4Tech, TSP Medical, and Affix and receives royalties from Edwards Lifesciences.
Leon reports grant/research support from Abbott, Boston Scientific, Edwards Lifesciences, and Medtronic. He reports equity in Claret, GDS, Mitralign, and Valve Medical.
Abizaid reports serving on the advisory board for Boston Scientific.