Promising Early Results for TriClip in Tricuspid Regurgitation: bRIGHT Registry
Transcatheter edge-to-edge repair devices have the potential to improve hemodynamics and HF symptoms, 30-day data show.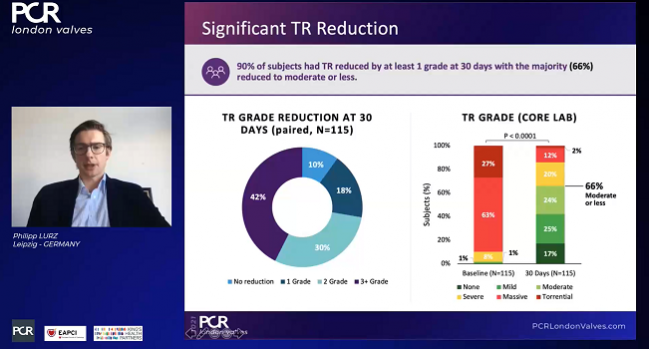 Use of the TriClip and TriClip G4 edge-to-edge repair devices (Abbott) for tricuspid regurgitation appears to be safe and effective at reducing regurgitation and heart failure symptoms and improving quality of life in the early weeks after the procedure, results from the bRIGHT registry suggest.
The original TriClip device for transcatheter tricuspid valve repair was granted CE Mark approval in Europe in 2020 based largely on the results of the TRILUMINATE study, and the newer G4 was cleared in 2021, but how the devices perform outside of a trial setting is unclear.
Philipp Lurz, MD, PhD (Heart Center Leipzig, Germany), who presented the bRIGHT results at a PCR London Valves hot line session this week, noted that TRILUMINATE used "the first of its kind" clip device (the NT), in a highly selected population. The bRIGHT registry, by contrast, mostly included use of the TriClip or the newer TriClip G4 (7%) and involved a greater variety of centers, including some with less experience with transcatheter edge-to-edge repair (TEER) for tricuspid regurgitation (TR).
"I think that the great safety profile of these interventions seen in previous studies is confirmed here," Lurz told TCTMD. "Obviously we're looking at a fraction of the patient population, but I think that is certainly acceptable given that alternative treatments like surgery are associated with very high in-hospital mortality. I think it's fair to say that the procedure remains to be a very safe procedure."
The device is still investigational in the United States.
Early Results
The bRIGHT registry is currently enrolling patients at 30 European sites with the aim of including a minimum of 320 patients. At PCR London Valves, Lurz presented 30-day outcomes for the first 200 patients treated. All patients were considered high risk for tricuspid valve surgery, had severe TR, and remained symptomatic despite medical therapy.
In this initial group of 200 (mean age 78), the majority of patients had NYHA class III or IV heart failure at baseline, half were female, and most had other comorbidities, including hypertension, atrial fibrillation, diabetes, and/or renal disease, and many had undergone prior mitral (29%) or aortic (8%) interventions.
A full 98% of patients had successful procedures ("implant success"), with 88% having acute procedural success (defined as a reduction in tricuspid regurgitation of at least one grade), beating the performance goal of 75%. An average of two clips were required per patient.
Among the 115 patients available for core-lab follow-up at 30 days, all but 10% had improvements of at least one TR grade. To TCTMD, Lurz noted that this definition of success "was fair when we started off, but I think now we have more data and the new goal is to reduce TR to moderate or less. And if we raise the bar a little bit more and look at that number, then one has to state that only 66% of patients achieved moderate or less." That number, however, was up from just 9% at baseline.
Two patients had major adverse events through 30 days (one cardiovascular death and one stroke). Tricuspid valve reinterventions or reoperations were required in three patients and 10 patients had single-leaflet device attachment. Seven percent of patients (14 in total) had major bleeds.
For successfully treated patients, however, improvements in function were seen within the first few weeks. By 30 days, 76% of 167 patients were reporting class I/II heart failure, up from 19% at baseline. Similarly, Kansas City Cardiomyopathy Questionnaire overall summary scores among 161 patients in whom this was measured increased by 19 points from baseline, a statistically significant change. Of note, results were consistent across different annulus sizes and in patients with right ventricular leads, suggesting that prior pacemaker placement should not be a contraindication for TEER, Lurz said.
Across the board, he concluded, "the majority of subjects experienced clinically meaningful improvements in functional status and quality of life at 30-day follow-up."
bRIGHT's Future
The bRIGHT study is continuing to enroll, with patients now being treated exclusively with the G4 device. The newer-generation clip has advantages that could potentially improve on the outcomes seen to date, but that remains to be seen, said Lurz.
"With the G4, you can also do independent grasping, getting one leaflet in first and then the other, so it might be that the indications might also expand a little bit and that users will approach patients also with larger gaps, which would now be more feasible, but at the same time might be more challenging. I expect we will see a certain shift in treatment to more challenging anatomies, so it will be interesting to see whether the better device will compensate for the more challenging anatomy." 
Neil Fam, MD (University of Toronto, Canada), who commented on the early bRIGHT findings for TCTMD, called the data "promising," confirming the "excellent safety" of TEER.
"However, very few patients included were treated with the G4 system, which is really a game changer," he said in an email, also highlighting the independent leaflet grasping, as well as the wider clips, particularly with the XTW device, "which is more effective for TR reduction in our experience" so far.
"I would expect results to continue to improve with G4," he predicted.
But how results will compare across different sites with different levels of expertise as the new device ramps up needs to be studied, said Lurz. All of the sites in bRIGHT had experience with the MitraClip, but he estimated that 50% of patients to date were treated at the top five enrolling centers, with smaller numbers at the remaining 25 centers. Moreover, the amount of TR reduction required to have a meaningful impact on heart failure hospitalizations and deaths still needs study in larger cohorts of patients.

Shelley Wood is Managing Editor of TCTMD and the Editorial Director at CRF. She did her undergraduate degree at McGill…
Read Full Bio
Sources
Lurz P. Schueler R, Goebel B, et al. Real-world outcomes for tricuspid edge-to-edge repair: initial 30-day results from the TriClip bRIGHT study. Presented at: PCR London Valves. November 24, 2021.
Disclosures
The bRIGHT registry is sponsored by Abbott.
Lurz reports serving as a consultant to Abbott, Edwards Lifesciences, and Medtronic.
Fam reports serving as a speaker for Abbott Vascular and a consultant for Edwards Lifesciences.