Pulmonary Artery Denervation Makes Inroads in PAH Due to Left-Sided HF
Group II PAH patients make up the biggest segment of pulmonary artery hypertension, yet they have few treatment options.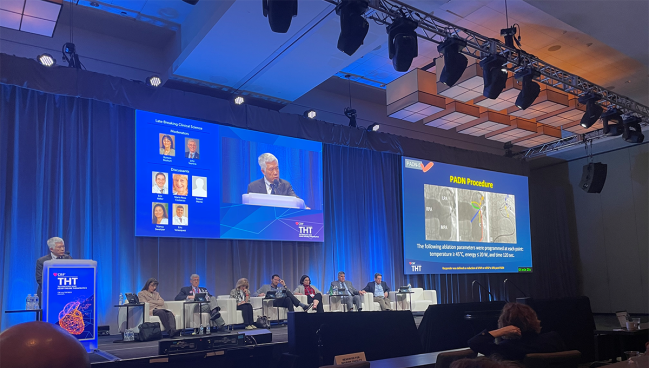 BOSTON, MA—There are more encouraging signs that pulmonary artery denervation may one day bring relief to patients who have pulmonary arterial hypertension (PAH) due to left heart disease.
At the late-breaking clinical trial session today at the Technology and Heart Failure Therapeutics (THT) 2023 meeting, Dongming Hou, MD, PhD (Saint Joseph's Translational Research Institute, Atlanta, GA), presented 3-year results of the PADN-5 trial showing significant reductions in clinical worsening for PAH patients treated with the PADN denervation catheter (Pulnovo Medical) as compared to those receiving sildenafil and a sham procedure. These follow 6-month results for PADN-5 reported by senior author Shao-Liang Chen, MD (Nanjing Medical University, China), the inventor of the PADN catheter, at the 2018 TCT meeting.
Speaking earlier in the day, Gregory Lewis, MD (Massachusetts General Hospital, Boston, MA), reported that the small, single-arm TROPHY II trial demonstrated that denervation using the TIVUS intravascular ultrasound catheter (SoniVie) led to improvements in exercise hemodynamics and capacity.
Together, the PADN-5 and TROPHY II findings build on the prior, promising PADN-CFDA and TROPHY studies, both in Group I PAH patients, who typically make up a smaller slice of the population afflicted with this disease.
Patients with PAH stemming from left heart disease, by contrast, are designated as Group II by the World Health Organization based on a mean pulmonary arterial pressure (mPAP) greater than 20 mm Hg and pulmonary capillary wedge pressure (PCWP) greater than 15 mm Hg. Group II patients make up the largest group of PAH patients, and face both impaired exercise capacity and reduced survival, yet are underserved by medical therapies.
PADN-5 Results
For PADN-5, Shen, Hou, and colleagues randomized 98 patients with combined post- and precapillary pulmonary hypertension (CpcPH) diagnosed within the last year to either a sham procedure plus sildenafil or to pulmonary denervation and heart failure medications as needed.
At 6 months, hemodynamic parameters including mPAP, pulmonary vascular resistance, and PCWP all improved to a significantly greater degree in the intervention group than in the sham group. By 3 years, need for diuretics and the use of three or more of the foundational HF drugs were significantly greater in the sham group. Net increase in 6-minute walk distance, however, was significantly greater in the denervation group at 6 months (80 vs 17.5 m; P <0.001), an improvement that was sustained in the denervation group but declined in the sham-treated patients (80 vs 8 m; P = 0.004).
If this works, it would be a huge step forward. Gregory Lewis
Kaplan-Meier analyses showed significantly better cumulative survival free from clinical worsening in the denervation group, a finding driven primarily by the reduction in rehospitalizations for heart failure, although cardiopulmonary deaths were also numerically more common in sham-treated patients.
PADN-5: Clinical Follow-up at 3 Years
| | | | |
| --- | --- | --- | --- |
|   | PADN | Sham | P Value |
| Clinical Worsening | 37.5% | 62% | < 0.05 |
| Rehospitalization | 34.5% | 56% | < 0.05 |
| Cardiopulmonary Death | 18.8% | 32% | NS |
| All-Cause Death | 20.8% | 32% | NS |
"The 3-year follow-up of PADN-5 demonstrates the long-term benefits of PADN for patients with CpcPH," Hou concluded. "Further study including CpcPH patients after aggressive medications is warranted."
Indeed, during the Q&A following Hou's presentation, panelists questioned both the decision to give sildenafil in the sham arm, as well as the signal of less guideline-directed medical therapy (GDMT) in the intervention arm at follow-up. Eric Velazquez, MD (Yale School of Medicine, New Haven, CT), asked whether the latter signal indicates "successful de-escalation of therapies" or something else.
In response, Hou said that the use of PDE5 inhibitors was controversial back in 2016 when this study kicked off. Similarly, the use of GDMT as it is commonly understood today, as a four-pillar approach, was not the norm in China at the time, where sodium-glucose cotransporter 2 (SGLT2) inhibitors, in particular, have been restricted.
TROPHY II
Just 10 patients with Group II PAH were enrolled in TROPHY II, as Lewis showed during a first-in-human late-breaker earlier this morning. These findings, too, point to improvements in exercise hemodynamics from baseline to 4 months, although no gains were seen in two of the 10 patients. One, said Lewis, was evicted from the trial after resuming his smoking habit, while the second patient underwent 4-month follow-up not long after recovering from severe COVID-19. Cardiopulmonary tests, similarly, showed small increases in exercise capacity measures.
One device-related event occurred, but the procedure was otherwise well tolerated.
To TCTMD, Lewis stressed that "by far, the most common cause of pulmonary hypertension is the left heart failure-related pulmonary hypertension. That's the vast majority of patients . . . and we don't have any treatments for it, so if this works, it would be a huge step forward."
What needs to happen next, he said, is more work to uncover who will benefit most, and then rigorous, sham-controlled studies enriched with enough of those patients to demonstrate concrete results.   
"What we've found in our studies is that those patients that had a lot of pulmonary vascular resistance elevation seem to respond best to the pulmonary denervation. . . . I think it's that group: it's the patients that have a predominance of precapillary pressure elevation, but they also have left heart dysfunction," Lewis suggested.
PADN-5 enrolled patients with both pre- and postcapillary resistance, he noted, "but I think going heavy on the 'pre-' side [in the future] is a good idea."

Shelley Wood is Managing Editor of TCTMD and the Editorial Director at CRF. She did her undergraduate degree at McGill…
Read Full Bio
Sources
Hou D. Long-term improvement in clinical outcome in patients with combined pre- and post-capillary pulmonary hypertension: 3-year analysis from PADN-5 trial. Presented at: THT 2023. March 21, 2023. Boston, MA.

Lewis G. Pulmonary denervation treatment of pulmonary hypertension group II study (TROPHY-II) trial. Presented at: THT 2023. March 21, 2023. Boston, MA.
Disclosures
Hou reports having no relevant conflicts of interest.
Lewis reports receiving consulting/honoraria/speakers bureau payments from Bayer AG and American Regent, as well as grant support/research contracts from Amgen, Cytokinetics, NXT, Applied Therapeutics, and Rivus.