PULSED AF 'Strengthens the Case' for Pulsed-Field Ablation in AF
The new modality may offer shorter, safer procedures, with efficacy similar to thermal ablation. Next up: comparative studies.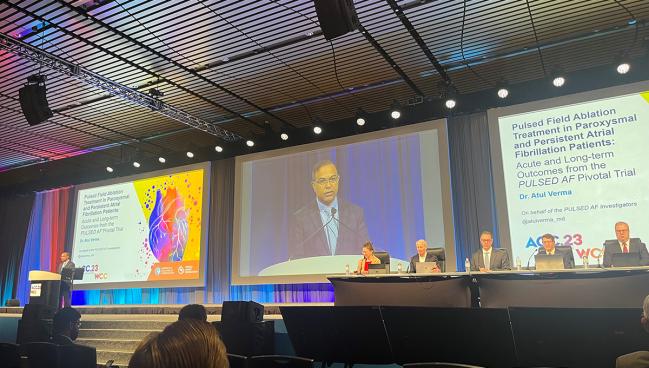 NEW ORLEANS, LA—Pulsed-field ablation with the PulseSelect system (Medtronic) appears to be a safe and effective way to achieve freedom from arrhythmias in patients with either paroxysmal or persistent atrial fibrillation (AF), results of the nonrandomized PULSED AF pivotal trial show.
The modality achieved acute isolation of the pulmonary vein in all cases, with only one major safety event detected in each cohort. There were no cases of coronary artery spasms and no phrenic, esophageal, or pulmonary vein injuries, Atul Verma, MD (McGill University Health Centre, Montreal, Canada), reported here at the American College of Cardiology/World Congress of Cardiology (ACC/WCC) 2023 meeting.
The primary efficacy endpoint was freedom from a composite of acute procedural failure, arrhythmia recurrence, repeat ablation, direct current cardioversion, left atrial surgery, or antiarrhythmic drug escalation through 12 months. Rates in the paroxysmal and persistent AF subsets (66.2% and 55.1%, respectively) exceeded the performance goals of 50% and 40%.
Moreover, patients had clinically meaningful improvements in quality of life, Verma said.
The study, published simultaneously online in Circulation, represents "a major landmark in terms of the movement of the entire community towards pulsed-field ablation for the reasons that it seems to be promising faster procedure times, safer procedures, and efficacy at least as good as that which we were seeing with thermal energies," Verma told TCTMD.
Indeed, commented Kalyanam Shivkumar, MD, PhD (UCLA Health, Los Angeles, CA), editor-in-chief of JACC: Clinical Electrophysiology, PULSED AF "strengthens the case for this energy modality, which is nonthermal, for catheter ablation," and shows that the technology can be introduced across centers and operators.
Low Complication Rates, Improved Quality of Life
Catheter ablation is an established therapy for symptomatic, drug-refractory AF, but thermal modes of ablation using radiofrequency energy, cryoablation, or lasers come with the potential to damage surrounding structures.
Pulsed-field ablation (PFA), on the other hand, is a nonthermal modality, delivering short bursts of high-power electrical fields to ablate via irreversible electroporation, essentially punching holes in cell membranes and causing the cardiomyocytes to die. Use of nonthermal energy helps prevent collateral damage to structures like the esophagus and phrenic nerve. Of note, no PFA systems have yet been approved by the US Food and Drug Administration, though several are under development.
PULSED AF, conducted at 41 centers in nine countries, was a pivotal trial designed to evaluate the PulseSelect PFA system. The primary analysis focused on 150 patients with paroxysmal AF (mean age 63.4 years; 64% men) and 150 with persistent AF (mean age 66.0 years; 75% men)—all had previously failed antiarrhythmic drugs. There were another 83 patients who made up a roll-in cohort, as most operators in the study had never used the PFA system before.
The procedures resulted in acute pulmonary vein isolation in all cases. The median left atrial dwell time—spanning the time from the first to the last ablation in the left atrium—was about 60 minutes in each of the AF groups. That included a protocol-mandated 20-minute waiting period, which means procedures were actually being performed in 30 to 40 minutes, much faster than the 1.5 to 2 hours that is typical with thermal ablations, Verma noted. In addition, energy delivery time was less than 30 seconds, "which again speaks to the efficiency with which this energy can be delivered."
The primary safety endpoint was a composite of serious procedure- and device-related adverse events. There was one such event in each cohort—a cerebrovascular accident in the paroxysmal group and a cardiac tamponade requiring drainage in the persistent group. The 0.7% event rates came in well below the 13% prespecified performance goal. "This represents one of the lowest complication rates ever reported in a catheter ablation trial globally," Verma said.
There were no esophageal complications, and no substantial increases in esophageal temperature. A substudy showed no evidence of pulmonary vein stenosis on cardiac CT or MRI at 3 months, and a cerebral MRI substudy revealed a 9% rate of silent cerebral lesions, which, Verma said, is consistent with other ablation technologies.
There were a couple of episodes of phrenic nerve stunning, but they resolved quickly, he reported.
As for the impact on preventing atrial arrhythmias, the observed primary efficacy rates through 1 year were in line with what has been seen with thermal ablation technology, Verma said. He also reported rates of freedom from atrial tachycardia, fibrillation, or flutter of 69.5% and 62.3% in the paroxysmal and persistent cohorts, respectively, and rates of freedom from symptomatic atrial arrhythmia recurrence of 79.7% and 80.8%, respectively.
"Based on these results, I would say that we're at least as good as radiofrequency or cryoablation," Verma said.
Moreover, the investigators assessed patients' health status using the AF Quality of Life Survey and the EQ-5D-5L. "We saw not only statistically significant improvements in numerical quality of life, but the magnitude of the change was consistent with a clinically meaningful benefit," Verma said.
Unknowns Around PFA
Shivkumar said the study demonstrates a side effect profile that is "acceptable compared to current technologies, if not a little better" than what has been seen with thermal ablation, as well as efficacy that "falls in line with what we have seen in other studies . . . of this energy source." This is reassuring for a new technology, he added.
There are some remaining questions, however. Regarding the silent cerebral lesions, Shivkumar said "the long-term implications are still a little bit of a mystery, but that is absolutely something that has to be answered by future studies."
Verma said there aren't any indications that these lesions, potentially resulting from air inadvertently getting into larger sheaths and issues with maintaining adequate flushes and anticoagulation, are more likely with PFA than with other ablation modalities or are causing clinical consequences. "For operators, just reminding them to be very careful about sheath exchanges, anticoagulation during the procedure, that will get these rates down," he said.
Shivkumar also said it's not clear whether the electroporation caused by PFA is actually irreversible. "It wouldn't surprise me if there is recovery, because we still do not know how to deliver or gauge or dose pulsed-field as an energy source," he said. "In other words, we don't fully understand the ways of modulating it."
Verma acknowledged that it's possible some of the lesions may not be permanent. "Can there be reversible areas? Absolutely there can be. And how we measure that, how we know that, is still a little bit of an area of investigation."
For Shivkumar, future studies of PFA will need to focus on how best to deliver the energy, where to ablate, and which patients should or should not be treated in this way.
Still, despite the need for further research, there is excitement around the potential for shorter procedures, which will allow more patients to be treated, he said, predicting that electrophysiologists will start shifting toward PFA when the technologies gain regulatory approval. "The biggest excitement comes from the scalability of this," he said. "More people can be treated in a shorter duration of time with a reasonably high level of efficacy."
Taking a longer-term view, Verma said "this is really the first generation of pulsed-field ablation, so I think as pulsed-field ablation gets more optimized, as we start to see it on different platforms, we're probably going to see even better efficacy rates in the future." He added that there will need to be RCTs comparing PFA with traditional ablation techniques to see if there are important differences.
Based on some of the expected advantages with PFA—including shorter and potentially safer procedures—Verma predicted that "pulsed-field is going to, over the next 5 to 10 years, take over the majority of the [ablation] market." But, he said, thermal ablation will still have a role, because it's not yet known how PFA will perform for conditions like supraventricular and ventricular tachycardia, for example.
"I don't think thermal is going to disappear completely, but I think the lion's share is going to be taken over by pulsed-field ablation for atrial fibrillation," said Verma.

Todd Neale is the Associate News Editor for TCTMD and a Senior Medical Journalist. He got his start in journalism at …
Read Full Bio
Disclosures
PULSED AF was funded by Medtronic.
Verma reports consulting for and receiving honoraria/research grants from Biosense Webster and Medtronic; receiving research grants from Biotronik; receiving research grants/honoraria from Bayer; consulting for Kardium; and consulting for and receiving honoraria from Baylis Medical, Medlumics, and Thermedical.
Shivkumar reported no conflicts of interest relevant to pulsed-field ablation.