Quitting Chronic, Low-Dose Aspirin May Boost Risk of Cardiovascular Events
Patients should speak with their doctors before stopping aspirin because of side effects or for any other reason, one expert says.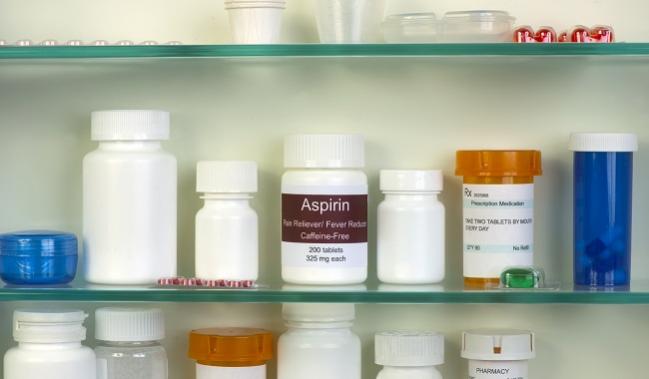 Patients taking long-term, low-dose aspirin for primary or secondary prevention may be placing themselves at risk for cardiovascular events if they discontinue treatment for reasons not related to surgery or major bleeding, a new observational study shows.
Compared with those who remained adherent to aspirin therapy, those who quit were significantly more likely to die from cardiovascular causes or be hospitalized for MI or stroke (adjusted HR 1.37; 95% CI 1.34-1.41), according to lead author Johan Sundström, MD, PhD (Uppsala University, Sweden), and colleagues.
The study, published in the September 26, 2017, issue of Circulation, indicated there was no safe interval for stopping aspirin, with risk increasing shortly after discontinuation.
"Since low-dose aspirin is such a widely used drug, I think that having people stay on the drug could be an important public health target," Sundström told TCTMD.
Low-dose aspirin has an established place in secondary prevention, as well as a potential benefit in primary prevention, but Sundström noted that few studies have examined the potential effects of quitting chronic aspirin therapy, particularly in the absence of surgery or bleeding.
Based on national registries in Sweden, where aspirin is available by prescription only, the analysis included 601,527 people older than 40 who were using low-dose aspirin for primary or secondary prevention between July 2005 and December 2009, did not have a history of cancer, and remained adherent to treatment for at least the first year of observation. To home in on the effects of aspirin discontinuation unrelated to surgery or bleeding, the first 3 months after a major bleed or surgical procedure were excluded from the risk period.
The rate of aspirin discontinuation gradually increased over time, and 3 years after inclusion, 25% of patients collected their next batch of aspirin before the expiration of the prior one.
During a median follow-up of 3 years, patients who discontinued aspirin had an elevated risk of cardiovascular events compared with those who continued treatment, even after adjustment for age, sex, diabetes, and use of other medications. The increased risk was seen both in those using aspirin for secondary prevention (HR 1.46; 95% CI 1.41-1.51) and in those using it for another reason, presumably primary prevention (HR 1.28; 95% CI 1.22-1.34).
"The risk increases that we saw upon quitting aspirin correspond very well to the risk decreases you see when initiating aspirin in randomized controlled trials," Sundström noted. The finding is not surprising, he added, but it's a piece of information that was not known.
Rebound Effect?
In their paper, the researchers speculate about why stopping aspirin therapy might place patients at risk.
"Experimental studies have suggested a rebound effect after aspirin discontinuation, involving increased thromboxane levels possibly resulting from the prothrombotic effects of residual very low levels of aspirin," they write. "The clinical importance of a rebound effect may be substantial because of the large number of aspirin patients and the high discontinuation rates."
Whether this actually occurs remains unclear, they say, adding, however, that "the possibility of such mechanisms is supported by the observation in this study that aspirin discontinuation was not associated with cardiovascular events in patients protected by other antiplatelet or oral anticoagulant drugs."
The fact that the increase in risk is seen relatively shortly after discontinuation "also fits with the hypothesis that there might be a rebound effect," Sundström said.
Patients Need Reminders
Commenting on the study for TCTMD, Nieca Goldberg, MD (NYU Langone Medical Center, New York, NY), said, "I think it's very important health information for both patients and their doctors."
The findings support the importance of aspirin therapy, particularly for patients with heart disease, a history of stroke, or a high risk for MI or stroke, added Goldberg, an American Heart Association spokesperson.
In order to maintain adherence to chronic aspirin therapy, physicians need to remind patients regularly about why they're taking it and patients need to set reminders for themselves to pick up more pills when they're close to running out, she said, noting that people can forget to rebuy medicines that are available over the counter.
Goldberg said that in her practice, patients receive a printed copy of their medication list, which includes information about the dose and frequency of aspirin therapy, at the end of each visit. Patients who opt to sign in to an online patient portal also have access to their list of medications.
It's also important, she added, that patients don't make the decision to stop aspirin on their own.
"People are sometimes concerned they're having side effects to aspirin, a little bruising under the skin or upset stomach," Goldberg said. "Before stopping the medication I would advise them to call their doctor so that they can discuss the symptoms before just deciding to stop it themselves."

Todd Neale is the Associate News Editor for TCTMD and a Senior Medical Journalist. He got his start in journalism at …
Read Full Bio
Sources
Sundström J, Hedberg J, Thuresson M, et al. Low-dose aspirin discontinuation and risk of cardiovascular events: a Swedish nationwide, population-based cohort study. Circulation. 2017;136:1183-1192.
Disclosures
This study was partly funded by AstraZeneca through funds to Statisticon for statistical analyses.
Sundström reports serving on an advisory board for Itrim and having served on an advisory board for AstraZeneca.