RADIANCE II Confirms Ultrasound-Based Renal Denervation Lowers BP
Some issues still need to be worked out, but denervation will be an important addition for treating high BP, Sripal Bangalore says.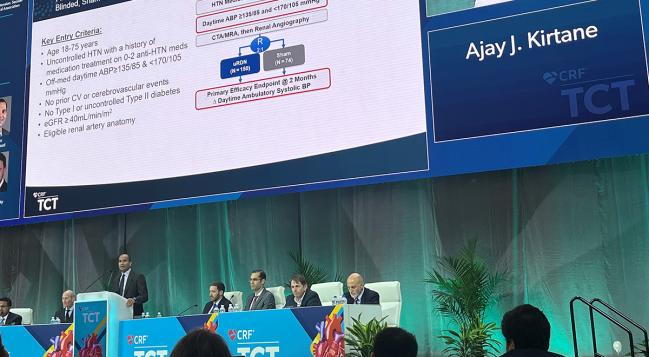 BOSTON, MA—Ultrasound-based renal denervation with the Paradise system (ReCor Medical) significantly reduces blood pressure in patients with uncontrolled hypertension who are not on antihypertensive medications, the sham-controlled RADIANCE II trial affirms, adding more randomized data to a resurgent field.
The reduction in daytime ambulatory systolic BP through 2 months—the primary efficacy endpoint—was 6.3-mm Hg greater among patients who received renal denervation versus a sham procedure (P <0.0001), Ajay Kirtane, MD (NewYork-Presbyterian/Columbia University Irving Medical Center, New York, NY), reported here at TCT 2022.
Overall, 64% of patients receiving active treatment achieved at least a 5-mm Hg reduction, with 48% seeing at least a 10-mm Hg drop. There were no major adverse safety events in the first 30 days.
The results, released in top-line form with minimal detail back in July, "are consistent with those of RADIANCE-HTN SOLO and RADIANCE-HTN TRIO, confirming that this technology lowers blood pressure safely across the spectrum of hypertension," Kirtane concluded at his presentation.
No renal denervation systems have yet been approved for clinical use in the United States. Following the disappointing results of the SYMPLICITY HTN-3 trial, released more than 8 years ago, researchers made adjustments in terms of technology and trial design, culminating in half a dozen randomized, sham-controlled trials—including the RADIANCE trials and the SPYRAL studies of the Symplicity Spyral radiofrequency catheter (Medtronic)—demonstrating the BP-lowering effects of renal denervation. "In some respects, science has prevailed," Kirtane said.
In some respects, science has prevailed. Ajay Kirtane
Sripal Bangalore, MD (NYU Langone Health, New York, NY), who was not involved in RADIANCE II but did take part in the earlier RADIANCE trials, said the consistency of effect across these new studies is "very reassuring."
One of the major remaining challenges is how to identify which patients are most likely to benefit, a key question since renal denervation research began, he commented to TCTMD. "We have seen on the ground that some patients do respond very, very well. We still need to figure out who these patients are, but the fact that two-thirds responded is a good sign that it does work in a good majority of patients."
If and when renal denervation is cleared by the US Food and Drug Administration, it "is going to be a very important addition to the armamentarium of treatment of patients with hypertension," along with lifestyle modification and drug therapy, Bangalore said. The added advantage of denervation is that it doesn't depend on patient compliance, he noted, predicting that it "will have a very significant impact in the years to come."
RADIANCE II
RADIANCE II, conducted at 37 centers in the US and 24 in Europe, is the largest to evaluate the Paradise system, which delivers a circumferential ring of ultrasound energy that penetrates to a depth of 1 to 6 mm to interrupt renal nerve signaling. A cooling balloon prevents damage to the arterial wall.
The investigational device exemption trial included 224 patients (mean age 55 years; 29% women) with uncontrolled mild-to-moderate hypertension, a history of using zero to two antihypertensive medications, no type 1 or uncontrolled type 2 diabetes, and no prior cardiovascular or cerebrovascular events. They were randomized 2:1 to renal denervation or a sham procedure after screening, a 4-week medication washout period, confirmation of eligibility for the procedure using renal artery imaging, and renal angiography.
After the washout period, the participants were required to have a daytime ambulatory BP of at least 135/85 mm Hg but less than 170/105 mm Hg. The average at randomization was 150/94 mm Hg in the denervation arm and 156/101 mm Hg in the sham arm. Medications were not restarted between randomization and 2 months unless escape criteria were met—a home BP of at least 170/105 mm Hg or an office BP of at least 180/110 mm Hg accompanied by clinical symptoms.
Denervation was successfully delivered in all but two patients (98.7%). Accessory or proximal side branches were treated in 20% of patients.
At 2 months, mean daytime ambulatory systolic BP fell by 7.9 mm Hg with denervation and 1.8 with sham, a significant between-group difference. That gap between study arms was observed throughout the 24-hour cycle, with significant differences in both nighttime and 24-hour systolic BP as well. Home and office measurements also fell to a greater extent in the denervation arm.
The fact that two-thirds responded is a good sign that it does work in a good majority of patients. Sripal Bangalore
Kirtane reported that drops in blood pressure were the most marked in patients with the highest baseline levels, and the likelihood of control to below 135/80 mm Hg was greatest among those with the lowest baseline levels, although denervation remained superior to sham irrespective of starting BP.
Consistent with prior studies, the investigators found that roughly one-third of patients didn't respond to denervation. Subgroup analyses did not identify any patient groups particularly likely to respond or not respond to the treatment.
"Without robust preprocedural predictors of responsiveness and also without the presence of an intraprocedural marker of denervation success, there's going to be individual variability that's going to continue to be observed throughout this trial and the application of this technology," Kirtane said.
Renal denervation was shown to be safe, with renal function remaining unchanged in both arms of the trial. There were no major adverse events through 30 days, and no new cases of renal artery stenosis of greater than 70% at 6 months.
Where Will It Fit in Practice?
Kirtane stressed that lifestyle modification and medical therapy are the mainstays of hypertension management, but said renal denervation has a complementary role to play, a concept supported in a position paper from the European Society of Hypertension last year.
He noted that a prior analysis of the RADIANCE-HTN SOLO trial showed that even when medications were added back in, the denervation arm required fewer, suggesting the procedure may help lower pill burden in patients with hypertension.
"This is absolutely not to supplant medical therapy," Kirtane said. "It's in conjunction with [drugs], and largely for patients that are either intolerant or remain uncontrolled despite best efforts, and I mean best efforts, clinically. You have to try with medical therapy and lifestyle modification first. But for those patients that still remain uncontrolled, I think we've now shown in multiple studies that this is a therapy that can also lower blood pressure."
It's also important to look for secondary causes of hypertension, he added, noting that some patients in the RADIANCE program had adrenal adenomas picked up on CT scans, revealing a treatment route that doesn't require denervation.
This is absolutely not to supplant medical therapy. Ajay Kirtane
Bangalore agreed that renal denervation, with both ultrasound-based and radiofrequency-based systems, will have a place in the management of hypertension.
He pointed out that back in 2014, he co-authored an editorial accompanying the SYMPLICITY HTN-3 paper in the New England Journal of Medicine, which stated "the time has come to turn the page on renal denervation for hypertension but by all means, let's not close the book."
Now, more than 8 years later, Bangalore told TCTMD, "I'm glad that we didn't close the book and we continued to make progress. And clearly after all these half a dozen trials, it's very clear that the therapy works, and hopefully this will be a very good addition to the treatment of our patients."
A major remaining gap in the evidence, however, is proof that renal denervation's effects on blood pressure translate into an improvement in clinical outcomes, as no trials have been powered to assess that. But, pointing to the nearly half of patients in RADIANCE II who had at least a 10-mm Hg fall in blood pressure, Bangalore said "that should have a profound impact on cardiovascular events."
Kirtane agreed that, in addition to collecting more data related to the safety of renal denervation, it will be critical for future studies to look at any effects on clinical outcomes. "I feel that that's important because while blood pressure is recognized as a surrogate of adverse events, and we know that for patients that are uncontrolled that lowering blood pressure is a good thing, I think we've seen enough examples in our field alone of potential questions to clinical efficacy that the onus is on us to do those types of trials," he said.

Todd Neale is the Associate News Editor for TCTMD and a Senior Medical Journalist. He got his start in journalism at …
Read Full Bio
Sources
Kirtane AJ. Endovascular ultrasound renal denervation to treat uncontrolled hypertension: primary results of the randomized, sham-controlled RADIANCE II pivotal trial. Presented at: TCT 2022. September 18, 2022. Boston, MA.
Disclosures
RADIANCE II was funded by ReCor Medical.
Kirtane reports institutional funding to Columbia University and/or the Cardiovascular Research Foundation (CRF) from Medtronic, Boston Scientific, Abbott Vascular, Amgen, CSI, Siemens, Philips, ReCor Medical, Neurotronic, Biotronik, and Chiesi. In addition to research grants, institutional funding includes fees paid to Columbia University and/or CRF for consulting and/or speaking engagements in which Kirtane controlled the content. Kirtane also reports consulting from IMDS and receiving travel expenses/meals from Medtronic, Boston Scientific, Abbott Vascular, Abiomed, CSI, Siemens, Philips, ReCor Medical, Chiesi, OpSens, Zoll, and Regeneron.
Mahfoud reports institutional grant support/research contracts from Medtronic and ReCor Medical, as well as personal fees related to consulting and/or speaking from Inari, Medtronic, and ReCor Medical.
Bangalore reports no relevant conflicts of interest.