Renal Denervation: Exploring Its Potential Beyond Hypertension
Other conditions with overactivation of the sympathetic nervous system may benefit, but the data aren't there yet.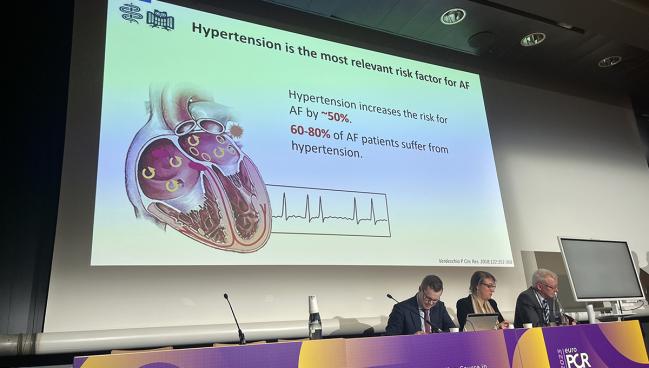 PARIS, France—With renal denervation on the cusp of gaining a place in clinical practice for the treatment of hypertension, researchers are looking more closely at other conditions associated with overactivation of the sympathetic nervous system to see whether the technology could be useful.
EuroPCR 2023 featured a session focused not only on the role for renal denervation in hypertension, but also on its potential in the settings of heart failure, rhythm disorders, and metabolic diseases.
The technology could have fallen by the wayside after the SYMPLICITY HTN-3 trial failed to demonstrate an impact on blood pressure compared with a sham procedure, but after years of device modifications and continued research, it's had success in several more-recent sham-controlled trials. The European Society for Hypertension has now positioned renal denervation as a third major option for the treatment of high blood pressure alongside lifestyle modification and medications, and earlier this year, a European consensus statement defined best practices for performing the procedure. Regulatory approval has not yet come in the United States.
Sofie Brouwers, MD, PhD (Hartcentrum OLV Aalst, Belgium), who chaired the EuroPCR session and is a co-author of the recent consensus statement, said that for hypertension, "if we combine lifestyle with pharmacological treatment and renal denervation in the right patients, we are actually completely capable of treating those patients and having . . . much better control of blood pressure worldwide."
It's important, said Andrew Sharp, MD (University Hospital of Wales, Cardiff), who reviewed data from the recent hypertension trials, "that it's implemented within the right environment and the right team-based structure. Because if we just pile in and start denervating everybody left, right, and center, we're not doing anybody a favor."
For certain conditions, however, there are emerging data to suggest that the technology might have an impact beyond blood pressure, particularly in conditions that are often tightly linked with hypertension.
Heart Failure
Lucas Lauder, MD (Saarland University Medical Center, Homburg/Saar, Germany), tackled the possibility that renal denervation could prove useful in patients with heart failure, for which hypertension is an important risk factor.
The recent sham-controlled trials have shown that renal denervation lowers blood pressure safely in patients with hypertension, but there are also smaller studies showing that among patients with resistant hypertension, the intervention reduces LV mass and improves end-diastolic function, Lauder said. Explaining the rationale for why denervation might be beneficial in heart failure, he added that it's also been shown to lessen neprilysin activity, reduce fibrosis and end-systolic volume, increase cardioprotective natriuretic peptides, and improve endothelial function.
Importantly, patients with heart failure often have difficulty adhering to their medication regimens due to issues like declining cognitive function and depression, and if renal denervation proves safe and effective in this setting, it could help overcome the problem because the effect doesn't diminish over time.
If we just pile in and start denervating everybody left, right, and center, we're not doing anybody a favor. Andrew Sharp
"I do think that renal denervation offers a very attractive approach because of the always-on effect which is independent of the pharmacodynamics and the pharmacokinetics and independent of adherence," Lauder said.
Pointing to data from the CHARM trial of candesartan, which showed that good adherence to treatment was associated with a lower mortality risk in patients with chronic heart failure, Lauder said, "we do know that . . . increasing adherence is very important for heart failure and one opportunity could be to improve adherence by lowering drug burden or pill burden by using renal denervation."
Moreover, data from the SPYRAL HTN-OFF MED trial have shown that denervation lowers heart rate, plasma renin activity, and aldosterone concentration, key targets heart failure therapies, Lauder said.
There is a dearth of research directly addressing the effects of renal denervation in patients with heart failure, however. In the REACH-Pilot study, which included just seven patients with chronic systolic heart failure, denervation was safe and was associated with an increase in 6-minute walk distance in each participant.
But randomized data are forthcoming, Lauder said, pointing to the ongoing RE-ADAPT-HF trial. With an estimated enrollment of 144 patients, the study is randomizing patients with chronic systolic heart failure to renal denervation with the ultrasound-based Paradise system (ReCor Medical) or a sham procedure, with the change in 6-minute walk distance serving as the primary outcome. The completion date is still a few years away.
"There's a strong rationale for renal denervation in the treatment of heart failure," Lauder said, while reiterating the need for sham-controlled trials to establish a benefit. He added that "renal denervation offers an attractive approach for the treatment of comorbidities which are often associated with sympathetic nervous system overactivity," like atrial fibrillation (AF), ventricular tachycardia (VT), chronic kidney disease, sleep apnea, and type 2 diabetes.
Rhythm Disorders
A few of those comorbidities were covered in the next talk by Christian Ukena, MD (Saarland University Medical Center), who delved into the possible use of renal denervation for rhythm disorders, specifically AF and VT.
AF is tightly linked to hypertension, he pointed out, noting that hypertension is the most relevant risk factor for AF and that most AF patients (60% to 80%) have high blood pressure. Moreover, because sympathetic activity and sympathovagal balance are key players in the pathomechanisms of AF, lowering sympathetic activity with renal denervation could be beneficial for patients with the arrhythmia, he indicated.
The rationale for denervation in AF is also supported by research showing that the intervention reduces atrial stress, LV hypertrophy, and possibly left atrial dilatation. And in studies of hypertensive patients, it also reduces supraventricular ectopy, an AF trigger.
Ukena highlighted the unmet need for some patients with AF, noting that only about two-thirds of patients remain free from AF after first-line ablation. "So there is a big need for a more-effective treatment," he said.
The ERADICATE-AF trial evaluated the addition of renal denervation in 302 hypertensive patients undergoing AF ablation, showing that it increased the rate of freedom from AF recurrence at 1 year compared with ablation alone. That finding was supported by the results of several smaller trials.
And there are more randomized data to come. The ongoing ULTRA-HFIB pilot study, with an estimated enrollment of 160 patients, is randomizing patients undergoing AF ablation to ultrasound-based denervation or no additional therapy. The primary outcome is freedom from recurrent atrial arrhythmias through 1 year.
Though it's unlikely that adding renal denervation to ablation will allow 90% of patients to remain free from AF, a smaller but still clinically meaningful benefit might be achievable, Ukena indicated. "Even if we could see 5% or 10% more freedom of AF, this would be a great success because nowadays in clinical trials for A-fib the freedom [from] AF is about 60-70%," he said, adding that it's probably even lower in daily practice.
As for ventricular arrhythmias, there is less evidence regarding the impact of renal denervation, mostly in the form of cases series involving patients with recurrent VT despite ablation and antiarrhythmic drug therapy, Ukena said.
There will be a trial starting soon, however. RADAR-VT, for which Ukena is one of the principal investigators, will enroll patients with recurrent VT, structural heart disease, and an LVEF of 20% to 49% who are undergoing catheter ablation and randomize them to ultrasound-based renal denervation or a sham procedure. The aim is assess the impact on ventricular arrhythmia burden and VT-free survival.
Metabolic Diseases
Markus Schlaich, MD (Dobney Hypertension Centre, Royal Perth Hospital/University of Western Australia), closed out the session with an overview of how renal denervation might have a role to play for patients with various metabolic diseases, noting that heart failure and hypertension are often accompanied by metabolic syndrome, obesity, type 2 diabetes, and dyslipidemia.
Although sympathetic nervous system overactivity has well-established cardiovascular effects, it's also "clearly" linked to metabolic control, Schlaich said. Research has shown, for example, that increased sympathetic outflow to the liver increases the production of glucose and also that insulin release in the pancreas is influenced by sympathetic activity.
There are also data showing that certain metabolic conditions, including metabolic syndrome, obesity, and obstructive sleep apnea, are associated with increased sympathetic activity.
"The other very important thing to consider is that we do know lifestyle modification usually works if people are able to adhere to it for longer periods of time, and very interestingly, one mediator of the improvement of cardiometabolic health with lifestyle [modification] appears to be a reduction in sympathetic nerve activity," Schlaich said.
But many patients aren't able to stick to healthy lifestyle behaviors over the long term, he added, implying the need for additional measures.
Research into the impact of renal denervation on metabolic parameters has been limited to smaller studies conducted in both humans and animals, but there is some evidence to support beneficial changes in measures of glucose metabolism and insulin sensitivity, Schlaich reported, saying that he believes renal denervation likely has positive effects on metabolism.
"We do know that sympathetic activation is certainly a critical player in cardiometabolic syndromes," he said. He stressed the need for longer-term data to assess any potential impact of renal denervation on metabolic diseases. "I think it is very attractive to continue to look at it," said Schlaich.

Todd Neale is the Associate News Editor for TCTMD and a Senior Medical Journalist. He got his start in journalism at …
Read Full Bio
Sources
Multiple presentations. EuroPCR 2023. May 16, 2023. Paris, France.
Disclosures
Sharp reports consulting for Penumbra, Medtronic, Boston Scientific, Philips, and ReCor Medical.
Lauder reports honoraria/consulting fees from Medtronic.
Schlaich reports grants/research support from Medtronic and ReCor Medical, as well as honoraria/consulting fees from Abbott and Medtronic.
Ukena reports grants/research support from Medtronic and ReCor Medical.
Brouwers report no relevant conflicts of interest.