Rilonacept Prevents Recurrent Pericarditis: RHAPSODY
The interleukin-1 inhibitor rapidly reversed recurrent cases of pericarditis among patients who responded initially to the drug.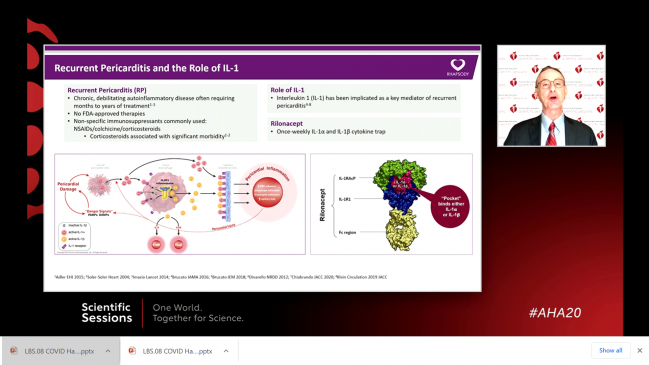 Rilonacept, an interleukin (IL)-1 inhibitor, produces rapid resolution of recurrent pericarditis and fewer recurrent pericarditis episodes among patients who initially respond to drug therapy, as compared with placebo substitution, the RHAPSODY trial suggests.
The small study offers hope for a dedicated agent to treat what is often a chronic and debilitating condition, investigators say.
Speaking with TCTMD, Allan Klein, MD (Cleveland Clinic, OH), who presented the trial results Monday night at the virtual American Heart Association 2020 Scientific Sessions, estimated that there are an estimated 40,000 patients with pericarditis in the United States, many of them young women in midlife who develop it after a viral illness or surgery; up to 30% have a recurrent episode. "They go to the ER, some go on disability: it's a big clinical burden and a big economic burden," said Klein. "And the problem is, there are no FDA-approved therapies for this."
Typical first-line treatments are nonsteroidal anti-inflammatory drugs (NSAIDs) "in massive doses," he continued. Colchicine—which has a class I indication in the guidelines—is used off-label. Second-line therapies include glucocorticoids, and many patients become dependent on steroid treatment. RHAPSODY, Klein said, shows "really dramatic results in treating the acute episode, being able to get off steroids, and a 96% reduction of the recurrent episodes and better quality of life, so I think it may be a real paradigm shift in how you treat this disease."
RHAPSODY was led by Klein and co-principal investigator Massimo Imazio, MD (Citta della Salute e della Scienza di Torino, Italy), with results simultaneously published in the New England Journal of Medicine.
An Injectable Option
Rilonacept, an injectable, once-weekly IL-1α and IL-1β cytokine trap, was previously shown in a phase II trial to help resolve pericardial inflammation; that paper is due out soon in Heart, said Klein. In the United States, the agent is approved as an orphan drug for cryopyrin-associated periodic syndromes (CAPS). The pivotal RHAPSODY trial was designed to demonstrate an impact on pericarditis recurrence.
The multicenter trial enrolled 86 adolescent and adult patients who developed acute signs and symptoms of pericarditis recurrence after initially being treated with first- and second-line agents. All of them were started on rilonacept therapy after a second episode of pericarditis, with background medication discontinued. After a 12-week run-in, the 61 participants who demonstrated a clinical response were then randomized to continue on the study drug or placebo. During the run-in phase, pain resolved or improved within 5 days, while C-reactive protein levels normalized by day 7. A total of four patients developed adverse events during the run-in phase, mostly injection-site reactions and upper respiratory tract infections.
During the randomized phase of the study there were too few patients who had their pericarditis recur on rilonacept to calculate a median time to recurrence, whereas the median time to adjudicated recurrence in the patients who'd switched to placebo was 8.6 weeks. Over this time window, two of 30 patients (7%) in the study drug group had a documented recurrence of pericarditis as compared with 23 of 31 (74%) in the placebo group, a 96% relative risk reduction. At 16 weeks, 81% of rilonacept-treated patients maintained their clinical response as compared with 20% in the placebo group (P = 0.0002), 81% versus 25% had absent or minimal symptoms (P = 0.0006), and 98% versus 46% (P < 0.0001) had no or minimal pain in the first 16 weeks. All three endpoints remained consistent out to 24 weeks.
I think there's a pretty big niche for this drug. Allan Klein
To TCTMD, Klein stressed that usual care, with NSAIDs and colchicine, may be enough for many patients, but that for those who go on to develop resistance to colchicine and become dependent on steroids, rilonacept is a very attractive option. "You're targeting the ones that are steroid dependent, which is a lot of people," he said. "We've got a pericardial center at Cleveland Clinic and we see over 3,000 pericarditis patients a year. And I would say the bulk of my patients that I see are multiple recurrences, just like this population, also on steroids—they can't get off—and they're begging for [something else]. . . . So I think there's a pretty big niche for this drug."
Ousting Steroids
Brendan Everett, MD, MPH (Brigham and Women's Hospital, Boston, MA), the trial discussant, congratulated the authors "on conducting a study in a challenging area of cardiology that is of great importance to many patients." Other third-line agents used to date, he noted, include immunoglobulin as well as the IL-1-receptor antagonist anakinra (Kineret; Sobi) or generic azathioprine, both used in rheumatoid arthritis; azathioprine has a slower onset of action but is the cheapest of the options. 
Everett had a few quibbles with the study design, noting the run-in period for the trial wasn't controlled, especially since 8% of patients during this run-in phase did not respond to rilonacept. "So the results presented may not apply to all patients with recurrent pericarditis," he said.
Nonetheless, he continued, "it appears that rilonacept is remarkably beneficial for those patients who can tolerate it, and one wonders if it would be best suited to replace corticosteroids as second-line therapy in the management of pericarditis. If that is the case, its efficacy and safety need to be directly compared to corticosteroids, both in the short-term, as was the case in this trial, and over the long-term as well. We know that corticosteroids have important adverse effects, and it would be important to compare those to those of rilonacept."
Apart from a few caveats and remaining clinical questions, Everett concluded, "rilonacept seems likely to provide an important therapeutic advance for patients with a challenging clinical disease."
Asked about steroid withdrawal during the Q&A following his talk, Klein noted that all patients were successfully weaned off steroids during the run-in phase, but said some did develop myalgias in the process. Echoing Everett's point, Klein said: "Perhaps in the future guidelines, rilonacept or something like it would be a second-line agent after NSAIDs and colchicine. You could go right to the biologic and avoid the complications of steroids."
Of note, Klein clarified, the study population was restricted to patients who developed idiopathic pericarditis or pericarditis following cardiac procedures, and excluded patients with pericardial disease secondary to cancer. No cancers, however, developed in trial participants over the course of the RHAPSODY study.

Shelley Wood is Managing Editor of TCTMD and the Editorial Director at CRF. She did her undergraduate degree at McGill…
Read Full Bio
Disclosures
The study was funded in full by Kiniksa Pharmaceuticals, and staff contributed to the conduct and analysis of the data, as well as manuscript preparation.
Klein reports receiving research support from Kiniksa Pharmaceuticals and fees for serving on the scientific advisory board for Kiniksa, Sobi, and Pfizer.
Everett reports having no relevant disclosures.