Rising Number of CV-Related Maternal Deaths Spurs Need for #CardioObstetrics
A multidisciplinary approach is needed to address the rising maternal death rate in the United States, and social media may further this cause.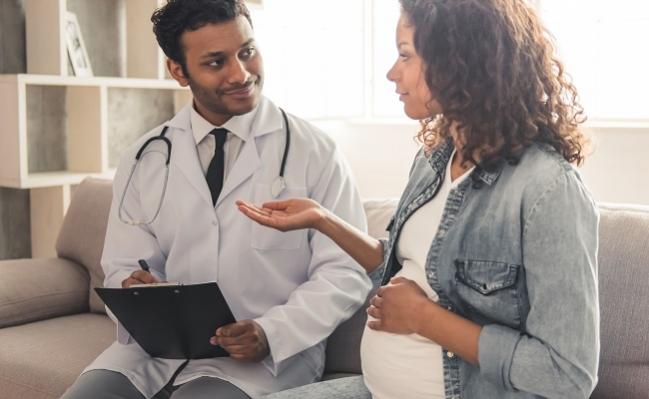 Death rates among pregnant women in the United States have been rising despite improvements seen elsewhere in the world, thanks to myriad causes including the increasing prevalence of comorbidities like obesity and diabetes as well as shifts in socioeconomic factors. Cardio-obstetrics—combining the expertise of these two, distinct specialties—is needed to address the complex task of caring for these patients, two experts argue in a perspective piece recently published in Circulation: Cardiovascular Quality and Outcomes.
"The beginning of this field, I think, really was around those women who had established cardiac disease, most commonly congenital heart disease, because those patients had been at high risk for pregnancy and delivery and so have been managed by teams including maternal-fetal medicine, [obstetrics-gynecology], and cardiology for a number of years," said Mary Norine Walsh, MD (St. Vincent Heart Center, Indianapolis, IN), who co-authored the paper along with Melinda B. Davis, MD (University of Michigan, Ann Arbor).
But there's a need to think more broadly—and urgently—about collaboration, said Walsh, who presented her vision for the field at the 2018 American College of Obstetricians and Gynecologists meeting last April. The "hashtag #CardioObstetrics was born then," Walsh told TCTMD, and it has since taken off online, where "people interested in the field and taking care of these patients are sharing literature and ideas in that way."
Roughly one-third of maternal deaths in the United States are related to cardiovascular disease, she added, suggesting that cardio-obstetrics could take on an expanded scope to encompass women whose older age or comorbidities put them at risk for developing CVD. There's also the possibility that female patients have cardiac disease that's preexisting but undiagnosed before pregnancy.
Also, "very importantly, we know that preeclampsia and eclampsia carry risk of cardiovascular disease later in life, and so part of this whole team-based care around the pregnant and postpartum woman is that we need to look at the woman's risk afterward," Walsh stressed.
Cardio-obstetrics, she said, is "really more of a global look at women's risk" than a focused look at pregnancy alone.
Multidisciplinary cardio-obstetric teams have existed for years in some locations, mainly academic medical centers, "but that leaves the vast majority of women who deliver in community hospitals without the similar team model. And so, many I think are now taking what used to be kind of an ad-hoc approach—where a given cardiologist might be asked to consult on a few patients—and trying to broaden it so that there is enough flexibility in the system that women [perceived as] 'at risk' can be seen as well," Walsh said.
The new paper, she said, can serve as a resource to hospitals, institutions, and practices trying to tailor the team-based concept to their own environments. Not only can it spur discussion, it can also inspire healthcare providers to assess what they're already doing and their current maternal mortality statistics. "This really takes an 'all-hands-on-deck' approach," Walsh emphasized.
Pregnancy a 'Stress Test'
As to how best to screen for women who need closer management, she said "it is often the course of the pregnancy that identifies them." For example, they may develop hypertension, preeclampsia, or other conditions along the way.
Davis and Walsh note in their paper that pregnancy has been referred to as a "stress test" that unmasks subclinical cardiovascular disease.
"Physiological changes of pregnancy involve multiple hormonal and vascular adaptations; substantial increases in volume, cardiac output, and heart rate; decreased systemic vascular resistance; and increased hypercoagulability. Diagnosis of cardiac conditions, such as heart failure and arrhythmias, during pregnancy can be challenging as the signs and symptoms can mimic those of normal pregnancy," they explain. "Obstetrics teams must be alert for symptoms that are outside the norm, and cardiologists should understand the significant hemodynamic changes that occur during pregnancy, labor, and delivery and the normal physical findings in each stage."
For now, the best way to identify, follow, and manage pregnant and postpartum women with increased CV risk is still unknown, but "team-based care requires commitment and effective communication," as well as shared decision-making and attention to patient preferences, they say. In addition to the contributions of physicians and nurses, other expertise may be provided by pharmacists, social workers, and case managers.
Formal training in cardio-obstetrics is still lacking, though hopefully the curricula of fellowship and residency programs will increasingly cover this information, Walsh said.
Cardiologists in particular, she and Davis point out, "would benefit from training about hypertensive management during and after pregnancy, medications that can safely be used during pregnancy and lactation, the maternal cardiovascular benefits of breastfeeding, long-term outcomes for women with pregnancy-related risk factors, interpretation of biomarkers and echocardiographic changes during pregnancy, and the complex effects of hemodynamic changes during pregnancy, labor, and delivery on various types of cardiovascular physiology."

Disclosures
Davis and Walsh report no relevant conflicts of interest.