Risk of Sports-Related Sudden Cardiac Arrest Low in Older Adults
With 70 being the new 50, Sumeet Chugh says older adults who regularly exercise can continue, given the benefits and low risk.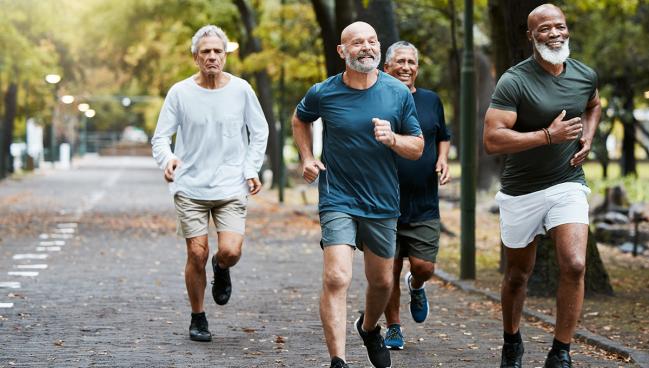 For older adults, there is a very low chance that participating in sports will trigger sudden cardiac arrest (SCA), according to the results of a new analysis.
In a large community-based study of adults 65 years and older published in JACC: Clinical Electrophysiology, Lauri Holmstrom, MD (Cedars-Sinai Health System, Los Angeles, CA), and colleagues found that the annual incidence of sports-related sudden cardiac arrest was roughly 2 to 3 events per 100,000 people, an event rate lower than that previously seen in younger and middle-age subgroups.
The bottom line, said senior investigator Sumeet Chugh, MD (Cedars-Sinai Health System), is that with this low risk of SCA, older adults should continue to participate in physical activity if they are currently doing so.
"You're at a very low risk of having a cardiac arrest," said Chugh. "However, if you're playing sports and you develop symptoms, this should be a note of caution. You should connect with your physician to be evaluated. If you're 65-plus and you're encouraged by our publication and you want to start exercising, you shouldn't do that without an exercise prescription. In my clinic, I see some 65-plus people who are nonhabituated, but they're excited about doing some sports activity, and we always suggest a cardiac evaluation because the risk is in the nonhabituated group."  
Past studies have documented the perils of SCA during sporting activity in young and middle-age adults, but little is known about the risks from sports in older adults. The incidence of SCA in the US has declined in people of working age, but the overall incidence has remained relatively stable over time, meaning that the burden has shifted towards older people, say investigators.
"In fact, more than 60% of people who have a cardiac arrest are going to be older than 60 years," Chugh told TCTMD. "Secondly, particularly when we look at running races, there has been a huge increase in sports participation among those 55 years and older in the last two decades. It's like 70 is the new 50—there are older people out there running and doing other kinds of physical activity. Combining those two things made us curious. . . . In the 65-plus people, there was very little data out there [about the risks of sports-related SCA]. That's why we were interested in looking at this."
Cycling, Gym Work, and Running
The study included adults 65 years and older participating in two community-based studies: the Oregon Sudden Unexpected Death Study (SUDS) and the Ventura Prediction of Sudden Death in Multiethnic Communities (PRESTO). The prospective studies ascertained all out-of-hospital SCAs in the Portland metropolitan area (approximately 1 million people) between 2002 and 2017 and in Ventura Country, CA (approximately 850,000 people) between 2015 and 2021.
In total, there were 4,078 total SCAs, of which 77 (1.9%) occurred during sports activity or within 1 hour of participation. The mean annual crude incidence for sports-related SCA in those 65 years and older was 3.29 per 100,000 people in the SUDS study versus an overall incidence of SCA of 149 per 100,000 in those ≥ 65 years. In PRESTO, the crude incidence of sports-related and non-sports-related SCA was 2.1 and 182 per 100,000 people, respectively. In the Oregon SUDS study, the incidence of sports-related SCA in older adults increased over time, but the temporal trend was not statistically significant. The overall SCA incidence in older adults did not change over time in SUDS (the timeframe was insufficient to assess temporal changes in PRESTO).
Sports-related sudden cardiac arrest skewed heavily towards men (90.9%) and white participants (88.9%), and was most likely to occur from 8 AM to noon and from 4 to 6 PM, which is probably a reflection of when the people chose to exercise, say investigators.    
The most common sporting activities triggering SCA were cycling, working out at the gym, running, golf, and tennis. Of those who had events triggered by sports, 20 individuals said they had warning signs in the day preceding the arrest, with chest pain being the most commonly reported symptom. Survival to hospital discharge was 43.8% for those who had a sports-related SCA compared with 11.1% for those who had an arrest unrelated to sports. Those with a sports-related SCA were more likely to have the arrest in a public location, to have a witnessed arrest, to have a shockable rhythm, and to receive bystander CPR.
Overall, those who had an event triggered by sports had a lower prevalence of comorbidities compared with those who had sudden cardiac arrest not triggered by physical activity. While those who had a sports-related SCA had a lower burden of heart failure, chronic obstructive disease/asthma, and hypertension, as well as a significantly lower burden of traditional cardiovascular risk factors, such as diabetes, high cholesterol, smoking, and obesity, they had a similar history of previously diagnosed coronary artery disease and MI. In total, 48.9% of those who had an event triggered by sports had a history of coronary disease and 27.7% had a prior MI.
"Even though the burden of cardiac arrest with sports is low, some did have an event," said Chugh. "What's ironic is that their burden of conventional risk factors was lower, meaning there are some other risk factors above and beyond traditional risk factors that probably predict cardiac arrest, but they're somewhat mysterious right now."
Even though roughly half of patients with a sports-related SCA had a history of coronary artery disease, Chugh said this diagnosis isn't enough to explain the event. "Many people have coronary artery disease and very few people have a sudden cardiac arrest," he said. Chugh, who currently serves as the director of the Center for Cardiac Arrest Prevention, said his group is investigating some of the novel risk factors for SCA. The researchers point out that those who had a sports-associated SCA had less heart failure than those with SCA outside of physical activity, a finding that suggests the extent of coronary artery disease may have been less severe.

Michael O'Riordan is the Associate Managing Editor for TCTMD and a Senior Journalist. He completed his undergraduate degrees at Queen's…
Read Full Bio
Disclosures
Chugh and Holmstrom report no conflicts of interest.