Risking COVID-19 for Professional Gain? Spring's In-Person Meetings in Hindsight
No one interviewed by TCTMD fell seriously ill, most had plans to attend future meetings. All felt conflicted about the path forward.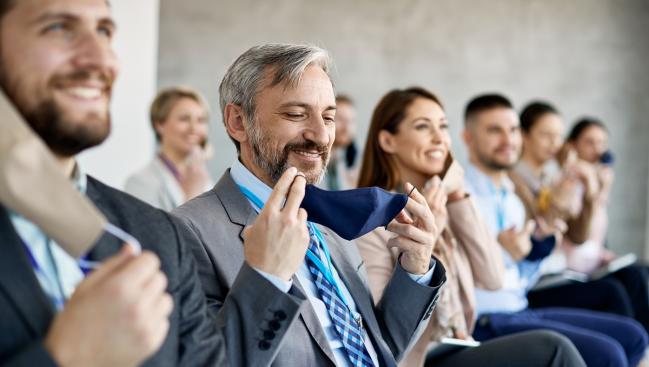 Quarantining in a Madrid hotel room for 10 days was not the way John Teerlink, MD (University of California San Francisco), had planned to digest the science he took in at last month's ESC Heart Failure meeting, but testing positive for COVID-19 prior to his flight back to the United States turned his travel plans upside down.
"The hotels have stopped doing room service because of COVID, so I would go down during the breakfast period, eat breakfast, and then load up a plate, and then that was my meal for the rest of the day," he told TCTMD.
Likewise, neither Shelley Zieroth, MD (University of Manitoba, Winnipeg, Canada), nor Katariina Öörni, PhD (Wihuri Research Institute, Helsinki, Finland), had planned for mandatory quarantines following their trips to in-person conferences over the last month. Still, they were left with no choice after coming down with COVID-19 upon returning home.
"Of course, I would have preferred not to get sick. But then again, I was in the scientific organizing committee of the meeting and I had some chairing duties, which would have been very difficult to do remotely, if not impossible," said Öörni, who attended the European Atherosclerosis Society (EAS) congress in Milan, Italy. "I knew that there were risks, and I also knew that I really wanted to go to the meeting."
Professionally, Zieroth called her experience at the ESC Heart Failure meeting "a highlight of my academic career" and said the benefits she gained were worth the headache. However, coming home with COVID-19 wasn't "personally" worth it for her, she told TCTMD. "There's no doubt there was a major inconvenience to my colleagues, a major inconvenience to my family as well, and to my patients."
From a probability standpoint ahead of his trip, Teerlink says he had estimated the likelihood of him catching COVID at the meeting as "mild" and stands by his decision to go. "The most common outcome would have been me to have gone, had a great meeting, seen people and international friends who I haven't seen for 3 years and reestablish connections, share some really great science, and then go home," he said. However, "if somebody said you have a 100% chance of getting this and being locked in a room for 10 days and suffering through Real Madrid winning the Champions League where it was impossible to even consider sleeping until six in the morning, that may have given me pause."
Individual Risk Assessment
The vast majority of attendees at the myriad in-person cardiology conferences that have taken place in recent months have, in fact, not returned home with COVID, but no formal data exist on infections linked to these meetings. With many cardiologists hoping that conference travel is here again for good, this means weighing individual risks against what many see as irreplaceable benefits to their professional development and career opportunities.
Sunil Rao, MD (Duke University Medical Center, Durham, NC), who was recently installed as president of the Society for Cardiovascular Angiography and Interventions (SCAI) during the organization's in-person scientific sessions in Atlanta, GA, last month, called the risks of in-person attendance "pretty evident" but in the minds of vaccinated physicians largely manageable. "I think that there is a risk of COVID, but, hopefully in a vaccinated population, if people do get it, then it's hopefully mild," he explained.
Because of the significance of this particular meeting for Rao, he knew he wanted to attend in person, but said he placed special emphasis on masking and social distancing, even while others around him may not have prioritized these behaviors as much despite the meeting's requirement for masking.
"The overall sense that I got is that there is a sense of relief that we can have in-person meetings again safely," he said.
After the meeting, however, "a few people did text me and indicate that they had tested positive," Rao continued. "I mean, I was lucky. I had no symptoms, and I didn't test positive, so I think I attended SCAI without having to suffer from COVID, thankfully."
If somebody said you have a 100% chance of getting this and being locked in a room for 10 days and suffering through Real Madrid winning the Champions League . . .  that may have given me pause. John Teerlink
Muhammad Siyab, MD (Tulane University Heart and Vascular Institute), is finishing up his general cardiology training and about to start an interventional fellowship. For him, the decision to attend in-person meetings over the past few months has entailed a careful, individualized, risk assessment.  
"I was very mindful of COVID, and I was very mindful of the trends, and I knew what was going on," he told TCTMD. "Given that I'm relatively healthy, I'm not immunocompromised or don't have any high risk conditions, I decided to go and mask as much as I could and maintain social distance as much as I could. So it was really just about reducing risk as much as possible, while also getting the benefit of an in-person meeting."
Hany Ragy, MD (National Heart Institute, Cairo, Egypt), who also attended the SCAI meeting as faculty, told TCTMD he was conflicted by the "temptation" to go to in-person meetings, which he views as being driven by the "big business" of the pharmaceutical and device companies as well as meeting planning organizations. Ragy said it was "premature" for live congresses to start back up, though he added: "I don't regret having gone because nothing happened, but certainly if I had caught COVID, I would have been kicking myself for going."
While he appreciated the mandatory masking in place at the meeting—not to mention the take-home swag: "beautiful black-cloth masks with SCAI written on them [that] made you look like Zorro"—Ragy said "most" attendees remained barefaced.
TCTMD journalists who attended several meetings over the last month and a half unofficially estimated mask use to be in the range of 10-15% at the European meetings like EuroPCR in Paris, France, and EAS in Milan, Italy. It fell between 5-50% at the US meetings, with the lowest rates observed at SCAI and the highest at TVT in Chicago, IL. Notably, US meetings all seemed to mandate vaccination but not necessarily boosters, while European meetings did not check.
Even with the networking he was able to do, the science he was able to learn, and the fact that he had recently recovered from COVID-19 a few months before the meeting, Ragy said the risks of bypassing a virtual meeting for an in-person experience weighed heavily.
"To be honest, once you're on the flight, your fears materialize in your head and you suddenly think, 'My God, is it worth risking my life to go to a live meeting?' And it's not. It's just not worth risking your life to promote somebody's business, and you're definitely not going for the science. Nobody's going for the science. Because the science is there virtually."
While all of the major cardiology meetings shifted to a virtual or at least a hybrid model during the peak of the pandemic, not all of them are continuing to offer all of the same resources to online attendees. For example, the TVT meeting last weekend only livestreamed part of the meeting, the Society of Cardiovascular Computed Tomography will not be offering any livestreaming of their annual meeting, scheduled to take place in Las Vegas, NV, in July, and the Heart Failure Society of America (HFSA) meeting will only be livestreaming key sessions.
The overall sense that I got is that there is a sense of relief that we can have in-person meetings again safely. Sunil Rao
Derek Connolly, MBChB, PhD (Birmingham City Hospital, England), who spoke with TCTMD last week from the British Cardiovascular Society's annual meeting in Manchester, England, said he had not seen a single attendee wear a mask, even with Princess Anne giving a plenary talk. "I felt naked without the mask to be honest," he said, adding that he had one in his pocket.
That said, he also understands people's reluctance to mask up, especially as masking becomes a rarity across the United Kingdom. "It feels like we've come through the tunnel and we're back in the light again," Connolly continued. "I have been seeing people in person that I haven't seen for 2 years! And the number of hugs and the hands shaken have been ample." For busy clinicians, interacting with colleagues is a key reason to go to meetings, he said. "There is a degree of sociability that you don't get from virtual meetings."
Extracurricular Activities
As most physicians know by now, attending a virtual meeting often means logging on for specific talks while juggling the other demands of daily life. In-person meetings, by contrast—particularly those in which attendees have to travel internationally—also involve social events, dinners, and nonmeeting activities that can heighten the risk of COVID-19 infection.
"In retrospect, I could have stayed away from the dinners," Öörni said, adding that she thinks she likely caught the virus at a group dinner. "But that is really part of the fun of going to a meeting."
Teerlink and Zieroth, too, believe they were exposed at an indoor faculty dinner but agreed that it is impossible to pinpoint the exact origin of their infection.
"It's nearly impossible to blame one specific event," Zieroth said. "And certainly, I didn't become symptomatic until the morning after I had gotten back. So, I could have gotten it on the plane. There were people coughing."'
There is a degree of sociability that you don't get from virtual meetings. Derek Connolly
Reflecting on her experience at the American College of Cardiology meeting back in Washington, DC, in March, Zieroth said she had "felt really quite safe during the actual conference activity. But it became quite apparent to me that outside of the conference that the behavior was almost like COVID was 'over.' And so, the hotel lobbies, the restaurants: nobody was wearing masks." Having flown in from Canada, where masks at the time were still mandatory in most settings, she said, "I found that very shocking."
The ACC meeting, notably, required vaccination and mandatory masks and compliance was high; seating was noticeably more spaced out. At the ESC Heart Failure meeting, by contrast, Zieroth estimated that "maybe there was 10% of us masking." She remained vigilant about wearing hers, except for presenting on stage and eating, but called it "the ultimate exercise in peer pressure for sure."
"Certainly, I think that there is some social stigma to wearing a mask these days, unfortunately, in some of these settings," she continued. "But your good friends and colleagues will respect your decisions. So it shouldn't [deter] you and people understand. After a few of us got [COVID] at this last meeting, I think people will understand if you want to continue wearing masks."
Opportunity Costs
Catching COVID-19 following attendance at an in-person meeting, regardless of where exactly it was picked up, is at a minimum associated with missed work commitments for busy physicians, if not long-term health challenges.
"There was an opportunity cost, and I ended up paying it," Teerlink said. And while the CDC last week lifted the rule that mandated his predeparture testing and eventual quarantine, Teerlink says he doesn't feel "that negative" about his experience in Madrid.
"It is not fun. It's not something I would actively choose to do in a high probability or moderate probability setting," he explained, adding, "But before I went, I made the decision saying, well, I knew there was a chance that I could get it but I thought the chance was relatively low likelihood given that I was going to mask all the time and all that stuff. And it just so happened that low probability does not mean no probability."
Moreover, while he may have been able to do some work remotely had he been in the United States, Teerlink said VA regulations restricted him from being able to log into his network internationally, so he "couldn't connect to work at all."
To be honest, once you're on the flight, your fears materialize in your head and you suddenly think, 'My God, is it worth risking my life to go to a live meeting?' And it's not. Hany Ragy
The implication of catching COVID-19 after a meeting are perhaps even greater for trainees. When Siyab tested positive in December, he had to miss several days of work. "If, for example, I get COVID again in interventional fellowship, I'm going to be out for 7 days," he said. "That's a week less of training opportunities for me, and it's only 1 year of training. The opportunity cost is much bigger for trainees than it is for established attendings because you lose out on training time. So you have to be mindful of that."
But this is a common enough occurrence now. Rao said when he hears about a hole in the cath lab schedule and a sudden need for coverage, he assumes that someone is out with COVID-19. "I've not certainly heard of anyone being upset about it or being sort of put out by it—I myself am not put out by that. I think it's just part of what we're all dealing with now for 2 years," he said.
What Role Should Organizers Play?
Individuals will continue to have to assess their own risk for any activity until the pandemic wanes, including furthering their education and careers by attending in-person meetings. But some are calling for meeting organizers to do more to curb the spread of the disease or, at a minimum, track it.
"I'm still of the opinion that masking is important, so I would certainly recommend that meetings continue a mask requirement," Rao said. "How they enforce it is a different story." The rapidly changing nature of regional transmissions and variants also complicate rulemaking, he continued, so "depending on the community spread of COVID, meeting organizers are going to have to make a game-time decision about whether they want to enforce masking or not."
Öörni argued that healthcare workers should hold themselves to a higher standard regarding COVID precautions. "I think that they should know better than the average person or they should be expected to know better where the risks are," she said. "And maybe they are better capable of evaluating their personal risk."
Unfortunately, a lot of people, including in the medical community, have stopped caring about COVID. They just don't care. I kind of don't blame them sometimes, but I think that there should be more of a responsibility. Muhammad Siyab
One option would be for meetings to set their own rules, rather than following those of the host region or country. "If the city says no mask mandate, the convention center says no mask mandate, people [tend to] follow that, right?" Siyab said. "But I think for healthcare workers, the standard is a little bit higher," he continued, arguing that large medical conferences should continue to mandate mask wearing due to the potential for exposure to patients after the meetings. "Unfortunately, a lot of people, including in the medical community, have stopped caring about COVID. They just don't care. I kind of don't blame them sometimes, but I think that there should be more of a responsibility."
Others believe the onus should be on organizers of medical meetings to do a better job tracking cases in the aftermath of the conference.
Last year, for example, organizers of the Scottsdale Interventional Forum followed up with all 430 attendees of the March meeting and published their findings showing zero spread of COVID-19. However, representatives from the ACC, EAS, ESC, and SCAI all told TCTMD they have not tracked positive cases after their 2022 meetings.
Zieroth said she would like to see more tracking because it "it will actually potentially help us all to inform the level of risk with these activities because I don't know if we have a good sense of it."
Siyab agreed this should be done "only to see sort of how well their systems might be working. Obviously, you can't track everything that somebody does. They may have gotten COVID outside of the convention center, for example. But still, I think it's important to track cases because then you can use that information to inform the policy about the next meeting."
Öörni said she felt a responsibility to let EAS officials know of her positive diagnosis for contact tracing purposes but is not sure what was done with that information.
"The challenge with [official tracking] is that we're not really sure what to do with the information," Rao said. "It's hard to put that [responsibility] on meetings to actually measure what happens afterward."
Instead, he'd rather see meeting organizers continue to encourage people to mask and social distance through signs or other reminders and provide hand sanitizer stations.
In an op-ed published this week in STAT, three emergency room physicians, responding to case spikes of COVID-19 following recent medical meetings, argue that the onus of responsibility should be placed more on meeting managers themselves.
"Instead of blaming individuals, the focus should be on the systems in place that encourage 'throw caution to the wind' decision-making at events," they write. "Organizations should work to protect their members by requiring mitigation strategies, providing the appropriate technological and material resources, and making safety the norm. It is much harder for the individual to make the right choice when it entails increased effort and there is no incentive to be responsible."
One way medical conferences could help individuals maintain their own comfort with risk exposure, Teerlink suggested, is to provide color-coded lanyards to let others know how much risk they are willing to take on, something organizers did for the HFSA meeting in 2021.
"Those kind of things that allow people to express their own levels of comfort provide freedom for people to choose, and in addition a chance for the institution, the group, the society to acknowledge that there is this range of comfort levels and have a societal acceptance and appreciation acknowledgement of that," he said.
None of the conference organizers contacted by TCTMD say they plan to track positive cases following meetings planned for the rest of the year, and meetings like TCT, HFSA, and AHA say they will decide on masking policies closer to the start of the events. Organizers of the 2022 ESC Congress, scheduled to take place in Barcelona, Spain, this August, say they are not planning to require masking, but will follow the Spanish regulations in place at the time of the meeting.
If the COVID-19 pandemic has proven anything so far, it's that subsequent waves of infection, as well as variant severity, transmissibility, and vaccine protection, cannot be easily predicted. For now, most cardiologists seem to agree that they'd like to continue to go to as many in-person meetings as they did prepandemic, regardless of the increased risk now associated with that.
Ragy plans to attend the ESC Congress this fall. However, he said, "I'm confused. I don't know what I think. I'm certainly a big traveler, and I love going to meetings. I've been the faculty of many meetings, but I still think it's more the business than the science which is driving it."
Looking forward, Zieroth said her experience after the heart failure meeting will "absolutely not" stop her from attending future meetings, including the ESC Congress, although she takes some comfort in knowing she'll have had her booster before she goes. "I will be more diligent, though . . . I don't want this to happen again," Zieroth said.

Yael L. Maxwell is Senior Medical Journalist for TCTMD and Section Editor of TCTMD's Fellows Forum. She served as the inaugural…
Read Full Bio