Virtual Training Booms as COVID-19 Limits In-Person Proctoring, Observation
Offering opportunities for widespread, iterative learning and increased efficiency, remote learning is here to stay, experts say.
Last spring, during the height of the COVID-19 pandemic, James Harvey, MD (WellSpan Health, York, PA), a specialist in valvular heart disease, was the interventional cardiologist covering his institution's cath lab when a patient with critical limb ischemia was admitted with an acute vessel closure severe enough that the patient was dangerously close to losing a leg.
"I had trained in this and I had done it, but it really hadn't been my forte in a while," Harvey recalled to TCTMD. "I needed some guidance."
Serendipitously, the team had begun experimenting with a virtual training console manufactured by Avail Medsystems earlier in the year, so Harvey was able to quickly connect with his institution's peripheral vascular disease specialist to advise on the case. "My partner, who's a real expert in this, was ready to come in if need be, but we were able to maintain the isolation from each other," Harvey said. "I did the case without a hitch. I had him looking over my shoulder from the comfort of his own home."
The system—an all-in-one video production instrument complete with two cameras, including one on a boom arm, multiple feed inputs for data like hemodynamics and fluoroscopy, and a portal for remote communication—was "an unbelievable asset" for Harvey and his team, none of whom ever were sick with COVID-19, in part, they believe, "because we were pretty vigilant about keeping everybody apart," he said.
Live Case Moderating From the Living Room
The concept of virtual training and the technology to enable it did not originate as a way to meet the challenges of 2020, but the pandemic certainly allowed it to blossom. Physicians have used video chat programs and other online tools to consult and brainstorm about cases as long as such systems have been available, but traditional observerships and proctoring relationships relied upon in-person interaction, which necessitated travel.
"When planning courses for teaching other physicians new techniques, we used to have situations where you'd have four to five physicians come and be in the lab with you, or else 15 or 20 in an annex room where they would sit and watch the feed," said William Nicholson, MD (Emory University School of Medicine, Atlanta, GA). "But now you can just televise it out for them, and so we can run a course virtually without anybody actually being there."
He described being on the receiving end of the Avail system like being "a panelist or a moderator for a live case and you're sitting in San Francisco and the case is in New York. You can really walk somebody through, and so it's just a much more kind of precise tool for doing that versus a FaceTime situation."
"COVID sparked a lot of this enthusiasm about virtual technologies," Hemal Gada, MD (University of Pittsburgh Medical Center, PA), told TCTMD. Gada recently began working with a company called ExplORer Surgical to use and promote their virtual training platform for proctoring and live cases. "I personally wasn't looking into anything like this until all of a sudden these restrictions went up and we were unable to really go about the in-person style of proctoring and observation that we're so accustomed to in the field of structural heart."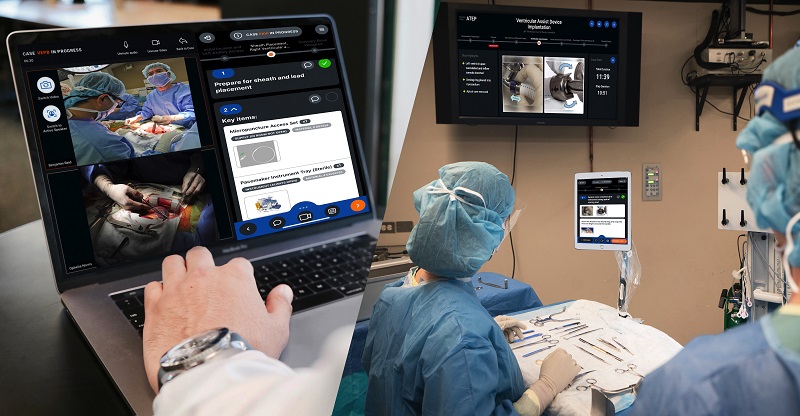 The ExplORer Surgical system is simpler than Avail's, with two iPads mounted on an IV pole that can be wheeled around the cath lab or hybrid operating room.
 "One of the great things about their particular application is that it has basically the ability of doing a step-by-step recipe, if you will, to follow in order to get a case done in a standard programmatic fashion," Gada explained. "We'll put demonstrations up for you and then obviously have the ability of a live proctor beaming into your operating room or your cath lab and taking you through step-by-step as the app walks you through."
He is currently focused on using the console to disseminate a technique for performing cusp overlap during implantation of the Evolut transcatheter aortic valve (Medtronic), something he would have taught in person by traveling around the country prepandemic.
"We've always been accustomed to people coming to our center or doing large observations or large proctoring sessions for people at other sites, but because of the restrictions that are here in the COVID era, it becomes even more important for us to have these types of virtual technologies," Gada said. "We're going to be able to get the technique out in a more-rapid fashion, obviously not miss a beat in the era of COVID, and that says a lot about the technology."
'A Real Financial Win'
For medical device companies, virtual training platforms are "a real financial win" compared with what they might spend to send a proctor in person, Nicholson said. "When you get the hotel, the airfare, and everything else, it's $5,000 to $6,000 that they're paying, and so with this it's a fraction of that. They're paying probably less than $1,000. [And] you can basically be in multiple places."
COVID sparked a lot of this enthusiasm about virtual technologies. Hemal Gada
The cost for using these systems varies, but the current approach typically being taken by manufacturers is to provide the equipment for free and charge by the minute for remote connections, similar to how cell phone companies used to bill for usage.
Who picks up the tab depends on how the technology is being used, according to Harvey. "The cost does not go to the patient," he stressed, explaining that the health system would pay for any intra-institution learning use while a medical device company would pay for a proctoring session. Live cases used to demonstrate how a console can be used are usually sponsored by the manufacturer.
Open Opportunity for Fellows
Virtual training also provides incredible opportunities for fellows, Gada noted, many of whom have been dealing with lower case volumes and limited networking ability as a result of the pandemic.
"We can't put a pause the learning that needs to happen," said Gada. "This is a critical time for them and the more case-based experience they have out of the realm of their own institution to maybe mimic the conferences that we were going to a year ago, if we're capable of doing that with this technology, that's amazing."
Nicholson explained that the fellows at his institution are dispersed throughout three hospitals. "It really turns your training experience into hit or miss if you happen to be there when a particular case is going on or not," he said. "This gives you the opportunity to basically televise the cases back and forth to three hospitals so everybody can see what's going on everywhere."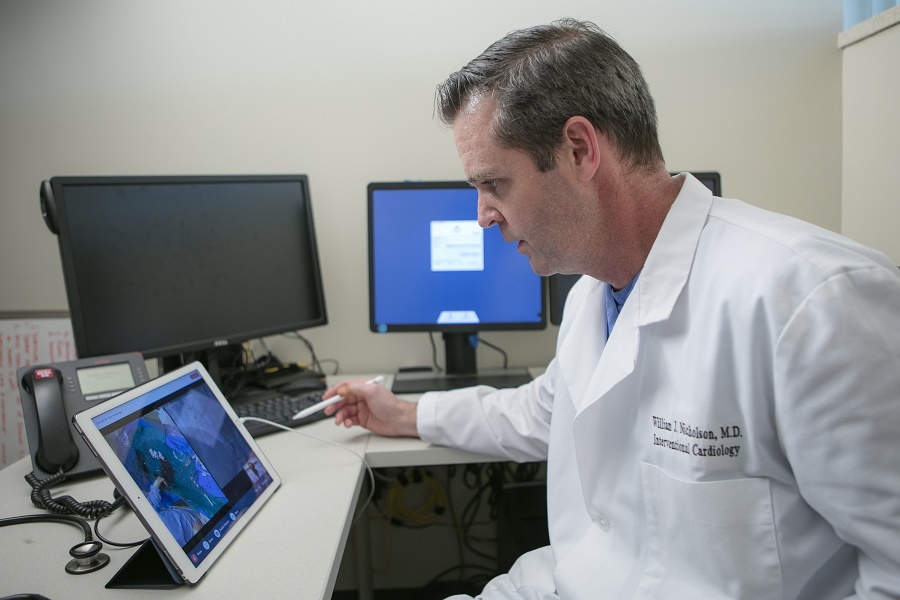 Even more so, virtual training opens up educational opportunities beyond individual programs. "Why should just the five interventional fellows at Emory have the opportunity to see what we're doing when there's interventional fellows around the world who would like to see?" Nicholson asked. "It's an opportunity for people who are interested in learning to have access to a lot of live cases and a lot of teaching opportunities. Particularly for the fellows I think it's going to be a remarkable tool. On days they aren't busy in their own lab or after hours, they'd be able to continue to watch and get educated."
What Gets Lost?
Some personal connection is lost through virtual connection, Nicholson acknowledged. "You can't forget about the human interaction and collaboration that happens," he noted. "It's all sort of sterile and kind of preconceived."
That said, most of the time when he travels somewhere to proctor, he isn't able to touch the patient anyway due to not being privileged at the hospital. "It's all just kind of coaching and telling somebody what to do," Nicholson said. "Very rarely do you ever get close enough to the table to point at stuff, so most of it is done in that kind of advisory role behind the physician."
It's an opportunity for people who are interested in learning to have access to a lot of live cases and a lot of teaching opportunities. William Nicholson
The efficiency is also paramount, he added. "When you look at what we were doing prepandemic, we were traveling to all these different sites to stand there and help with three cases, and invariably one would get canceled or somebody would have an issue and the case wouldn't happen. So you had kind of wasted a day of your life going there and traveling and all the expenses that go with that, when this basically offers the same thing but you don't have to leave home. You don't have to really even take time off from work but just fit it in your schedule during the day."
Moreover, "you get better visualization in real time and better communication with [virtual tools]," Harvey noted.
Gada believes some of that personal interaction can be improved upon over time by incorporating more-formal case debriefs into the workflow.
Other challenges to virtual training include dropped feeds due to faulty Wi-Fi and the ever-present issue of security and patient privacy. The former hurdle has improved over the past year with many hospitals bolstering their networks due to increased need, Nicholson said. The latter, however, is perhaps more complicated given that "now you're going across state lines and going across the country," he added. "You have really no limitation as to where you can end up doing this."
Here to Stay
Virtual training "is going to be the method of education for case observation for the foreseeable future. I don't think we're going back," Harvey said. "Unless there are certain things you need to see about specific operations about efficiencies between the cases, but as far as actually medical education, this is the way to do it."
Video is nice, but hugging is better. James Harvey
This technology allows proctoring to be done even on emergent cases, something not accessible when teaching had to be previously arranged in the past, he continued. "The beauty of this that kind of evolved, we found, is that I can call somebody and say, 'I'm in a pickle, can you help me out here?' And in 30 seconds they can be on and doing it without travel."
Pre-COVID-19, there was "never an impetus" to work out the kinks of setting up a virtual platform by testing the Wi-Fi connection and online security, Harvey said. "COVID made us really do that. So now the truth is even if, god willing, there's a day where we hardly remember the experience of COVID, which would be great, I don't think we're ever going entirely back."
Gada agreed. "It offers efficiencies in an era where things are becoming infinitely more complex and there's more information, there are more things to garner on a daily basis," he said. "This offers the ability of slotting this in neatly throughout the workflow of your day and avoiding a lot of perturbations in your schedule. You can make this more of an efficient process for onboarding, learning new techniques, and then even going back and doing some more. If the proctoring or observership is just a one-time thing and then you have questions afterwards, oftentimes all you have is a phone call. But here would offer the ability for iterative learning."
From here on out, hospitals will likely always try to minimize how many people are in a room at one time, "so this gives them an avenue to be there virtually rather than be there physically," Nicholson said. "Also, there's a lot of heterogeneity in how expert assistant people can be from industry and other physicians. So you're not limited to your local area."
At the end of the day, Harvey said, the human element will never completely disappear. "I still am incredibly flattered to get asked to go somewhere. It's exciting and travel is adventure, and you're getting to see things and meet new people," he said. "There's something about interpersonal communication that promotes growth and I think that's good, but is it as necessary as always and does it come at a cost? Yes. So we're never going back to the way we were, but we'll never lose personal interaction. There's still a validity and a utility in that, and I think COVID has taught us that too. Video is nice, but hugging is better."

Yael L. Maxwell is Senior Medical Journalist for TCTMD and Section Editor of TCTMD's Fellows Forum. She served as the inaugural…
Read Full Bio
Disclosures
Harvey reports no relevant conflicts of interest.
Nicholson reports giving advice to and investing in Avail.
Gada reports serving as a clinical advisor to ExplORer Surgical.