Rivaroxaban Offers VTE Protection in Postprocedure PAD Patients
The secondary analysis from VOYAGER PAD adds reassurance on top of similar data from COMPASS, says Geoffrey Barnes.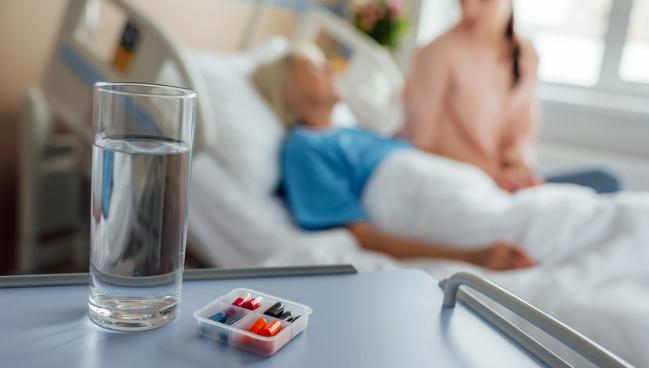 In patients with PAD undergoing revascularization, low-dose rivaroxaban (Xarelto; Bayer/Janssen) plus aspirin reduces the risk of venous thromboembolism (VTE) compared with aspirin alone, according to a prespecified secondary analysis from the VOYAGER PAD trial.
"This evidence makes it easier for physicians who are initiating treatment for PAD patients postoperatively to cover the prevention of venous thromboembolism, not only in hospital, but over the long term," co-author Sonia Anand, MD, PhD (Population Health Research Institute, McMaster University, Hamilton, Canada), told TCTMD. In the study, development of VTE was associated with increased risk for hospitalization and death. The study was published online June 22, 2022, in JAMA Network Open.
In 2017, the COMPASS trial demonstrated that low-dose rivaroxaban plus aspirin could cut the risk of CV death, MI, or stroke compared with low-dose aspirin alone in patients with stable CAD, a subset of whom also had PAD. VOYAGER PAD subsequently showed the low-dose rivaroxaban combination therapy to be superior to aspirin alone for the prevention of acute limb ischemia, amputation, CV events, and stroke in a PAD-only population.
Anand, the COMPASS lead investigator, said having rivaroxaban efficacy data that are consistent across different types of patients from the PAD population makes it "much more convincing that it's a true effect."
As TCTMD previously reported, many vascular specialists were not initially convinced by the COMPASS data and harbored lingering uncertainty about incorporating a factor Xa inhibitor along with aspirin into their PAD treatment paradigms.
"I think we're having increasing comfort with prescribing dual pathway inhibition for patients with PAD. I do it regularly. As I've talked to my colleagues, I find that they're also doing it more commonly," noted Geoffrey Barnes, MD (University of Michigan, Ann Arbor), who commented on the new analysis for TCTMD. "These data add further evidence that dual pathway inhibition is really beneficial for our highest risk patients, primarily those with PAD, but also helps to prevent some venous disease as well."
Consistency of Benefit Across Subgroups
The main VOYAGER PAD trial enrolled 6,564 symptomatic PAD patients from 34 countries who had undergone a limb revascularization in the previous 10 days. Patients were randomly assigned to receive rivaroxaban 2.5 mg twice daily plus aspirin 100 mg daily or to receive placebo plus aspirin 100 mg daily.
In the prespecified secondary analysis, led by Connie N. Hess, MD, (University of Colorado School of Medicine, Aurora), 66 patients developed VTE by 3 years. Of those cases, 25 occurred in patients randomized to rivaroxaban plus aspirin and 41 in those randomized to placebo plus aspirin (HR 0.61; 95% CI 0.37-0.998). Most VTE events in both groups were DVT (25 and 19, respectively).
After multivariable analysis, older age, greater body weight, hypertension, and prior amputation were associated with increased VTE risk. Among the VTE events, 27 were nonfatal and did not lead to hospitalization, 29 led to hospitalization, and 10 were associated with death within 30 days. Approximately one-third of all patients who developed a VTE died over a median of 1.2 years.
According to the researchers, there was no difference in the association between rivaroxaban and lower risk of VTE when death from any cause was treated as a competing terminal event. Additionally, the association was consistent across subgroups and seen irrespective of clopidogrel and statin use at randomization.
In the paper, Hess and colleagues note that pattern of VTE risk "was not front-loaded, as might be anticipated in the postprocedural setting, but rather was linear and continuous, suggesting that VTE was a consequence of the disease state rather than the procedure."
To TCTMD, Anand said the risk factor findings are hypothesis-generating, but not confirmatory. "Two factors that we already know are associated with venous thromboembolism are weight and older age, but the others need more study for us to try and start figuring out why they increase risk," she added.
Barnes gave the example of an overweight patient with a prior amputation resulting from PAD. "I probably wouldn't have given them medical therapy specifically for VTE in the past, but I can add that to the list of benefits to consider for this therapy," he said. "Where I may use [rivaroxaban] more intentionally might be in someone with severe PAD who maybe had a DVT 10 years ago and they had a short course of anticoagulation at the time."
Barnes noted that a VTE analysis from COMPASS, published last week as a research letter in Circulation, complements the VOYAGER PAD data. In that study, the risk factors for VTE development were similar and the combination of rivaroxaban 2.5 mg twice daily and aspirin 100 mg once daily compared with aspirin 100 mg once daily reduced the risk of VTE by 39%.
Given increasing evidence of the benefits of rivaroxaban plus aspirin in PAD patients, both Anand and Barnes said they anticipate an endorsed for the strategy in PAD guidelines from the American College of Cardiology/American Heart Association when they are updated later this year or early 2023. Anand co-chaired the Canadian Cardiovascular Society guidelines, published last month, that gave a strong recommendations on the basis of high-quality evidence to dual pathway inhibition with low-dose rivaroxaban and aspirin.

Disclosures
Hess and Barnes report no relevant conflicts of interest.
Anand reports personal fees from Bayer and Janssen outside the submitted work.