Samit Bhatheja, MD, MPH
Driven by a passion for technology and innovation, this chief interventional fellow seeks to teach and reduce occupational hazards in the cath lab.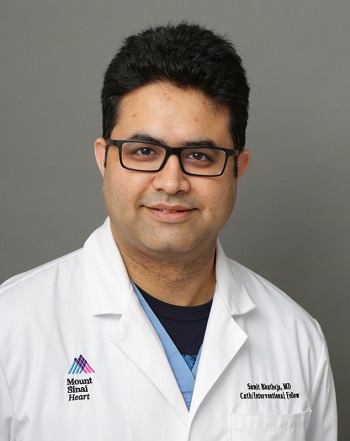 Samit Bhatheja, MD, MPH, is currently the chief interventional cardiology fellow at the Icahn School of Medicine at Mount Sinai (New York, NY). He was educated in medicine and surgery at Medical College Baroda (Vadodara, Gujarat, India) and received his MPH from and trained in internal medicine and cardiology at East Tennessee State University (Johnson City, TN). Bhatheja is passionate about technology and has contributed to the development of a medical education app, BIFURCAID, which offers a step-by-step approach to treating coronary bifurcation lesions and is currently available for download. In July, Bhatheja will be a full-time structural interventionalist at Union Hospital (Terre Haute, IN), and he looks forward to combining his passions for teaching, innovation, and clinical work throughout his career.
How did you first become interested interventional cardiology?
When I was going through my general cardiology rotations, what attracted me toward interventional cardiology was the power of helping patients beyond medical management. There were so many instances where I would think that medical management alone would not help my patient. For example, with acute STEMI, PCI is the way to go if available. Sometimes an interventional cardiology procedure is the best option a patient has. Also, for my patients with severe aortic stenosis who are denied surgery, the only way they can get better is with the technology of TAVR. I see them walking home 2 days after their procedure, and that gives me great pleasure. I see interventional cardiology as an extension of my cardiology knowledge and skills, and I think it empowers me to go that extra mile to make some meaningful and significant difference in my patients' lives. I do believe this power comes with certain responsibilities and that we should be able to do these procedures safely, efficiently, and in a cost-effective manner.
How do you see the field changing in the next 5 years?
My inclination is often toward technology, so I think we are heading into the era of technological revolution where we'll see augmented reality-based devices, artificial intelligence, and deep learning models where computers aid our understanding of disease processes and would also help us tailor our patient management. Additionally, structural heart interventions are going to continue to grow. Transcatheter therapies for mitral valve regurgitation represent a large unmet need. I believe we have more than a million patients in the United States at this time who have more than moderate mitral valve regurgitation and only a fraction of them, about 30,000, get surgery each year. Technology will affect the education and healthcare delivery sectors as well. We are moving from the era of e-book learning to app-based learning, and with healthcare delivery, people are talking about virtual visits and hybrid visits where part of it is virtual and part of it is in your office. This will help bridge the healthcare gap we currently have. I strongly believe we all should be prepared to embrace these technological advances.
How did you become interested in the field of technology and innovation?
As a child, I was always amazed by computer software programs and how they could decrease human effort. Now, we are in an era where every pocket has a mobile phone and that gives us a lot of power and freedom to learn on the go. Also, the highly interactive nature of these educational tools can blow anyone's mind. Working on the BIFURCAID app, which has now been downloaded across 20 countries and has more than 3,800 users, was a great experience that kindled my interest in technology even more. One big challenge with teaching interventional cardiology is to be able to convey procedural steps and tricks into words—every step is so vital that missing one can lead to disaster. Expressing these steps with verbal instructions sometimes can be a really cumbersome task, especially when it's an urgent or rush situation, and I believe that a lot of that gap can be covered with apps or web-based portals containing visual illustrations, animations, and videos. With an app like BIFURCAID, you can learn anytime, anywhere. Putting everything together for the app took us about a year, which was a struggle initially, but then I started to enjoy it. I look forward to working on more projects like this in the future.
If there was one thing you could change about cardiology training, what would it be and why?
One of the biggest challenges fellows face is understanding the financial aspects of healthcare. Especially in interventional cardiology, we deal with so many devices and they are costly. While we do receive good knowledge about how to use them, I don't think it's widely taught how we can deliver procedures in a cost-effective manner. Additionally, and this is not new, we are still facing so many occupational hazards from radiation and also from wearing heavy lead for a long time. Training programs should better integrate the teaching of correct posture while performing procedures and getting those good habits ingrained in us right from the start. That can give us a better future and longevity doing all those procedures. Another important aspect interventional cardiology fellows should learn to keep in mind is the fact that we are treating human beings and not just arteries and valves.
If you weren't a physician, what else could you see yourself doing?
Creativity has always been a driving force in my life. Growing up, I was very active onstage for dramas and skits and I always loved videography. Maybe I could have been a director or editor. I also love to cook and experiment with fusing different cuisines, so perhaps I could have been a chef. Medicine is great, however, because it enables me to continue to think creatively in my future endeavors while helping patients and continuing to teach.
What his nominator, Annapoorna Kini MD (Mount Sinai Hospital), says:
Dr. Samit Bhatheja's work ethics and demeanor make him a role model for interventional cardiology fellows and early carrier interventional cardiologists. His humble nature, compassion towards his patients, passion for both learning and teaching, creative skills, and special interest in technology and innovation sets him apart. He joined our 2-year track interventional cardiology program and has honed his skills in the areas of coronary interventions, structural heart interventions, research, and academics. He had received various accolades for teaching prior to joining our program, but his immense interest in education became more evident to us when he volunteered to teach medical students in the Icahn School of Medicine's cardiovascular pathophysiology course in spite of a busy schedule as an interventional fellow, without compromising his duties in the catheterization laboratory. His inclination towards technology, innovation, creativity, and teaching led to conception of our first educational mobile app, called BIFURCAID. He played a key role in developing this app, which was made to educate fellows-in-training and early-career interventional cardiologists about coronary bifurcation intervention. He continues to be very meticulous inside the cath lab and very enthusiastic at the academic front while providing very good care to his patients. He is pushing the envelope on the education front with developing new applications and ideas under our guidance. He has been an asset to our program, and has done excellent work above and beyond our expectations.
*To nominate a stellar cardiology fellow for the Featured Fellow section of TCTMD's Fellows Forum, click here.

Yael L. Maxwell is Senior Medical Journalist for TCTMD and Section Editor of TCTMD's Fellows Forum. She served as the inaugural…
Read Full Bio