Similarly Low Risk of CV Events With Bivalent and Monovalent mRNA Boosters
A retrospective analysis of nationwide French data does not support a regulatory alert issued in the US earlier this year.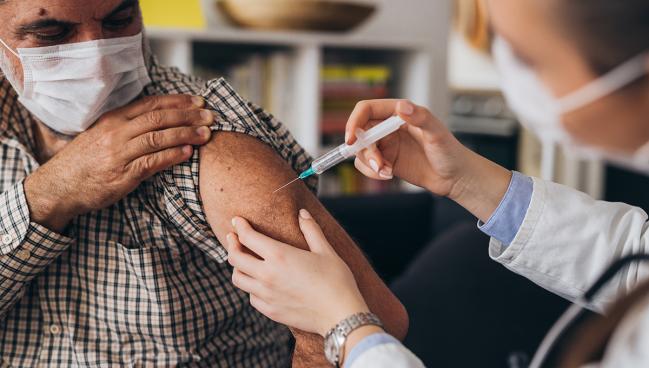 Pfizer/BioNTech's bivalent COVID-19 booster vaccine, approved in many parts of the world in late 2022, is no more likely than the monovalent version to increase the risk of cardiovascular events, according to nationwide data from France.
The findings should help to counter an earlier alert issued by the US Centers for Disease Control and Prevention in January 2023 citing a possible increased risk of ischemic stroke among subjects 65 years and older within 21 days of getting this particular bivalent booster.
Led by Marie-Joelle Jabagi, PharmD, PhD (EPI-PHARE Scientific Interest Group, Saint-Denis, France), the study was published online today as a research letter in the New England Journal of Medicine.
"We previously showed that there was no increased risk of stroke or [pulmonary embolism] following the mRNA monovalent vaccinations," Jabagi told TCTMD in an email. Following the CDC alert, "we wanted to see if the risk of these events differed after receiving the bivalent booster dosage compared to the Comirnaty monovalent."
In an analysis that matched recipients of the bivalent mRNA vaccine with those who got the monovalent jab on the same day, investigators saw no differences in the rates of ischemic stroke (HR 0.86; 95% CI 0.58-0.27), hemorrhagic stroke (HR 0.86; 95% CI 0.46-0.61), myocardial infarction (HR 0.92; 95% CI 0.62-1.36), pulmonary embolism (HR 0.83; 95% CI 0.49-1.40), and all four events combined (HR 0.87; 95% CI 0.69-1.09) over the next 21 days.
Events, notably, were extremely rare in both arms, with rates of the four endpoints combined adding up to 0.1% or less.
The analysis was derived using the national COVID-19 vaccination database within the French National Data System. It included anyone getting a booster dose between October 6 and November 9, 2022, during which time 932,583 people opted to get the bivalent vaccine and 121,362 to receive the monovalent vaccine, with five randomly sampled bivalent recipients matched to one of the monovalent-dose recipients.
"This population-based study reassures us that there is no increase in severe cardiovascular events, such as stroke, PE, AMI, after vaccination with the bivalent vaccine," Jabagi said.

Shelley Wood is Managing Editor of TCTMD and the Editorial Director at CRF. She did her undergraduate degree at McGill…
Read Full Bio
Sources
Jabagi M-J, Bertrand M, Botton J, et al. Stroke, myocardial infarction, and pulmonary embolism after bivalent booster. N Engl J Med. 2023;Epub ahead of print.