Small Study Hints at Mechanism for COVID-Related MI and Stroke
The virus appears to use atherosclerotic plaque as a reservoir to stay alive and promote systemic inflammation.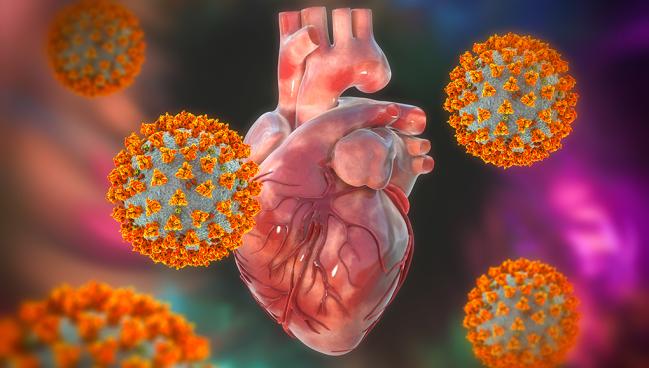 In people with atherosclerosis, SARS-CoV-2 infection appears to gravitate toward fat-filled macrophages in the coronary arteries, a phenomenon that may provide an explanation for the link between COVID-19 and CVD complications like MI and stroke, a small study suggests.
While prior studies have shown that COVID-19 can be prothrombotic and live in cardiac tissue, the way it spurs CVD events is not fully delineated, noted senior study author Chiara Giannarelli, MD, PhD (NYU Langone Health, New York, NY).
"We thought that the [tissue] evidence and the fact that there were publications also showing increased risk of cardiovascular events up to 1 year after infection was a very important observation and something that we wanted to investigate more mechanistically," she told TCTMD.
In the small study, published last week in Nature Cardiovascular Research, Giannarelli and colleagues found that the virus colonized within the coronary arteries of eight individuals with a history of atherosclerosis who had died of COVID-19. The SARS-CoV-2 virus also was found within macrophages, which typically swallow excess fat molecules in the arteries. Not only that, but the virus seemed to prefer plaque macrophages and was more likely to target them than adjacent perivascular fat.
"We found that macrophages were more susceptible to the virus when they were loaded with lipids," Giannarelli added. "These lipid-rich macrophages were also less capable of cleaning up the virus."
A Reservoir for Infection
For the study, led by Natalia Eberhardt, PhD, a postdoctoral fellow in Giannarelli's lab, the researchers also tested the ability of SARS-CoV-2 to trigger an inflammatory response by macrophages. This was done with the use of ex vivo surgical specimens of atherosclerotic arterial tissue. The robust inflammatory response set off by the virus led to secretion of interleukin-1 beta and interleukin-6, which have been implicated in systemic inflammation and can contribute to the development of atherosclerotic plaques, plaque rupture, and ischemic events.
According to Giannarelli, viruses in general like lipid-rich environments, so it's not a surprise to find it there, but the proclivity of SARS-CoV-2 to use coronary macrophages as a reservoir is eye-opening in the sense that it could explain in part why people with atherosclerosis who get COVID-19 might be more vulnerable to adverse CV events not only in the acute phase, but also later on.
"If there is any influence of the viral infection at the plaque site, this can trigger inflammation that can have long-lasting effects," she said.  "Patients with underlying conditions might be at higher risk of long- term complications. This will need further study to help us understand the molecular basis for it."
The study samples were taken from individuals who died early in the pandemic and therefore it is unknown if being vaccinated prevents the virus from gravitating to, and remaining in, coronary macrophages.

Disclosures
Giannarelli reports no relevant conflicts of interest.