Solid Anchoring, Good Echo Results With Transapical TMVR at 2 Years
Still, deaths and HF events continue to accrue after TA-TMVR, which experts say reflects the underlying cardiomyopathy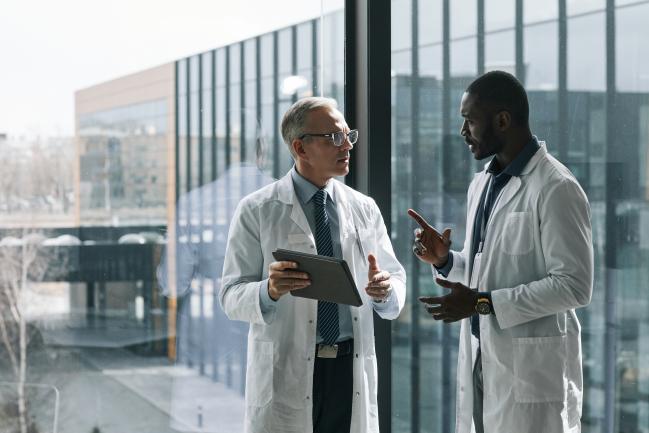 PHOENIX, AZ—Symptomatic patients with moderate-to-severe mitral regurgitation (MR) ineligible for surgery fare quite well with transapical (TA) transcatheter mitral valve replacement (TMVR), with more than 80% of those alive at 2 years having a significant improvement in symptoms and quality of life, according to a new study presented this week at TVT 2023.
In addition, TA-TMVR using the Intrepid system (Medtronic) resulted in a marked reduction in MR in this very sick patient population.
Despite good patient-reported outcomes and echo findings, clinical events continued to accrue beyond 30 days, with more than 50% patients either dead or hospitalized for heart failure (HF) 2 years after treatment with TA-TMVR.
Speaking during a TVT hotline session, senior investigator Martin B. Leon, MD (NewYork-Presbyterian/Columbia University Irving Medical Center, New York, NY), said that while operators can provide symptomatic relief with TMVR, the accrual of clinical events is likely the result of the underlying cardiomyopathy.
"We saw this in the 5-year follow-up of the COAPT trial where 75% of patients in the treatment arm were either dead or had a heart failure hospitalization," he said. "We have to recognize that [if] we're going to treat this group of secondary MR patients with LV dysfunction that regardless of what we do at the valve level—we can make them feel better, at least a proportion of them—we're going to continue to see heart failure events until we deal with the underlying primary cause of the MR, which is myocardial disease."
Linda D. Gillam, MD (Morristown Medical Center, NJ), a member of the panel discussing the late-breaking results, agreed with Leon, adding that "these studies remind us that secondary MR is a bad thing to have, largely for the reason that you got secondary MR" in the first place.
Data From Pilot Study and Apollo
The new analysis is based on 95 patients enrolled in the pilot study and 157 patients enrolled into the ongoing APOLLO study (mean age 74 years; 60% male), all of whom underwent TA-TMVR with the 35-Fr Intrepid system. All had moderate-to-severe symptomatic MR at baseline and were deemed unsuitable for mitral valve surgery (mean STS score 6.3). More than 80% of patients had NYHA class III/IV symptoms at baseline. Atrial fibrillation was also very common (60%).
"The patient population really characterizes the severity of illness in this group," said Leon, adding that patients had multiple comorbidities, with many having previously undergone surgery (12% prior valve surgery and 39% prior CABG). Mean LVEF was 45.1% and 20% had evidence of moderate or greater right ventricular dysfunction. In terms of disease etiology, 70% of patients had secondary MR while the rest had primary MR.
Overall, all-cause mortality at 2 years was 36.2%, exactly the same as the rate of HF hospitalization. The combined endpoint of all-cause mortality or HF hospitalization was 52.8%. As Leon, pointed out, many of these events occurred early. In a landmark analysis from 1 to 12 months, though, the rates of all-cause mortality and HF hospitalization were 16.3% and 21.2%, respectively. From 1 to 2 years, the respective rates were 12.4% and 17.9%.
Among patients who survived to 2 years, more than 82% had NYHA class I/II symptoms. For patients in APOLLO where the Kansas City Cardiomyopathy Questionnaire was used to assess quality of life, overall summary scores improved from baseline to 3 months and remained stable out to 2 years. Additionally, 39.3% of APOLLO patients were "alive and well" with a 10-point or more improvement in score.
MR "was essentially eradicated," said Leon, pointing out there were no patients with moderate or greater MR at 2 years. Mean mitral valve gradient improved from baseline to 1 month and was maintained to 2 years, as was the left ventricular outflow tract peak gradient. Mean LVEF declined over time, from 40.0% at baseline to 31.5% at 2 years in patients with secondary MR. In those with primary MR, LVEF declined from 56.0% to 47.0%.
Julia Seeger, MD (University of Ulm/Medical Campus Lake Constance, Germany), who wasn't involved in the study, said that even taking into account the fact that patients treated with TA-TMVR were very sick and ineligible for surgery, the event rates reported were "extremely high" and don't provide much comfort for those with limited options.  
"We know that with all mitral valve replacement strategies we're not at the point we want to be—this study shows that," Seeger told TCTMD. TA-TMVR at this stage is reserved only for "patients where you're at the point where you have to do something, where there's no chance of getting along with the symptoms using guideline-directed medical therapy," she said.
Getting Anchored
In terms of the procedure, Leon said the Intrepid device is a stable platform when anchored, noting there were few device- or procedure-related complications. Overall, nine patients were converted to open-heart surgery: four the result of issues related to apical access, four because of valve malposition, migration, or embolization, and one patient because of left ventricular outflow tract obstruction.  
Leon said access-site issues, especially bleeding, contributed to the increased mortality and rehospitalization events seen at 30 days. The major bleeding rate at 30 days was 22.3%, with 3.2%, 14.9%, and 4.9% of all patients having a fatal, life-threatening, or extensive bleed, respectively. 
"Clearly, the evolution to a transfemoral system will make a meaningful difference in the future," said Leon.
To TCTMD, Seeger said study shows it's possible to anchor the transcatheter device in the tricuspid space. "The system is working—the valve is doing what it should—but it's the access that's the problem," she said, highlighting the patients' comorbidities. As such, the high complication rates are not overly surprising for a group particularly ill-suited to TA access, nor are the high event rates.
Tsuyoshi Kaneko, MD (Washington University School of Medicine, St. Louis, MO), another panelist, made a similar point. The echocardiographic findings at 2 years are reassuring, he said, but the new data highlight the risks of TA procedures in patients with significant MR and impaired left ventricular function.
Like Leon, Kaneko said the future of TMVR will hinge on shifting to transfemoral access. In fact, said Leon, a randomized trial comparing mitral TEER versus transfemoral TMVR is in the planning stages.

Michael O'Riordan is the Associate Managing Editor for TCTMD and a Senior Journalist. He completed his undergraduate degrees at Queen's…
Read Full Bio
Sources
Leon MB. Longer-term clinical and echocardiographic follow-up of TMVR with the transapical Intrepid system. Presented at: TVT 2023. June 8, 2023. Phoenix, AZ.
Disclosures
Leon reports research support from Abbott, Boston Scientific, Edwards Lifesciences, and Medtronic. He serves on the advisory board of Abbott, Boston Scientific, Edwards Lifesciences, Anteris, Foldax, Cathworks, and CroiValve. He reports equity in Alta, Ancora, Conveyor, East End Medical, K2, Medinol, Pi-cardiac, Triventures, Venus Medtech, SoloPace, Valve Medical, and XenterMD.