Synopsis of New Hypertension Guidelines Renews Concerns and Controversy
The ACC/AHA writing committee says the guidelines have been "very well received," but critics continue opposition.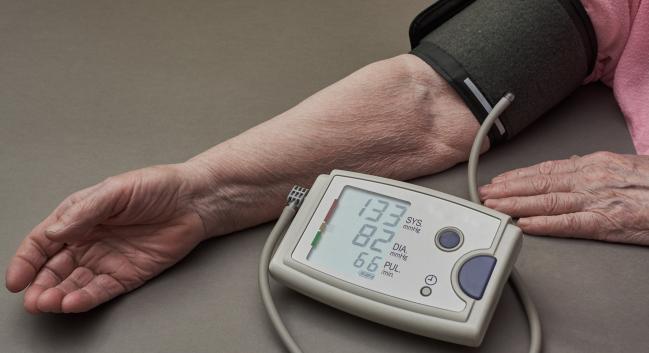 Since their release in November, the new hypertension guidelines have become arguably the most talked about, contentious set of clinical recommendations in recent history. Now the writing committee chairs for that document have authored a new synopsis of those guidelines, which lower the recommended treatment goal to less than 130/80 mm Hg in adults.
To complicate matters further, the synopsis was published online today in Annals of Internal Medicine along with an editorial from another guideline committee that takes issue with what they see as a lack of individualization and choice in the recommendations.
The guidelines released in November at the American Heart Association (AHA) 2017 Scientific Sessions were created by a writing committee from the American College of Cardiology (ACC) and the AHA in partnership with nine other professional associations. Weighing in at 114 pages, with about 1,000 references, the document may be "a bit overwhelming" for busy clinicians, which is where the synopsis can be of help in understanding some of the more salient points, writing committee chair Paul Whelton, MD (Tulane University, New Orleans, LA), told TCTMD this week.
Good for Some but Not for Most
"I think in general the guidelines have been very well received," Whelton noted. "There's always going to be controversy, of course, that's a given, especially when you make new recommendations. None of us like change."
Much of the concern has centered on the anticipated rise in the prevalence of hypertension as a result of the new definitions. By the ACC/AHA guideline writing committee's own estimation, reclassifying what was previously deemed "prehypertension" (systolic 120 to 129 mm Hg and diastolic less than 80 mm Hg) as stage 1 hypertension will increase the prevalence in the United States by 14% (from 32% to 46%) but only increase the number requiring pharmacologic therapy by 1.9%. Lifestyle modification, an underlying theme of the new guidelines, remains the primary initial treatment for stage 1.
In the accompanying editorial, Timothy J. Wilt, MD, MPH (Minneapolis VA Health Care System Minneapolis, MN), and colleagues, writing on behalf of the Clinical Guidelines Committee of the American College of Physicians (ACP) and American Academy of Family Physicians (AAFP), say the expanded definition of hypertension "would label millions of persons as unwell and lowers the [blood pressure] threshold for diagnosis and treatment, with no supporting evidence that it optimally balances benefits, harms, and patients preferences."
Wilt and colleagues also take issue with the lower target, saying while this may be reasonable for some older adults, "what may be good for some is not necessarily good for most." For example, they note, the targets relies heavily on data from the SPRINT trial, but participants in that study had established hypertension; whether these targets make sense in newly diagnosed patients is not clear. Additional concerns are that there is no evidence from randomized controlled trials to support a diastolic blood pressure of < 80 mm Hg and that elderly patients could be harmed in a number of ways by receiving intensive treatment to reach the new, lower targets. Increased symptomatic hypotension and syncope, side effects, and risks of polypharmacy are among those potential harms.
While the editorialists agree with the ACC/AHA advice about the importance of a healthy lifestyle, they say it remains to be seen if categorizing individuals as hypertensive under the new definition "will improve adherence to lifestyle changes," adding that it may shift attention to the need for pharmacologic therapy instead.
Under the guideline, pharmacologic therapy is recommended as a means to achieve a blood pressure below 130/80 mm Hg in patients with a history of cardiovascular disease or a 10-year risk for cardiovascular events of 10% or greater.
"Using the recommended risk calculator, this would include nearly everyone aged 79 years or older," Wilt et al write. "In addition, the guideline recommends pharmacologic therapy for primary cardiovascular disease prevention in lower-risk persons with a [blood pressure] above 140/90 mm Hg." They note that in contrast, the ACP and AAFP recommend pharmacologic therapy to a target < 150 mm Hg for adults aged 60 years or older with systolic blood pressure that is persistently at or above 150 mm Hg, and to a target of less than 140 mm Hg in selected patients at high cardiovascular risk.
An Argument for Choice
To TCTMD, Whelton said the committee looked at the question of older adults carefully and ultimately decided that the SPRINT trial "was an excellent example where we saw tremendous benefit in those who were [age] 75 plus at entry into the trial." Looking further at those who were most frail and had the slowest gait speed, he said, "in every instance, lowering their blood pressure was very beneficial."
Wilt and colleagues, however, suggest that rather than advocate a specific target for all adults, the focus should be on choosing blood pressure targets that allow for "a choice based on a patient's risk profile, susceptibility to harms, and treatment preferences."
Whelton said the committee does not entirely disagree with this aim. For those who are ill, hospitalized, or in nursing homes, "that should be an individual decision between the patient and physician," he noted. "What we're saying is that for older adults, as long as they are mobile and living well at home, don't exclude them from the benefit of lowering blood pressure."
George Bakris, MD, and Matthew Sorrentino, MD (University of Chicago, IL), in a perspective published online January 17, 2018, ahead of print in the New England Journal of Medicine, also argue for an individualized approach to hypertension, calling the shift to the 130/80 mm Hg threshold "problematic."
"Some people with blood pressures of 130 to 139/80 to 89 mm Hg who are at higher cardiovascular risk may benefit from earlier intervention, but though such a broad-brush approach may be fine from a public health perspective, it could overburden our primary care physician workforce," they write.
Bakris and Sorrentino conclude that for all but those at highest risk "it seems more reasonable to continue defining hypertension as a blood pressure of 140/90 mm Hg or higher."

Disclosures
Carey, Whelton, and Sorrentino report no relevant conflicts of interest.
Bakris reports personal fees from Merck and grants from Bayer, Janssen, and Vascular Dynamics outside the submitted work.