TOMAHAWK: Swift Angiography No Benefit in OHCA Without STEMI
Extending the results of COACT, new trial data suggest physicians can take their time with diagnostics rather than rushing to cath.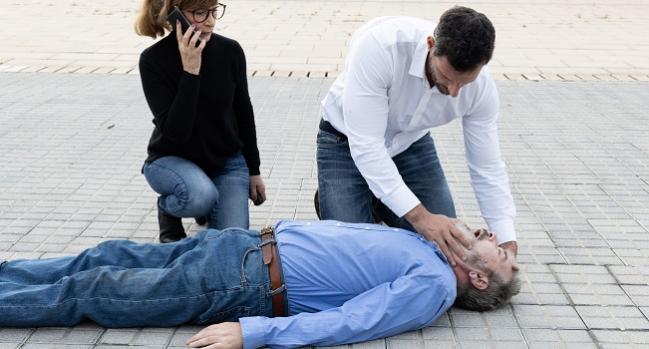 (UPDATED) Rushing resuscitated cardiac arrest patients swiftly to coronary angiography as opposed to taking a more selective or delayed approach doesn't save lives or improve neurologic outcomes, the TOMAHAWK trial shows. 
The results of the trial, conducted in patients whose cause of out-of-hospital cardiac arrest (OHCA) was unknown and who did not have ECG evidence of ST-segment elevation, means that trying to swiftly check for coronary involvement in these patients should not be the top priority.
"The TOMAHAWK trial resolves an open issue after out-of-hospital cardiac arrest," lead investigator Steffen Desch, MD (Heart Center Leipzig, Germany), said at a press conference. "The trial results help to avoid unnecessary, immediate cardiac catheterizations."
Elaborating to TCTMD, Desch stressed that he doesn't see the results as negative. "Effectively this is a neutral trial, but for the clinician it is actually a very valuable message that's hidden between the lines. . . . As an intensivist or an interventional cardiologist, if you're faced with such a patient without ST-segment elevation, you really don't have to hurry things and that makes life a lot easier," he said. "It's actually a good thing because you can take your time, you can do more diagnostics, you can wait for the labs, and you can maybe take a clinical history from relatives, and that makes the diagnosis a lot more stable. And I think this is good in terms of safety for the patient, too." 
Desch presented TOMAHAWK in the third Hot Line session of the European Society of Cardiology (ESC) Congress 2021. They study was simultaneously published online in the New England Journal of Medicine.
TOMAHAWK Findings
Desch and colleagues randomized 554 patients who were successfully resuscitated after OHCA to undergo immediate coronary angiography or to be assessed in intensive care, followed by delayed or selective cardiac cath, at one of 31 trial sites in Germany and Denmark. Fully 530 patients were included in the primary analysis.
Effectively this is a neutral trial, but for the clinician it is actually a very valuable message that's hidden between the lines. Steffen Desch
At 30 days, death from any cause occurred in 54% of the immediate-angiography group and in 46% of the delayed-angiography group, a nonstatistically significant difference that held up in additional investigation, including per-protocol and as-treated analyses. Most patients in both groups died from severe anoxic brain injury or circulatory collapse.
A range of secondary endpoints including rates of severe neurological deficits were no different between groups. Nor did safety endpoints, including bleeding, stroke, or kidney failure, differ significantly between groups, suggesting that early angiography was not associated with greater harm.
Extending Results Beyond COACT
The TOMAHAWK results extend those of COACT, another trial of early angiography in cardiac arrest undertaken in patients with shockable rhythms, Desch et al note. As such, the lack of benefit of early angiography, they say, really speaks to the fact that only a minority of patients typically have underlying culprit coronary artery lesions (40% overall in TOMAHAWK). But even in these cases, neurologic damage may outweigh any benefit of early cardiac diagnosis. 
TOMAHAWK focused on patients without signs of cardiac involvement on ECG, but Desch pointed out to TCTMD that even though swift intervention is deemed best practice in patients with cardiac arrest and ST-segment elevation, that's not based on clinical trial evidence. There will likely never be a randomized trial in OCHA STEMI patients because primary PCI is the go-to strategy for STEMI. 
That sound you heard from #ESCCongress was the collective sigh of relief from all interventionalists who take call and their spouses.

Immediate Angiography after Out-of-Hospital Cardiac Arrest without ST-Segment Elevation did not show benefit. https://t.co/05hdd4zxU9

— Robert W. Yeh MD MBA (@rwyeh) August 29, 2021
"And yet it might be that even STEMI patients with OCHA don't benefit from early angio; we don't know." he said. "We see in clinical practice quite often that you take a STEMI patient to the cath lab who has been resuscitated but then the patient dies maybe 1 week later or 2 weeks later for neurological causes. In retrospect, the whole cardiac catheterization routine was useless."
Of course, he said, there may be other cases in which swift transfer to cardiac cath proves to be lifesaving. Yet in many cases the neurological prognosis may be overriding any gains that can be made by a quick trip to the cath lab, a point reinforced in the TOMAHAWK results, Desch said.
Designated discussant Susanna Price, MBBS, PhD (Royal Brompton Hospital, London, England), stressed that she was framing her remarks as a cardiologist and an intensivist. "What [TOMAHAWK] means for me is: it gives me information that's useful regarding the opportunity to minimize harm which is a lot of what critical care is about. So we don't necessarily need to move these patients very acutely when they've just come into the ED, and that has implications for resource utilization, but also implications for mobilizing patients around the hospital during COVID-19."
Price made the point that coronary angiography was the agreed-upon course of action for certain patients, "so we do still need to have that dialogue with our interventional cardiologists for certain patients who may need to go to the cath lab."
During the discussion, panelists dug into one of the secondary endpoint findings, the composite of all-cause death or severe neurological deficit, which was higher in the immediate-angiography group than in the delayed/selective group (64.3% vs 55.6%; RR 1.16;95% CI 1.00-1.34), a difference which session moderator and ESC President-Elect Franz Weidinger, MD (Rudolfstiftung Hospital, Vienna, Austria), characterized as "borderline significant."
Asked if this was something he would be concerned about, panelist Stephan Windecker, MD (Bern University Hospital, Switzerland), said, "No."
"The results are rather clear as they are. We should not rush patients for an invasive coronary angiography, but I think it is a step too far to say that there is actual harm," Windecker said. "The results speak for themselves. We should take a more-measured response, take time for a careful evaluation of the worst patients, and [know] that the outcome is probably dominated by mortality and the poor neurologic outcomes." 
 

Shelley Wood is Managing Editor of TCTMD and the Editorial Director at CRF. She did her undergraduate degree at McGill…
Read Full Bio
Disclosures
Desch reports having no relevant conflicts of interest.