TRACER: Novel Device Effective in Reducing Severe Degenerative MR Over 6 Months
Though long-term data are still outstanding and procedural lessons are still being learned, the device's inventor expects good efficacy and durability.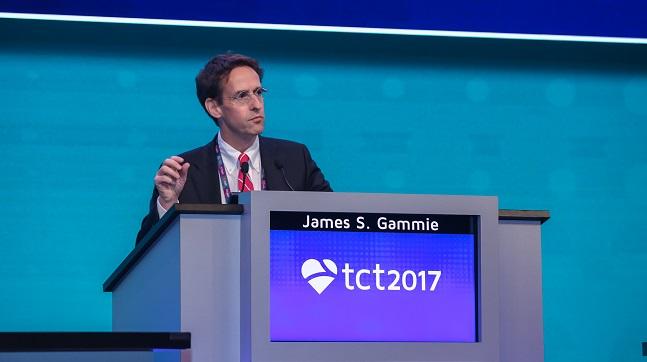 DENVER, CO—Six-month results from a minimally invasive chordal replacement procedure for patients with degenerative mitral regurgitation (MR) continue to show potential for a new treatment option for this cohort.
"We believe the impact of this device for patients will be less invasive therapy for MR, it's going to be safer, [increase] the potential for faster recovery, [and lead to] improved quality of life," said the device's inventor, James Gammie, MD (University of Maryland School of Medicine, Baltimore), who presented results of the TRACER study today at TCT 2017.
"We believe for physicians this is going to demystify mitral valve repair and it's going to turn the low-volume mitral valve surgeon into a high-quality mitral valve repair surgeon," he predicted. "We also think that it will encourage earlier referral to intervention before patients develop A-fib and MR ventricular dysfunction. Finally, it will also address the high-risk patient population who otherwise wouldn't be referred for intervention."
The Harpoon mitral valve repair system (Harpoon Medical; Baltimore, MD) is a transventricular, beating-heart intervention that replicates ePTFE nonresectional mitral valve chordal repair. The system consists of a needle prewound with ePTFE sutures, a knot anchor, and a 14-Fr hemostatic introducer. Early outcomes with the system were presented at PCR London Valves in September.
Presenting 6-month results from the TRACER trial, which was designed for CE Mark approval, Gammie reported a technical success rate of 93% given that there was imaging equipment dysfunction during two cases. In all, the study enrolled 30 European patients with severe degenerative MR and isolated posterior leaflet prolapse. Of the 28 patients who received the procedure, a mean of 3.9 ePTFE cordal pairs were inserted. MR was reduced to none/trace in 86% of patients and mild in 14%.
There were no deaths, strokes, MIs, or instances of renal failure over follow-up. One patient required conventional cardiac surgery on postoperative day 27 for recurrent severe MR caused by infective endocarditis linked with dental caries that were not reported preprocedure. At 6 months, MR was mild or less in 85% of patients, moderate in 8%, and severe in 8%.
Gammie and colleagues observed evidence of favorable early ventricular reverse remodeling, with 25% and 14% decreases in end-diastolic and end-systolic volumes, respectively, at 6 months. Reverse remodeling remained consistent, and both mitral annular diameters and areas decreased. At 6-month follow-up, mean LVEF was 66% and mean transmitral gradient was 1.5 mm Hg.
Teamwork Required for Success
Responding to a question regarding the system's long-term potential, Gammie said "the data will tell over time. I can tell you we have a number of patients now out to 2 years with really stable and durable results. The few patients that we saw [with MR] progression had reasons for that."
He added that he expects "really great durability here" even though concerns have been raised regarding the lack of a mitral ring in this procedure.
"We create an annuloplasty effect when we reduce the [annular diameter] convention by 20% and the annular area by 30%, so we're not seeing reprolapse over time," Gammie said. "It's also important to remember the background on what our historical control population is and that's conventional surgery for degenerative MR, where 20-40% of patients come out of the operating room with replacement. We also have very few core-lab-adjudicated series."
With regard to the study population, which excluded patients with anterior or bileaflet prolapse, Gammie told TCTMD that the idea was "to pick a population where we felt really great about success initially." Going forward, he said, "there's no reason we can't do anterior leaflet patients, and I think there's going to be some additional technology following on with this where we can do additional more complex repairs."
While the Harpoon procedure involves a surgeon and an "absolutely crucial" imaging specialist, Gammie said, it is not for interventionalists right now. "It's a surgeon manipulating this device. I will point out that our device's level of stress from a surface standpoint is a lot lower because it's a 14-Fr valve introducer, so it's really small compared to a 35-Fr device and the level of stress is lower, but it is a [surgery]," he commented. "Someday some bold interventionalist may do this, but I wish them well in fixing the ventricle if they get into trouble."
Experience with MitraClip (Abbott Vascular) is a "good paradigm" for this system in that the echocardiographer works closely with the operator to guide the procedure, Gammie added, noting that the sites picked for TRACER were all MitraClip sites and thus had experience with this kind of teamwork.
Real-world Expectations
Press conference panelist Paul Sorajja, MD (Minneapolis Heart Institute, MN), asked how one might choose between MitraClip and the Harpoon system if given the option for both. Gammie replied that his center doesn't treat degenerative MR with MitraClip, "because of FDA approval for device as well as our impression that the results of MitraClip for [this indication aren't] that good over the long-term." Given that most of these patients are young and otherwise healthy, "we want to give them a lifetime repair," he added.
Looking forward, though the Harpoon system has not yet received CE Mark approval, Gammie said he expects it in the "very near future." Additionally, "we've had several discussions with [the] FDA and we anticipate that we will be required to do a randomized trial against conventional surgery in the United States," he said, noting that this will likely involve a keyhole thorascopic approach "where the patient goes home in a day or two."
Of note, Edwards Lifesciences made an investment in Harpoon Medical in 2015 that included an option to buy the company for up to $250 million. A statement from Edwards forwarded to TCTMD said: "We are close to making a decision. If we were to decide to exercise the option there are certain steps that would need to happen before a deal could be consummated. Therefore, a definitive update should not be expected until December."

Yael L. Maxwell is Senior Medical Journalist for TCTMD and Section Editor of TCTMD's Fellows Forum. She served as the inaugural…
Read Full Bio
Sources
Gammie JS, Bartus K, Gackowski A, et al. Beating-heart mitral valve repair using a novel ePTFE cordal implantation device: prospective trial. J Am Coll Cardiol. 2017;Epub ahead of print.
Disclosures
TRACER was funded by Harpoon Medical.
Gammie reports owning stock and/or stock options in Harpoon Medical and receiving consulting fees/honoraria from Edwards Lifesciences.
Sorajja reports receiving grant/research support and consultant fees/honoraria from Boston Scientific, Abbott Vascular, Edwards Lifesciences, and Medtronic.