ULTIMATE: IVUS Superior to Angiography at Guiding PCI, With Less TVF by 1 Year
Given the body of evidence supporting IVUS-guided PCI, physicians here questioned why operators are so resistant to change.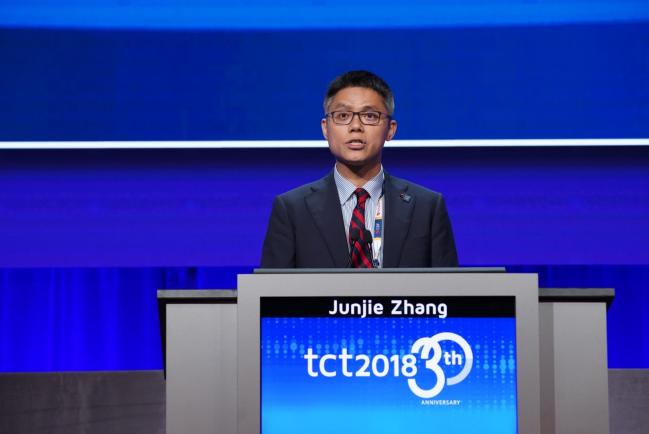 SAN DIEGO, CA—IVUS-guided implantation of drug-eluting stents results in lower rates of target vessel failure (TVF) by 1 year compared to angiography-guided procedures, according to results from a new randomized trial conducted in China.
Though angiography is ubiquitously used in PCI, IVUS provides the operator with invaluable additional information that can have a meaningful impact on clinical outcomes, said Junjie Zhang, MD, PhD (Nanjing Medical University, China), who presented the ULTIMATE trial here in a late-breaking trial session at TCT 2018.
"In the present multicenter randomized trial, IVUS-guided DES implantation in all-comers resulted in a lower incidence of target vessel failure (TVF) at 12 months, compared with angiography guidance, particularly for patients who had an IVUS-defined optimal procedure," Zhang said.
In the ULTIMATE trial, 1,448 individuals (mean age 65.5 years; 73.5% men) from eight Chinese centers were randomly assigned to either IVUS- or angiography-guided PCI. The patients were followed up to 1 year for the primary composite endpoint of TVF, as well as secondary endpoints of cardiac death, target-vessel myocardial infarction, and target-lesion and target-vessel revascularization.
At 12 months, 5.4% of patients with angiography-guided PCI had TVF compared to 2.9% in the IVUS-guided group (HR 0.53, 95% CI 0.31-0.90). There were no significant differences for any of the secondary endpoints. IVUS-guided stents also had low proximal and distal plaque burden, and higher minimum stent area compared to the angiography-guided group.
Information, Put to Good Use
The results are particularly impressive given how effective treatment was in the angiography group, noted John Hodgson, MD (Case Western Reserve, Cleveland, OH), one of the discussants following Zhang's presentation.
"They did a good angiographic job," he noted, pointing out that the mean postdilation pressure was 19 atmospheres. "These [patients] were not undertreated angiographically. Even with a good angiographic approach, IVUS still wins and I'm amazed that there is still some resistance to image guidance here."
Obtaining optimal stent deployment was key for improved outcomes, the investigators found. When comparing optimal to suboptimal stent implantation in the IVUS groups, the TVF rate in patients who received suboptimal stent placement despite IVUS guidance was nearly three times as high as in patients with optimal stent placement (HR 0.35, 95% CI 0.14-0.90). In fact, suboptimal IVUS resulted in similar rates of TVF as seen with angiography-placed stents, the panel noted.
"Just putting the IVUS catheter doesn't change anything," Gary Mintz, MD (Cardiovascular Research Foundation, New York, NY), quipped during the panel discussion. "You have to use the information."
While 90% of PCIs in Japan are performed with IVUS, that portion is much smaller in other parts of the world. Approximately 20% of PCI procedures in China incorporate IVUS, noted Zhang, while just 15% of US procedures utilize this imaging technology, according to Morton J Kern, MD (University of California, Irvine, CA), who participated in a press conference earlier in the day.
"I think it would be great to do a complementary US study," press conference moderator C. Michael Gibson, MD (Beth Israel Deaconess Medical Center, Boston, MA), said in an interview with TCTMD. "I imagine the results might be very similar but [a trial] would be required to confirm [them] in the kinds of patients we see, in the practice patterns, in the complexity of the blockages, and the types of stents and techniques that we use."
While more investigation may be warranted in different patient populations, this study adds to the accumulating evidence favoring IVUS- to angiography-guided PCI, Mintz noted.
"How can people continue to ignore the importance of imaging-guided stent optimization, even with second-generation DES?" he questioned. "The results are consistent across the studies and it's just another piece of irrefutable evidence."
Lucy Hicks is the 2018 recipient of the Jason Kahn Fellowship in Medical Journalism. She is currently a master's student…
Read Full Bio
Disclosures
Zhang reports no relevant conflicts of interest.