As US Abortion Access Grows Patchier, Cardiologist Concerns Mount
Discussions with high-risk women are now more complicated, as cardiologists and patients alike fear running afoul of new laws.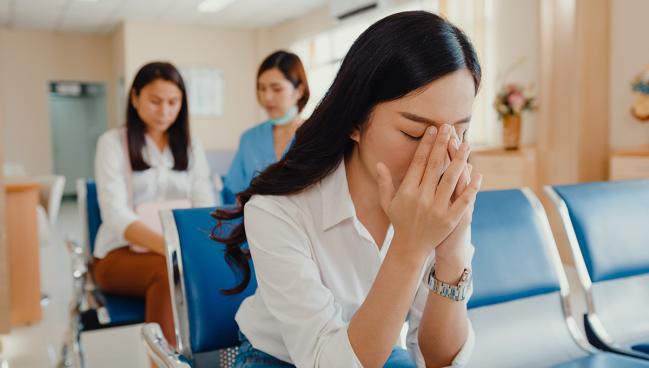 Nearly a year after a Supreme Court ruling removed federal abortion protections in the United States, concerns about what impact this will have on women with high-risk medical conditions, in cardiology and beyond, have continued to grow.
Access to abortion in the US had been federally protected for nearly half a century before being overturned with the Dobbs v. Jackson Women's Health decision, which returned abortion legislation to the purview of individual states and left many cardiologists fearful about the safety and autonomy of patients in their care. As TCTMD reported at the time, for women with a range of cardiovascular conditions, carrying a pregnancy to term can carry serious, even lethal risks.
In the ensuing months, tighter restrictions on abortion have been implemented in some parts of the country (up to and including total bans, as reflected in a regularly updated interactive map from the Guttmacher Institute), with new policies still working through the courts in some cases. Coupled with the looming threat of legal or even criminal liability for clinicians and health systems in certain states, these new laws are weighing heavily on medical decision-making and, in some cases, forcing physicians to wait until women reach critical illness before they can act. These delays are expected to lead to worse maternal outcomes, according to physicians who spoke with TCTMD.
Influencing Patient-Doctor Conversations
Maryjane Farr, MD, section chief for heart failure, mechanical circulatory support, and heart transplantation at the UT Southwestern Medical Center in Dallas, TX, practices in a state with some of the most-restrictive abortion policies. But she also has the perspective of a physician who has practiced in a more-permissive state, having moved from Columbia University Irving Medical Center in New York, NY, in September 2021.
For the transplant candidates and recipients she sees, family planning, including how to handle any unintentional pregnancies, is a part of the discussions leading up to and following transplantation, Farr told TCTMD. Strong birth control is advised in women of reproductive age because, especially in the first few years after transplant, the needed medications may cause problems for a developing fetus, and also there are increased risks of infection and rejection of the new heart in the setting of pregnancy.
Though data have emerged over the years showing that pregnancy is feasible after transplantation "as long as things are carefully planned," abortion is a key part of discussions of treatment options because of risks both to the fetus and to the mother when an unplanned pregnancy occurs around the time of transplantation, Farr noted.
"In a normal circumstance, if I were back in New York or this was 2 years ago," Farr said, discussions with patients would include a rundown of what could be done to either minimize teratogenicity or facilitate an abortion. Today, in a state with restrictive abortion laws, even broaching this topic is "fraught with issues in the sense that doctors obviously can be liable for any advice that they might give," she said, "and it's a very strange circumstance to have a private medical conversation with a patient that you're not even sure that you can document."
She said she hasn't had this experience personally yet, but points out that it's possible one of her patients has had an abortion without telling her about it for fear of having it included in the medical record. "It's a real don't ask, don't tell situation," she said.
It's a real don't ask, don't tell situation. Maryjane Farr
What makes these conversations even more complicated, according to Cara Heuser, MD (University of Utah, Salt Lake City), an expert on high-risk pregnancies, is that the language used to describe abortion in some of these laws and regulations doesn't line up with medical terminology, and that can creep into discussions between patients and their doctors. To help address that issue, a group from the Society for Maternal-Fetal Medicine, led by Heuser, issued a special statement on abortion terminology as it relates to access and quality of care.
On a related topic, Heuser said, "I think a lot of people don't realize what a quote-unquote abortion actually is." She noted that each state's laws define what it means from a legal standpoint and medical societies have their own definitions as well.
In interacting with patients, Heuser said she likes to try to mirror whatever language a patient wants to use. "But I'm often stuck because something meets the legal definition of abortion and it starts a whole chain of regulations and prohibition, which is very cumbersome to patients and physicians. . . . The only reason this matters is because it's so regulated," she said. "We should just be able to do what the patient needs us to do without having to worry about all of this rigmarole."
Delays in Care
Deepshikha Ashana, MD, a critical care physician at Duke University in Durham, NC, who has studied the impact of abortion laws, wrote a viewpoint in JAMA last year discussing the challenge of emergency abortion care following the loss of federal abortion protections.
Decisions have to be made quickly in the ICU, she stressed to TCTMD, and "the ability to make definitive patient-centered decisions is inhibited to a large extent by abortion restrictions." That's because in the most-restrictive states, there are direct legal obstacles regarding what's allowed and, in some cases, the threat of criminal prosecution of clinicians and health systems.
"That creates this culture of fear and uncertainty where clinicians may not act as definitively and in as timely a manner compared to prior to the abortion restrictions," Ashana said. "That delay in care is one of the biggest changes that we see in critical care medicine, and that can be really dangerous for patients." Although the probability of rescuing a patient remains high even after waiting for the development of advanced critical illness, she added, "the risk of failing to rescue the patient increases the longer that you wait, and so there's a real risk there of mortality for the patient and then probably an even bigger risk that the patient may survive but experience a lot of morbidity related to delayed care."
That delay in care is one of the biggest changes that we see in critical care medicine, and that can be really dangerous for patients. Deepshikha Ashana
There's some evidence to support this from a study, conducted in Texas before Roe v. Wade was overturned, of pregnant women who had complications at 22 weeks' gestation or less and an indication for delivery. The investigators examined how women fared after abortion regulations were tightened by two bills: one banned abortions once fetal cardiac activity was identified and another stated that "a physician administering medicine to end a pregnancy even in the setting of a maternal medical emergency has committed a felony, with jail time ranging from 180 days to 2 years and a $10,000 fine; it also expands abortion complication reporting."
After the bills were passed, women were treated with expectant management rather than immediate pregnancy termination, and in this study, women were observed for a median of 9 days before developing complications deemed an immediate threat to maternal life. Ultimately, 57% of women developed a serious maternal morbidity, much higher than the 33% of women who received immediate pregnancy interruption under a similar scenario in states without such restrictions.
"Although limited by sample size, our findings offer a glimpse into the possible not-so-distant future," the study authors say.
Regarding slower delivery of care in the presence of tight abortion laws, Afshan Hameed, MD (University of California, Irvine), a member of the task force behind guidance on pregnancy and heart disease from the American College of Obstetricians and Gynecologists (ACOG), said: "I have a lot of concern in regards to that, particularly knowing that pregnancy terminations are safer earlier on in pregnancy. With advancing pregnancy, the risk to the mother is much higher. When looking at situations where you don't have the options, then the patient . . .  may not be able to get to the care that she needs in a timely manner and there definitely are going to be delays and those delays translate into increased risk and poor outcomes."
Maternity Care Deserts Spreading
Stricter abortion laws have the potential to affect maternal outcomes in other ways as well. Even before the Dobbs decision last year, obstetric units had begun closing across the country. Whereas financial considerations were driving it before, abortion has accelerated it because obstetrician-gynecologists are leaving areas where they can't deliver all medically appropriate options for their patients, Mary Norine Walsh, MD (Ascension St. Vincent Heart Center, Indianapolis, IN), a past president of the American College of Cardiology, told TCTMD.
As maternity care deserts spread, women will struggle to receive any obstetric care at all, let alone abortions.
To drive home this point during a recent talk at the International Society for Heart and Lung Transplantation (ISHLT) meeting, Walsh cited data from the Guttmacher Institute on the distance women living in Louisiana, a state with some of the most-restrictive abortion laws, would have to travel to obtain an abortion. On average, they'd have to drive 257 miles to get to a clinic that performs abortions before 15 weeks and even longer distances to find a clinic that provides the service before 22 weeks (527 miles) and after 24 weeks (672 miles).
For finding obstetric care in general, it's "becoming increasingly harder in some parts of the United States, and that's really important from the standpoint of decreasing maternal mortality—having access to care that you don't have to travel several hundred miles for," Walsh said.
We should just be able to do what the patient needs us to do without having to worry about all of this rigmarole. Cara Heuser
Ashana also highlighted the closures of obstetric units, noting that some health systems have explicitly acknowledged that restrictive abortion laws have played into their decision. She pointed to Bonner General Health in Idaho, which announced in March that it would be discontinuing labor and delivery services, as an example. A press release lists multiple reasons, including loss of pediatrician coverage, declining volumes, and the legal/politic climate in the state, explaining, "Highly respected, talented physicians are leaving. Recruiting replacements will be extraordinarily difficult. In addition, the Idaho Legislature continues to introduce and pass bills that criminalize physicians for medical care nationally recognized as the standard of care. Consequences for Idaho physicians providing the standard of care may include civil litigation and criminal prosecution, leading to jail time or fines."
"Prior to Dobbs," Ashana said, "there were financial reasons why obstetric units were closing, but now you add to that these legal concerns about the risk of legal liability if hospitals provide this sort of care and those conspire together to accelerate the closure of obstetric units, which is a big public health concern in the country."
There are signs that new physicians across specialties, and not just ob-gyns, may be increasingly avoiding areas with the strictest abortion laws, Heuser pointed out. A recent analysis from the Association of American Medical Colleges (AAMC) showed that residency applications fell in 2023 (by 1.8% overall), with larger drops in states with complete abortion bans (by 3.0% versus 1.9% in other states). The AAMC researchers say, "States' abortion-ban status is likely correlated with program number and size, but these early findings suggest that applicants may be responding to something independent of program size. In other words, while states with more severe restrictions are often less populous than other states, US MD applicants may be selectively reducing their likelihood of applying to states with more state-imposed restrictions on healthcare regardless of the number of available residency programs."
If this trend continues, it might ultimately lead to more care deserts and in turn, worse outcomes, Heuser said.
An Impact on Maternal Mortality?
The US already has a maternal mortality rate that is much higher than rates seen in other developed nations, and the most-recent numbers released by the US Centers for Disease Control and Prevention in March show that the country is still moving in the wrong direction. The maternal mortality rate in 2021 was 32.9 deaths per 100,000 live births, up from 23.8 and 20.1 per 100,000 live births in 2020 and 2019, respectively. Non-Hispanic Black women continue to be disproportionately affected.
Multiple physicians told TCTMD that they expect the lack of abortion access in certain parts of the country to bump these numbers up even higher, although it's still too early to see this reflected in the national data, which lag behind by a few years. That would be related, Hameed said, both to growing numbers of women being forced to go through unsafe pregnancies and to women pursuing unsafe options for pregnancy termination.
Recent attempts to remove mifepristone—which is used in combination with misoprostol for medical abortion early in pregnancy—from the market, if successful, may have a detrimental impact on maternal outcomes as well. As explained by the New York Times, a federal judge with the US Court of Appeals for the Fifth Circuit, in New Orleans, LA, last month challenged the US Food and Drug Administration's approval of a generic form of mifepristone that accounts for two-thirds of use in the country. The US Supreme Court recently paused any restrictions on mifepristone, keeping it available for now, although the case in the appeals court is set to continue on May 17.
If mifepristone becomes unavailable, it will affect not only medical abortion, but also the treatment of miscarriage. Heuser noted that the drug is considered the first-line treatment for miscarriage by bodies such as ACOG and the World Health Organization, though this is not a labeled indication. That's supported by a trial published in the New England Journal of Medicine in 2018 demonstrating that the addition of mifepristone to misoprostol, versus misoprostol alone, increased the likelihood of successful management of first-trimester pregnancy loss.
The recent court case "highlights the hypocrisy when they say they want to make things safer for women by removing mifepristone," Heuser said. "We have excellent data that mifepristone makes both abortions and miscarriage care way, way safer . . . and national and international guidelines that all say that. So I think their argument about its safety or lack thereof is blatantly disingenuous."
The Medical Community Responds
One of the biggest shifts over the past year, according to Jennifer Haythe, MD, director of the cardio-obstetrics program at NewYork-Presbyterian/Columbia University Irving Medical Center, New York, NY, is a renewed focus on protecting abortion access as a medical necessity, even in unexpected places and medical subspecialities. She cited recent editorials and viewpoints in medical journals and dedicated sessions at professional meetings beyond obstetrics and gynecology.
At the recent meeting of the ISHLT, for instance, there was a session focused on pregnancy and reproductive health in heart and lung failure that featured talks on pregnancy in the context of pulmonary arterial hypertension, transplantation, and left ventricular assist device implantation, assisted reproduction in high-risk populations, and pregnancy in high-risk populations in the era of abortion bans. After the Dobbs decision, the ISHLT released a statement on access to abortion and reproductive care, stating that "we believe that abortion must remain a safe and accessible option for our patients."
There's also been a greater emphasis, nationally, on the importance of contraception among high-risk patients, Haythe said. An unplanned pregnancy "is that much more scary for people who live in restrictive states or in these maternity deserts [who worry] that they really won't have any access to good healthcare and potentially lifesaving healthcare."
An Uncertain Future
As laws restricting abortion work their way through the courts in many states, it's hard to predict what the landscape will look like over the coming years, and whether an increasingly outspoken medical community will make a difference. However, some of the physicians who spoke with TCTMD expressed at least some hope that the clear dangers of limiting access to safe pregnancy termination would lead to an eventual rollback of the curbs.
"It's hard to know, but at the end of the day, there'll be changes in the laws, and things will happen, and there will hopefully be some federal protections that reemerge," Farr said. "And we may look back on this time and I hope we'll look at [it] as a very bad moment in history, and a bad moment in the autonomy of women."
Haythe said she has been somewhat encouraged by developments over the past year, in that several states either protected abortion access or rejected enhanced restrictions when the issue was put before voters.
"I guess that the most we could hope for is that Roe would be codified legally, if not at the level of Congress then in each individual state, and people are going to have to vote for what matters to them," Haythe said.
Still, she added, as long as abortion restrictions are being placed in some parts of the country, "obviously the risk of women dying is high in a country that already is doing really badly."
From Heuser's perspective, it took the country decades to get to this point and it will take decades to get out. "I do think that eventually we will get to a point where people realize how dangerous these restrictions are and hopefully back off on them, but I think that's going to take a long, long time and I think we're going to see a lot of people get really hurt in between now and then," she said.
And the situation could deteriorate further if there are successful attempts to implement a federal abortion ban, Walsh said, noting that the efforts to overturn the FDA's approval of mifepristone is part of that.
"That's a huge concern, that not only will women not have options in their state, but they may also not have options at all," Walsh said. "The big fear is there's all kinds of reasons that one might seek to terminate a pregnancy, including maternal health, and depending on how ill somebody is, maybe with a cardiovascular condition, having limited options like this is clearly a risk to life."

Todd Neale is the Associate News Editor for TCTMD and a Senior Medical Journalist. He got his start in journalism at …
Read Full Bio