Vitamin D Doesn't Reduce Statin-Associated Muscle Symptoms: VITAL
The rate of muscle symptoms with statins was high in the study, but vitamin D had little impact on alleviating patient concerns.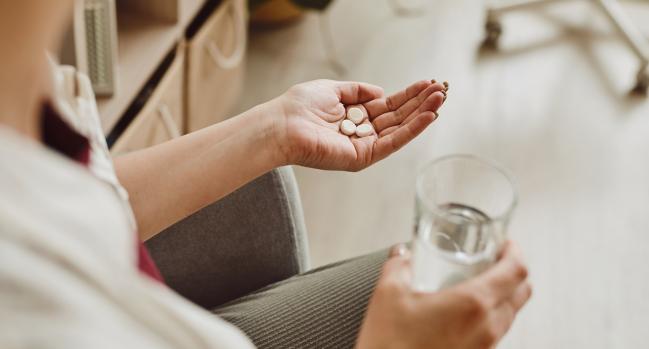 Taking vitamin D does not have a significant impact on statin-associated muscle symptoms (SAMS), nor does it prevent patients from stopping their medication because of muscle pain, according to an analysis of the VITAL study.
Over 5 years of follow-up, the rate of SAMS was 31% both in patients who were taking vitamin D and in those who were taking placebo in the US National Heart, Lung, and Blood Institute (NHLBI)-funded trial. The rate of statin discontinuation was 13% in the vitamin D- and placebo-treatment groups.
"These null results in a large, contemporary randomized clinical trial suggest that vitamin D has little, if any, association with preventing SAMS," write Mark A. Hlatky, MD (Stanford University School of Medicine, CA), and colleagues in the paper published this week in JAMA Cardiology.
VITAL was a nationwide, randomized, placebo-controlled US trial with a 2x2 factorial design of both vitamin D at a dose of 2000 IU per day and marine n-3 fatty acids at a dose of 1 g per day. The trial, which was published in 2018, showed that neither vitamin D nor n-3 fatty acids, when compared with placebo, reduced the risk of major cardiovascular events or cancer. 
With VITAL, researchers say they had a unique opportunity to evaluate whether vitamin D could reduce the risk of SAMS. As part of the trial, new statin users were mailed a survey asking about muscle symptoms, including musculoskeletal pain or discomfort persisting for more than a few days while taking the lipid-lowering therapy. They were also asked if they stopped taking the statins because of the discomfort.
To TCTMD, Hlatky noted that the rationale for testing vitamin D to treat SAMS was partly based on findings showing that it has some effects on muscle function. There are also studies showing that patients with SAMS have lower levels of vitamin D, he said. 
The analysis included 1,033 participants randomized to vitamin D and 1,050 assigned to placebo. In total, muscle symptoms were reported by 317 (31%) and 325 (31%) of patients in the treatment and placebo groups, a nonsignificant difference. Rates of statin discontinuation were also no different. In the two-thirds of patients with measured 25-hydroxy vitamin D (25-OHD) levels, there was no difference in SAMS between the two treatments. The effect of vitamin D with muscle symptoms was similar across baseline 25-OHD levels.
The researchers note that the rate of SAMS was high in VITAL but point out that statin therapy was started by the participants' physicians and SAMS was not evaluated or treated prospectively.
When it comes to managing patients with statin-related muscle pain, Hlatky said there are other options than vitamin D.
"Since vitamin D is not effective for SAMS, I would recommend the approach in the 2018 ACC/AHA cholesterol guidelines, which is based on stopping [statin therapy] for a period, then restarting with a different agent and/or a lower dose," he said. "That is often effective."

Michael O'Riordan is the Associate Managing Editor for TCTMD and a Senior Journalist. He completed his undergraduate degrees at Queen's…
Read Full Bio
Disclosures
Hlatky reports having no relevant conflicts of interest.