Warning Signs: Many Cardiac-Arrest Victims Visited Doctors, Emergency Rooms Prior to Events
Future studies should look at unexpected, noncardiac symptoms in an effort to target patients before it's too late, an author says.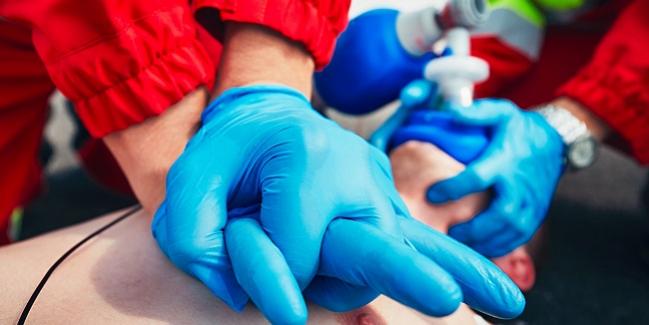 Challenging the conventional wisdom that out-of-hospital cardiac arrest occurs without warning, new data show that more than one in four patients experiencing arrest have actually been previously assessed in an emergency room within the 90 days before their event.
What's more, many visited their primary care physician in the months leading up to the cardiac arrest, the researchers note.
"Sudden cardiac death is not [always] so sudden," lead study author Mony Shuvy, MD (Hadassah-Hebrew University Medical Center, Jerusalem, Israel), told TCTMD. "There are symptoms, and in order to prevent this awful event we need to characterize the patients that come to our hospital emergency [departments], go to family physicians, and try to understand that the symptoms they are coming with might be signs of an event that is going to occur."
The main dilemma with recognizing these symptoms as precursors to cardiac arrest is that many of them, like chest pain and shortness of breath, are "not specific" to this condition, he said, adding that "additional studies should focus on how to identify these patients."
For the study, published online April 27, 2019, ahead of print in Resuscitation, Shuvy and colleagues retrospectively looked at 38,906 patients from Ontario, Canada, who experienced out-of-hospital cardiac arrest and were transferred to an emergency department (ED) between 2007 and 2018. The mean age was 66.5 years, just under one-third were women, and 11.5% had a history of MI.
Overall, 29.5% of patients (n = 11,459) were examined in the ED in the 90 days prior to cardiac arrest—32.0% of the cohort of patients were at least 65 years old and 26.0% of patients younger than that. Those who visited the ED were more likely to be older (68.0 vs 65.8 years; P < 0.001) and to have more cardiac risk factors, prior cardiac procedures, and medical comorbidities than those who did not go to the ED. Diagnoses given in the ED were most often not defined (23.6%), followed by circulatory system disease (14.4%), respiratory system disease (12.0%), injury or poisoning (10.7%), and mental/behavioral disorder (6.1%).
Of the 16.4% of cardiac-arrest patients who were admitted to the hospital within 90 days before their event, the most common diagnoses for hospitalization were circulatory disease (33.7%), respiratory disease (16.1%), and digestive system disease (7.5%). Hospitalized patients tended to be older with more cardiac and medical morbidities.
The rates of cardiac catheterization, coronary revascularization, and CABG for patients either who were evaluated in the ED or hospitalized during the 90 days prior to their arrest were 27.7%, 12.7%, and 1.7%, respectively. Small proportions of patients received a pacemaker (3.8%) or ICD (5.6%), and only 0.7% underwent a stress test. Just over half (50.4%) had echocardiography.
Almost all patients in the study (93.2%) visited a primary care physician in the year before their cardiac arrest, including 70.1% who saw a doctor in the previous 90 days.
Total mortality was high: 68.0% died the day of the cardiac arrest and 87.2% died within 30 days. Those who visited the ED (89.7% vs 86.1%; P < 0.01) and those who were hospitalized (89.9% vs 86.6%; P < 0.01) had a slightly higher 30-day mortality rates than those who did not. "These patterns might be explained by the different baseline characteristics of patients who utilized healthcare prior to the arrest," the authors explain.
Finding the 'Sea' in the 'Ocean'
Shuvy told TCTMD that he was "very surprised" by the findings. Because "the name of the disease is called 'sudden' cardiac death, which means that it is an event that is not expected—it occurs and no one can predict that it is going to be—[there] is a common belief among physicians that you cannot prevent it because you never know when it comes," he said.
"When we try to look back on all patients that experience sudden cardiac death, we were able to identify 90 days prior to the event [that] something happens. Those patients, that are not patients in many cases, just healthy people that do not know they are at risk to die suddenly, are utilizing health care facilities," Shuvy explained. "They go to the primary care physicians, they go to emergency medicine, they are admitted to the hospital, but unfortunately, . . . we do not really understand that those patients are going to die in the next 90 days.
"The big surprise of the results [was] that there are symptoms, there are signs, but we do not really point to them as symptoms that occurred before sudden cardiac death, so it's very difficult to prevent it," Shuvy continued.
Commenting on the study for TCTMD, Sumeet Chugh, MD (Cedars-Sinai Heart Institute, Los Angeles, CA), said the findings "underscore the fact that there is a large proportion of people who get warning symptoms before their cardiac arrest and who may actually be seeing healthcare providers because of those symptoms but still end up having a cardiac arrest."
While the analysis can't confirm that patients who saw a primary care physician or went to the emergency department did so because of any warning signals, previous data have shown that about half of all cardiac-arrest patients do have some indicative symptoms ahead of time, he explained.
There's an ocean of people out there who are seeing their providers, and from this ocean there is a little small sea of people who have symptoms that are actually going to be connected to a cardiac arrest. How do we identify this small sea in the ocean? Sumeet Chugh
"Now comes the issue of: there's an ocean of people out there who are seeing their providers, and from this ocean there is a little small sea of people who have symptoms that are actually going to be connected to a cardiac arrest. How do we identify this small sea in the ocean? It needs more research," Chugh said. "You're going to have to compare people who have garden-variety symptoms to people who are destined to have cardiac arrest. That's how you're going to figure out whose symptoms are actually going to lead to cardiac arrest. In some ways, you have to design research that profiles these people better."
Shuvy agreed, advising that future studies should be designed with the understanding that sudden cardiac death is not caused by a single disease. "It is really a complex situation, but there are risk factors. For example, we found that many patients younger than 65 who experience sudden cardiac death are hospitalized or go to the emergency [department] before the event with symptoms that are related to substance abuse, poisoning."
It's possible that "by identifying patients at risk, you may target them," he added.
Moving forward in this type of direction is critical given that most cardiologists would likely expect the symptoms preceding cardiac arrest to be cardiac in nature, Shuvy emphasized. "But we found that many of the symptoms are not really classic cardiac symptoms, and this is another thing that we should understand: that many of the patients who experience sudden cardiac death are not patients that we expect to come with chest pain or other cardiac symptoms but may come with nonspecific and other symptoms we do not really know how to deal with."
In the meantime, there is not a lot that clinicians can do differently to prevent cardiac arrest, which is a "laudable goal" given that only 10% of people who suffer cardiac arrest outside of a hospital survive following resuscitation and even fewer recover neurologically, according to Chugh.
"These kinds of studies are driving home the need to do more research that develops clinical guidelines for what a healthcare provider needs to do. We don't have those guidelines yet," he said. "We've got to be proactive. We have to have some sort of preemptive strike. This is a good way, but we have to have the science first."

Yael L. Maxwell is Senior Medical Journalist for TCTMD and Section Editor of TCTMD's Fellows Forum. She served as the inaugural…
Read Full Bio
Disclosures
Shuvy and Chugh report no relevant conflicts of interest.