We Asked, You Answered: Learning by the Numbers
Cardiologists know their chosen career means committing to a life of education, but many disagree on how to best take in new knowledge.

See also TCTMD'S feature story Keeping Up With Cardiology: Old-School Learning Versus the Twittersphere
In May and June, TCTMD polled its readers through targeted emails and social media to find out how they learn and their perspectives on how their colleagues do the same. On top of demographic information, the survey asked questions about education methods, thoughts on social media, and changes in learning over time.Most cardiologists would acknowledge that their career involves a life of continuous learning. However, opinions vary widely on the best mechanism for taking in and digesting new information related to the field.
A total of 130 cardiologists, fellows, and other physicians involved in the field replied. The anonymity of the survey garnered some candid responses (although we acknowledge our survey results likely suffer from responder bias, as those who subscribe to TCTMD were more likely to receive their news from our website).
To view an infographic with our results, please click the image below. You can also download a PDF.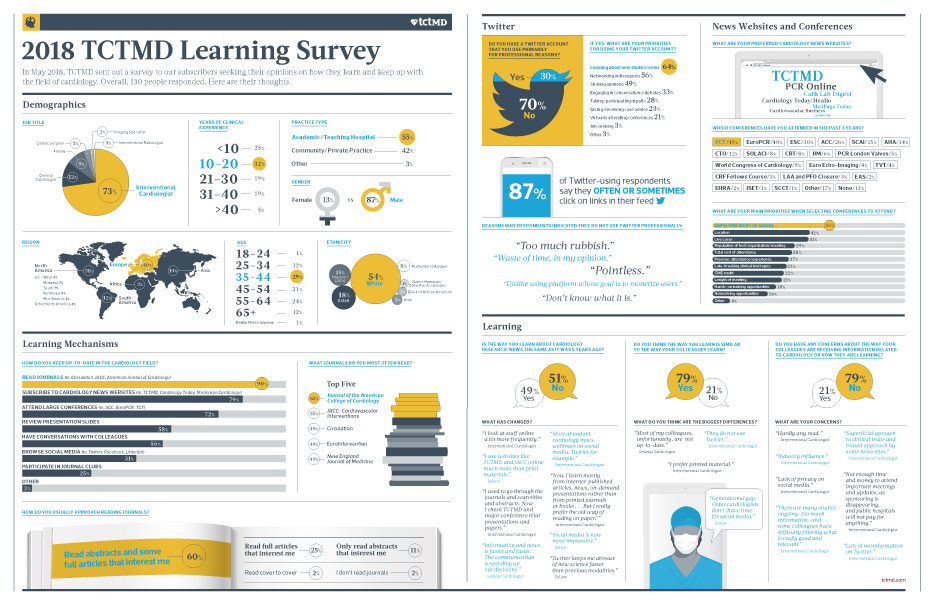 Yael L. Maxwell is Senior Medical Journalist for TCTMD and Section Editor of TCTMD's Fellows Forum. She served as the inaugural…
Read Full Bio