'Who's In Charge of a Wound?': Interventionalists Should Play a Role
ISET speakers review the gains to be made by mastering the essentials, with the ultimate goal of avoiding amputation.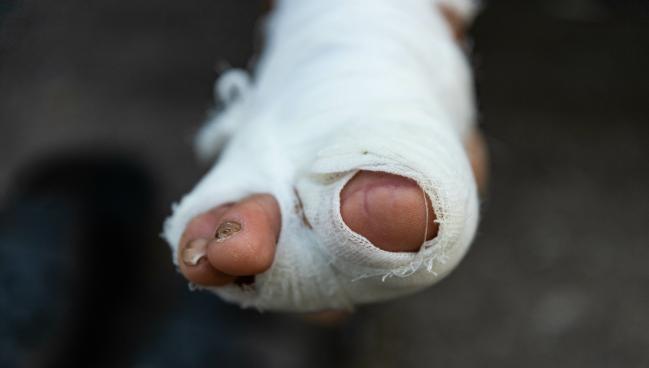 MIAMI BEACH, FL—Wound care is outside the comfort zones of many interventionalists, but it doesn't have to be, experts said at this week's ISET 2023 meeting. Mastering a few essentials can go a long way in helping patients avoid or postpone amputation.
"It's a big learning process," noted Kumar Madassery, MD (Rush University Medical Center, Chicago, IL), an interventional radiologist who's certified in wound care. The ability to do a technically challenging procedure is one thing, he told attendees, but it's even better to "understand what you're seeing, what you're doing, and what you're waiting for."
Instead of waiting to hear from the podiatrist or surgeon how the patient is healing, "you need to be intimately involved," Madassery stressed. By doing so, he added, patients can achieve the best outcomes.
Vickie R. Driver, DPM (Inova, Fairfax, VA), who also spoke in the focused symposium on essentials in endovascular therapy, put the risks into context. For patients with diabetic foot ulcers in particular, 5-year mortality reaches 30.5%, matching the 31% death rate seen for all reported cancer, she pointed out in her presentation. With minor and major amputation in diabetic patients, mortality was even higher at 46.2% and 56.6%, respectively.
These data, she said, demonstrate why there should be aggressive management of chronic limb-threatening ischemia and infections. This includes the big picture, looking at comorbidities and lifestyle factors, as well as "local" questions about the wound itself: "Is tendon exposed? Is bone exposed? Where is the ulcer? Do they need to ambulate on this wound?"
Sometimes the degree of damage isn't obvious, Driver acknowledged. But even when it is noticed, "why do these patients move on and progress to amputation, 'minor' or otherwise?"
The answer is a "lack of urgency" on multiple levels, from a patient speaking with their physician to getting referred to a specialist and ultimately receiving treatment, said Driver. "Many times the symptom is treated but the underlying problem is not addressed"—patients don't get the antibiotics they need or there's failure to take their weight off the ulcer while walking, for instance. Or it can be that wound care is nonexistent or poor.
"The question to ask here," said Madassery, "is who's in charge of the wound?" The answer varies across institutions, but regardless, interventionalists should be an integral part of the multidisciplinary team involved in wound care, he emphasized.
We're doing so many innovative, amazing procedures. . . . Wouldn't it be good to understand as a whole what happens to these patients, how to manage these patients? Kumar Madassery
Speaking with TCTMD, Madassery said his interest began several years back when he and a few of his interventional radiology colleagues at Rush decided to learn more and gain certification. The thought was: "We're doing so many innovative, amazing procedures. . . . Wouldn't it be good to understand as a whole what happens to these patients, how to manage these patients?"
The expertise has proved valuable, he observed. "It really helps. When I see a patient as a referral in the hospital, in my clinic, I have a grasp of where we're at. Because of that, I can help determine: am I doing the right thing [and] what does this patient need? Is anybody else catching these little factors that can severely impact this patient?"
Keep Track of Progression
In his ISET presentation, Madassery said that when seeing a patient, it's important to consider a wide range of factors: diabetes status, vascular status (including venous), renal function, whether there's an active infection, what kind of nutrition they're getting, whether there's off-loading to minimize the weight put on the foot, and if grafts have been used to treat the wound.
"I look at them. I touch them. I touch the pulses, the skin, [check] the integrity," he said. "You want to see the progression. You want to take pictures at every visit." Symptoms of infection can be as simple as warmth, pain, tenderness, or a foul smell. "A lot of them don't present with fevers unless something's getting really bad," Madassery noted, so if there are subtle signs of deterioration, culture the wound to learn which antibiotics are needed.
One way to track changes is the Bates-Jensen Wound Assessment Tool (BWAT). Other options he suggested are toe pressure, transcutaneous oximetry (TcPO2), indocyanine green angiography, SnapshotNIR (Kent Imaging), and pedal acceleration time.
Perhaps most importantly, if something starts to go awry, don't be afraid to ask for help from peers, said Madassery.
Driver stressed that early recognition of problems is crucial, because amputation—such as removal of the big toe—alters how the foot functions, thus leading to future wounds. Efforts should be made to retain the foot's shape as much as possible with staged debridement before proceeding to amputation.
Even with the best treatment, though, ulcers are likely to return, she cautioned. "So if you're seeing patients with ulcers that reappear and you say, 'What the hell am I doing wrong?', this is the natural history of the disease, unfortunately, due to a whole lot of problems with pathophysiology."

Sources
Driver V. The diabetic foot and chronic wounds in CLI: a cancer in disguise. Presented at: ISET 2023. January 16, 2023. Miami Beach, FL.

Madassery K. How I follow and evaluate wounds in the office. Presented at: ISET 2023. January 16, 2023. Miami Beach, FL.
Disclosures
Driver reports no relevant conflicts of interest.
Madassery reports serving as a consultant to Abbott, Philips, Penumbra, Cook, and Argon.