Will Tricuspid Innovation Outpace Mitral? Some Hopes, Some Second-Guessing
Pivotal results for tricuspid repair and replacement trials are pending, but experts agree, today's questions are just the start.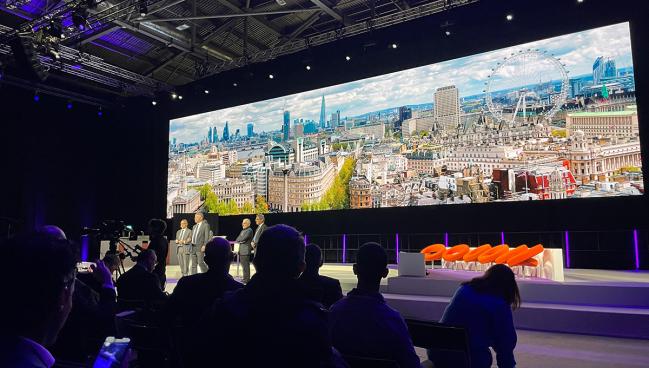 LONDON, England—All going to plan, the next few years should deliver some concrete results for transcatheter devices being tested for tricuspid regurgitation (TR). In the meantime, experts working in this space are looking at the lessons learned for mitral and TAVI while hoping to anticipate problems lurking around the corner.
The excitement for TR innovation was palpable at PCR London Valves last week, with a range of late-breaking data, live cases, and additional talks exploring appropriate patient selection, timing of interventions, and options available for repair and replacement. One spotlight segment in the main arena Tuesday heralded the "booming" landscape of tricuspid technologies, in stark contrast to a mitral session in the same room the day before bemoaning the slowdown in progress for treating mitral regurgitation.
Without a doubt, the tricuspid field has several advantages over the mitral, PCR London Valves Course Director Bernard Prendergast, MBBS, MD (Cleveland Clinic London, England), told TCTMD. For one, the field has already borrowed heavily from devices pioneered for the mitral valve—edge-to-edge clips, annuloplasty bands, and even replacement technologies—that have allowed tricuspid innovators to leapfrog past those early stages of R&D.
Tricuspid procedures themselves also tend to be somewhat simpler and safer than mitral, Prendergast continued. "The difference in the right heart is that we don't need to navigate the intra-atrial septum to deliver a large, bulky device to the left heart," something particular attractive for transcatheter tricuspid valve replacement (TTVR) devices.
And though transcatheter tricuspid valve repair (TTVr) using an edge-to-edge approach (TEER) is less effective at fully abolishing regurgitation, he continued, that may matter less for the tricuspid valve.
"I think it's likely that the tricuspid valve will be a more forgiving valve, in terms of leaving residual regurgitation," said Prendergast. "We all have patients who've had severe TR for decades and often it's only very late in their life that they start to decompensate and deteriorate."
Residual Regurgitation
Residual regurgitation after a successful procedure remains the potential Achilles' heel for repair devices. Neil Fam, MD (St. Michael's Hospital, Toronto, Canada), who gave a talk on matching the right device to the right patient, pointed out that an initial analysis of the TRILUMINATE pivotal trial indicates that, as has been documented for mitral regurgitation postprocedure, residual TR is associated with an increased risk of heart failure and death.
"I would argue that TR is like MR," Fam said. "If you can abolish it, [patients] will feel even better, assuming their symptoms are from TR."
This uncertainty will have implications for the success of ongoing trials, noted Anita Asgar, MD (Montreal Heart Institute, Canada), a discussant in the same session. "We're not going to know, even after TRILUMINATE is done, whether the reduction to moderate TR is enough and is that the goal we should be targeting or should we be targeting even less? My hope is that TRILUMINATE will be positive, but if it's not positive, is it because the device doesn't work? Or is it because our target, which is moderate TR, isn't the appropriate target? And that remains to be seen."
This is all against the backdrop of surgery, where any residual regurgitation would be considered a failure. "As a surgeon, you open the box once, you want to be perfect: you don't want to open the box twice," said cardiovascular surgeon Francesco Maisano, MD (IRCCS San Raffaele Scientific Institute, Milan, Italy), one of the discussants in the spotlight session. "But as you go transcatheter, transluminal, whatever—less invasive—then you may think about sequential approaches, and you may even think you can accept a compromise between efficacy and safety."
All of that, he warned, awaits clinical trial results.
Hopes High for Full Replacement
Where some experts believe tricuspid devices could pull ahead of mitral innovation is for full valve replacement. That is partly because the right heart is easier to access with bulky catheters and prosthetic valves.
"One of the things that actually I do agree with . . . is that tricuspid is a little bit more for forgiving: it's less risky, it's less complex, and the potential for complications is much less, so I really think that it's going to potentially increase the level of aggressiveness when it comes down to execution on clinical trials," said Juan Granada, MD (Cardiovascular Research Foundation, New York, NY), who chaired the Tuesday spotlight. Moreover, he said, the population of patients potentially eligible for treatment "is significant" since there are no effective medications to treat severe TR and surgeons are often reluctant to intervene in isolated, severe tricuspid valve disease.
But full replacement "isn't necessarily going to be 'nirvana,'" Prendergast cautioned. "If you speak to surgeons, they would always want to repair a valve rather than replace it."
Patrizio Lancellotti, MD, PhD (University of Liège Hospital, Belgium), commenting on the PCR London Valves tricuspid sessions for TCTMD, listed his niggling concerns for TTVR. Devices in development today, he said, are not only too large for many patients, with limited sizes, but also have the potential to cause AV block or to injure the right coronary artery during implantation.
Rigidity of the valve frame in some cases may also prove problematic, he predicted. If valve replacement leads to the hoped-for reduction of right ventricular volumes, the valve frame should, ideally, have enough elasticity to retract a bit when the right ventricle starts to reverse remodel.
Lastly, Lancellotti said, there is the issue of effective orifice area (EOA) in the implanted devices, which for at least some investigational devices is smaller than the native valve orifice. Even with the low-flow state of the right ventricle, any sort of stenosis caused by the implanted device, particularly during exercise, could accelerate valve degeneration, he predicted.
Granada added a few more concerns to the list, including possible thrombosis, the need for anticoagulation in patients who undergo valve replacement, and the associated uptick in bleeding. He, too, mentioned the potential for AV node interaction, which could lead to right ventricular dysfunction.
"People will say: oh, it's great, we are completely abolishing TR [with replacement], but there are actually several trade-offs that could potentially move the field in different directions," Granada said.
Matching Patients to Devices
As with the early TAVI and mitral valve studies, the patients being treated with tricuspid interventions to date, as compared with those typically treated surgically, tend to be older, have more atrial fibrillation, have more prior cardiac surgery, are more likely to have renal failure, and have worse heart failure symptoms, said Marta Sitges, PhD (University of Barcelona, Spain), who reviewed the patient landscape during the tricuspid spotlight. On the whole, she concluded, they are "fragile," with advanced-stage TR and "bad" tricuspid valve anatomies.
"One of the things that I actually struggle with is that, at the very beginning, you really need to go into a population that nobody wants to touch," agreed Granada after Sitges' talk. But this, too, was true of the early TAVI and mitral device studies, which got off the ground by enrolling patients turned down for surgery.
As the field matures, said Fam, TTVR will likely prove best suited to patients with large leaflet gaps, tethered leaflets, or lead-induced TR. Hemodynamic assessment, he added, will be very important to make sure the right ventricular can tolerate the elimination of the TR.
On the other hand, he continued, TTVr with edge-to-edge repair is "very nice" for patients with smaller leaflet gaps, mild tethering, right ventricular dysfunction, and a contraindication to anticoagulation.
"Of course, these are overlapping populations and so many of them would be candidates for both [TTVR and TTVr]. And in the future, depending on the results of current trials, we may need head-to-head comparative studies," Fam concluded. "Current devices can treat many but not all of our patients. Tailored treatment based on anatomy, hemodynamics, disease stage will lead the best outcome and the results of the ongoing trials as well as the need for novel device development are eagerly anticipated."
Unmet Needs and Unanswered Questions
Even with the range of different technologies in development today, many TR patients would be ineligible for treatment.
Fam pointed to the lack of options for patients with massive annular dilatation, for whom no current devices are suitable, as well as for patients with advanced RV dysfunction for whom a tricuspid intervention is unlikely to change the course of their disease.
Moreover, both Fam and Granada highlighted the urgent need for more insight and training in procedural imaging. "You can't fix what you can't see," said Fam.
Lastly, Fam highlighted the distinct entity of lead-induced TR, for which there are, as yet, no standardized treatment approaches.
The final talk of the spotlight session, given by Azeem Latib, MD (Montefiore Medical Center, Bronx, NY), opened a window on another question, one already being raised in the aortic and mitral realms: could intervening earlier prevent progression to severe disease? Here, experts agreed, the devices being trialed today—safe, yes, but durability unknown—may not be the ones for tomorrow's indications.
But that brings the discussion full circle, back to Sitges' point that the patients undergoing tricuspid interventions in 2022 are those being turned down for surgery, noted discussant Georg Nickenig, MD (University of Bonn, Germany). "If the patient is healthy enough, surgeons can offer a perfect treatment—a beating heart, minimally invasive treatment—and they can get the patient off with a TR of zero," he said. "We also have to keep that in mind: we are bit cardiology-based."
For now, structural heart disease specialists across the spectrum of care await the results of CLASP II TR and TRILUMINATE studies in TTVr and the TRISCEND II study of TTVR—the first in a wave of pivotal trials that will answer some—but not all—of the questions floated at PCR London Valves.
"The bottom line is, I really think there is a scientific consensus that what we're doing right now has certain limitations," Granada said. "There was a lot of hype at the very beginning that tricuspid is going to come faster than mitral, but I think that people are starting to realize that, at both ends of the spectrum, replacement and repair, there are trade-offs and there are challenges. . . . I really think in the next 18 months, [we're] going to get very clear data on both repair and replacement that is going to actually help us to have a more clear understanding of what the real value of these technologies are."
What will be key is making sure the trials get the patients they need to deliver decisive answers, said Prendergast.
"The takeaway for me is that these procedures have now arrived at the state of maturity. Interventional cardiologists have got good at them extremely quickly, so they have become extremely safe procedures for patients," he told TCTMD. "I think that's a very important message for the clinical community: referrers shouldn't be holding back with their patients saying they still need to think about the options. These patients need to be introduced to specialist centers early, they need to have access to the right imaging, and then if a procedure is technically and anatomically feasible, it can be undertaken as a low-risk, high-gain procedure. The odds are stacked very much in the favor of the patients."

Shelley Wood is Managing Editor of TCTMD and the Editorial Director at CRF. She did her undergraduate degree at McGill…
Read Full Bio
Sources
Multiple presentations. PCR London Valves 2022. November 27-29, 2022. London, England.
Disclosures
Asgar reports grant support/research contracts with Abbott Vascular and consulting fees/honoraria/speakers bureau payments from Medtronic, Edwards Lifesciences, and W.L. Gore & Associates.
Fam reports consulting fees/honoraria from Edwards Lifesciences, Abbott, and Cardiovalve.
Granada reports institutional grant support/research contracts and royalty/intellectual property payments from Abbott Vascular.
Maisano reports being a shareholder in 4Tech Cardio, Cardiovalve, CardioGard, Magenta, SwissVortex, and Perfect; receiving consulting fees/honoraria/speakers bureau payments from Abbott Vascular, Medtronic, Cardiovalve, Edwards Lifesciences, Magenta; SwissVortex, Perifect, Xeltis, and Transseptal Solutions; receiving institutional grant support/research contracts from Abbott Vascular, Biotronik, Boston Scientific, Edwards Lifesciences, Medtronic, NVT, and Terumo; holding royalty/intellectual property rights from Edwards Lifesciences; and having an ownership/partnership/principal interest in Transseptal Solutions.
Nickenig reports having no relevant conflicts of interest.
Prendergast reports institutional grant support/research contracts with Edwards Lifesciences and consulting fees/honoraria/speakers bureau payments from Edwards Lifesciences, Abbott Vascular, and Medtronic.
Sitges reports honoraria/consulting fees from Abbott, Edwards Lifesciences, GE Healthcare, and Medtronic.