Acetaminophen Raises BP, Just Like NSAIDs Do, in Patients With Hypertension
"We have been lulled into a false sense of security" in using routine acetaminophen for chronic pain, David Webb says.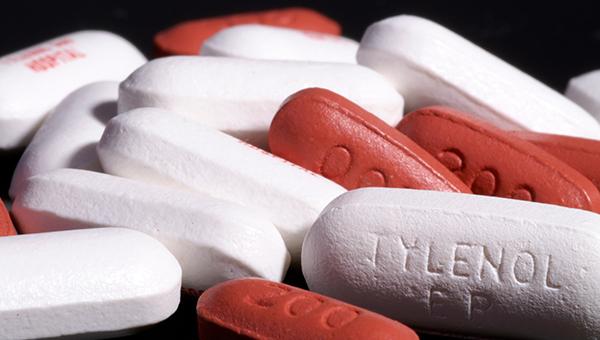 Among patients with hypertension, routine acetaminophen use can raise blood pressure, according to new randomized data. As such, clinicians should be cautious in recommending the drug, especially in patients at high cardiovascular risk, researchers advise.
Patients with hypertension have long been told to avoid nonsteroidal anti-inflammatory drugs (NSAIDs) like ibuprofen because they can both increase blood pressure and interfere with certain antihypertensives. Many are counseled to instead use acetaminophen—known as paracetamol in the United Kingdom—both for short-term and chronic pain needs.
"Paracetamol works through essentially the same mechanism of inhibiting prostaglandin production. It is a nonsteroidal, but it's just not a very powerful one," senior author David J. Webb, DSc (The Queen's Medical Research Institute, Edinburgh, Scotland), told TCTMD. "I've always worried that I was giving maybe not good advice to my patients."
Evidence from the Paracetamol in Hypertension–Blood Pressure (PATH-BP) study, published online this week in Circulation, confirms indeed that "we have been lulled into a false sense of security," he said. However, Webb clarified, "this isn't trying to scare everyone into stopping taking paracetamol. Taking paracetamol for a few days is just fine. This is for people with cardiovascular risk and chronic pain."
There isn't much doubt about what we found. David J. Webb
For the study, Iain M. MacIntyre, PhD (Royal Infirmary of Edinburgh), Webb, and colleagues randomized 110 people with hypertension to receive 1 g acetaminophen four times daily or matched placebo for 2 weeks between September 2014 and June 2019. After that, there was a 2-week washout period before the participants crossed over to the alternate treatment.
Of the 103 patients who completed both arms of the protocol, regular use of acetaminophen from baseline until the end of the study increased mean daytime systolic BP, the primary endpoint, as well as mean daytime diastolic BP (P values of < 0.0001 and 0.005, respectively).
Change in Mean Daytime BP
| | | | |
| --- | --- | --- | --- |
|   | Acetaminophen | Placebo | Placebo-Corrected Increase |
| Systolic, mm Hg | 132.8 to 136.5 | 133.9 to 132.5 | 4.7 |
| Diastolic, mm Hg | 81.2 to 82.1 | 81.7 to 80.9 | 1.6 |

Similar changes were observed for both 24-hour ambulatory and clinical blood pressure. Also, there were no differences in the change in daytime systolic BP regardless of whether participants had treated or untreated hypertension.
There were two serious adverse events over the course of the study, including one case of atrial fibrillation not related to acetaminophen use and an MI that occurred before the patient was started on any study drug. One patient also had to stop the study protocol after day 14 of acetaminophen treatment due to dangerously elevated BP, which normalized after discontinuation of the drug.
Webb said that while he expected to see a rise in BP with acetaminophen use, "we hadn't anticipated it would be as large as it was." In fact, the study was only powered to see a 1- or 2-mm Hg increase, he noted. "So, there isn't much doubt about what we found, but it was bigger than we thought. It's as large a change as we would see with the nonsteroidal anti-inflammatories."
About 8% of the US population have chronic pain, Webb estimated, and about one-third of US adults have hypertension. "So it's a decent number of people we're talking about," he said, stressing that these results do not apply to people who take occasional pain relief for a headache or fever.
For those with hypertension taking regular acetaminophen for chronic pain, Webb advised that clinicians pay special attention to their blood pressure and make sure they're on the lowest possible analgesic dose that controls their pain. "A rise in blood pressure of 5 mm Hg is equivalent to maybe losing one blood pressure tablet, so if you could get rid of the paracetamol, then you might need one less tablet," he said. "Maybe for somebody with mild hypertension, no tablets at all. So it will be a win to try and avoid using paracetamol where it wasn't essential."
Webb said he hopes these results affect national and international guidelines for the management of chronic pain as well as regulatory labeling for these drugs.
Not 'Innocuous'
In an accompanying editorial, Steven M. Smith, PharmD, and Rhonda M. Cooper-DeHoff, PharmD (both University of Florida, Gainesville), write that PATH-BP "overcomes several limitations of previous studies and provides strong additional evidence in support of a clinically important BP-elevating effect of acetaminophen in patients with preexisting hypertension."
However, they say, unanswered questions remain, including whether the increase in BP seen with acetaminophen translates to increased cardiovascular risk. Also, Smith and Cooper-DeHoff point out that the results might not be generalizable given the short-term nature of the study protocol and how long patients with chronic pain tend to take acetaminophen. The effects of the drug on those with lower baseline BP, "including those with normal or elevated BP, or even stage 1 hypertension (per newer classifications), is not well understood," they continued, adding that acetaminophen may also affect patients differently if their hypertension is treated or not.
The results are especially relevant considering how much acetaminophen is used, the editorialists write.
"Despite mounting evidence to the contrary, there seems to be a pervasive belief that acetaminophen is innocuous in terms of cardiovascular effects," they say. "These beliefs are likewise being conferred, if imperfectly, to a significant proportion of individuals with hypertension. The results of PATH-BP may not definitively dispel these beliefs, but they should at least give us pause in routinely recommending acetaminophen as a 'safe' alternative to chronic NSAID use, especially in patients with, or at risk of developing, hypertension."

Yael L. Maxwell is Senior Medical Journalist for TCTMD and Section Editor of TCTMD's Fellows Forum. She served as the inaugural…
Read Full Bio
Disclosures
This study was funded by a grant from the British Heart Foundation.
MacIntyre, Webb, Smith, and Cooper-DeHoff report no relevant conflicts of interest.