ACTIV-4b: No Antithrombotic Therapy Needed for COVID-19 Outpatients
The lack of benefit with aspirin or apixaban "is what we would call a very informative neutral result," Paul Ridker says.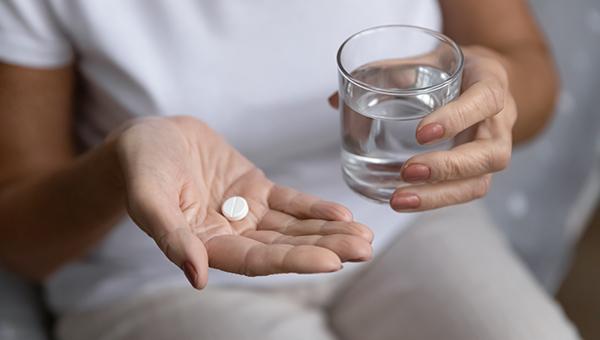 Antithrombotic therapy does not provide a benefit for clinically stable but symptomatic outpatients with COVID-19, published results of the ACTIV-4b trial affirm.
Neither aspirin nor apixaban (Eliquis; Bristol Myers Squibb) at prophylactic or therapeutic doses reduced what were already very low rates of major adverse cardiopulmonary outcomes versus placebo, and both modestly increased bleeding, researchers led by Jean Connors, MD (Brigham and Women's Hospital, Boston, MA), report in a paper published online Monday ahead of print in JAMA. The top-line results were released in June.
The result was unexpected, senior author Paul Ridker, MD (Brigham and Women's Hospital), told TCTMD, because it was thought the treatments would counteract the very high rates of arterial and venous thrombosis observed in the setting of acute SARS-CoV-2 infection in the early phases of the pandemic.
Why that wasn't seen is likely related to changes in the types of patients affected by the virus as the pandemic progressed, Ridker suggested. For instance, the first wave of infections primarily affected older individuals with a lot of comorbidities, with subsequent surges hitting younger and younger patients with fewer high-risk features. Moreover, the threshold for admitting patients with COVID-19 fell over time, which in turn lowered the risk profile—and event rates—of those who remained in the outpatient setting.
On that background, the ACTIV-4b result is very reassuring and "is what we would call a very informative neutral result," Ridker said. "Clinicians are stuck with this problem of, what do we do with symptomatic outpatients with COVID-19? And I think this is one of those examples where we learned the hard way that maybe less is more."
A major caveat, he added, is that there was a subset of patients (3.3% of those randomized) who were hospitalized for COVID-19 before receiving treatment. "For that small group of people, we need to be very vigilant because they need to be hospitalized," he said, noting that during the current phase of the pandemic, that group consists mostly of people who are immunocompromised or have not been vaccinated.
ACTIV-4b
The ACTIV public-private partnership was launched by the US federal government in April 2020 to spur the development of vaccines and therapies for COVID-19. A series of trials were launched to evaluate antithrombotic approaches in different stages of the disease, with ACTIV-4a studying hospitalized patients and the ongoing ACTIV-4c trial studying patients after hospital discharge. ACTIV-4b may be the most relevant for patient care, however, because the vast majority of patients with COVID-19 don't require hospitalization, Ridker said.
The trial set out to enroll 7,000 outpatients with clinically stable but symptomatic COVID-19 across 52 centers in the United States, although it was stopped early due to lower-than-expected event rates after just 657 patients (median age 54; 59% women) were recruited. The participants were randomized into four groups for 45 days of treatment:
Placebo

Aspirin 81 mg/day

Prophylactic-dose apixaban 2.5 mg twice daily

Therapeutic-dose apixaban 5.0 mg twice daily
The primary endpoint was a composite of all-cause mortality, symptomatic venous or arterial thromboembolism, MI, stroke, or hospitalization for CV or pulmonary causes at 45 days. After adjudication in the 558 patients who initiated treatment, there were only three endpoint events observed across the four groups—one cardiopulmonary hospitalization with prophylactic-dose apixaban and two with therapeutic-dose apixaban. Event rates did not differ between trial arms.
Risk of any bleeding event was higher for all three treatment groups versus placebo, although the difference reached significance only for therapeutic-dose apixaban. There were no major bleeds in the trial.
"The low event rate and neutral findings in this trial should not be construed to suggest that outpatients with COVID-19 do not require close medical attention," Connors et al write. "As reported, 3.3% of those randomized became clinically unstable and required hospitalization during the median 3-day period before study drug could be initiated, two of whom died of COVID-related respiratory failure during the 45-day observation period and another who died during the subsequent 30-day safety follow-up. Because these hospitalized individuals did not initiate trial therapy, these findings do not address whether earlier initiation of prophylactic antithrombotic therapy would have benefited this small subset of patients."
Implications for Future Research
In an accompanying editorial, Otavio Berwanger, MD, PhD (Hospital Israelita Albert Einstein, São Paulo, Brazil), notes some limitations of the trial, including the low event rates and the fact that few participants were infected by the Delta variant or had been vaccinated, which raises questions about generalizability to the current situation.
I think this is one of those examples where we learned the hard way that maybe less is more. Paul Ridker
Nonetheless, "the trial results may help to inform treatment decisions in clinical practice," he says. "Given the null results for major cardiovascular and pulmonary events, currently, the use of aspirin or apixaban for symptomatic but stable ambulatory patients with COVID-19 does not seem justifiable."
But beyond that, the findings provide useful information for future trials of outpatients with COVID-19, Berwanger says, noting that at least 10 randomized trials are evaluating a variety of antiplatelet and anticoagulant therapies in this group.
The lower-than-expected event rates in ACTIV-4b "should prompt steering committees and independent data monitoring committees of ongoing trials to review issues like statistical power, outcome choices, recruitment feasibility, and even futility," he advises.
Berwanger underscores the necessity of performing randomized trials to establish the utility of therapies, even during a public health emergency, pointing to the ACTIV program as "evidence that such collaborative studies are feasible despite the multiple challenges associated with a pandemic such as COVID-19."
Ridker highlighted the difficulty of performing a trial like ACTIV-4b in which nearly all of the contact between investigators and participants was achieved virtually to ensure safety on both sides. "I think this is important to think about as we move forward with other clinical trials down the road," he said.
"A key element for the success of these initiatives is related to their innovative, pragmatic, and decentralized trial design," Berwanger states. "In this sense, features like minimal in-person contacts, electronic informed consent, direct shipment of study drug to participants' homes, and patient-reported outcomes enable a more-efficient trial conduct. In addition, decentralization broadens trial access to reach a larger and more-diverse population."

Todd Neale is the Associate News Editor for TCTMD and a Senior Medical Journalist. He got his start in journalism at …
Read Full Bio
Disclosures
The study was, in part, funded by the National Institutes of Health (NIH). Specifically, it was supported by Other Transition Authorities from the National Heart, Lung, and Blood Institute. The trial drugs and matching placebo were donated by the Bristol Myers Squibb–Pfizer Alliance.
Connors reports personal fees from Bristol-Myers Squibb, Pfizer, Abbott, Alnylam, Takeda, Roche, and Sanofi and institutional research funding from CSL Behring.
Ridker reports receiving grants from Bristol-Myers Squibb and Pfizer and serving as a consultant for work unrelated to this study for Corvidia, Novartis, Flame, Agepha, Inflazome, AstraZeneca, Janssen, Civi Biopharm, SOCAR, Novo Nordisk, Uptton, Omeicos, and Boehringer Ingelheim.
Berwanger reports grants from AstraZeneca, Amgen, Servier, Bristol-Myers Squibb, Bayer, Novartis, Pfizer, and Boehringer Ingelheim.