AHA/ACC Scientific Statement Supports Exercise Therapy in HFpEF
Adhering to a program may show patients what they can accomplish and how they can improve, says Maya Guglin.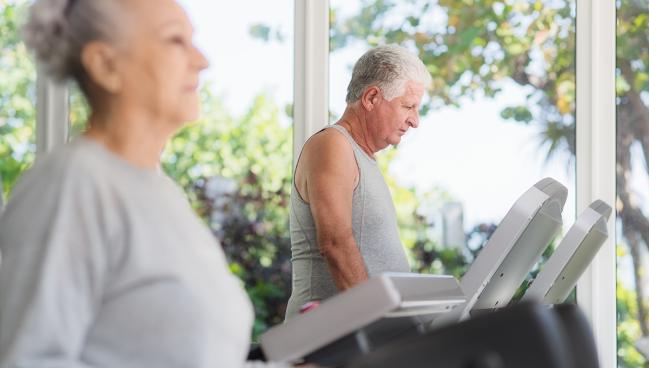 Supervised exercise training such as walking and biking can yield functional and quality of life benefits in patients who have heart failure with preserved ejection fraction (HFpEF), surpassing what can be gained with medications alone, according to a new scientific statement from the American Heart Association (AHA) and American College of Cardiology (ACC).
Moreover, for HFpEF patients and their physicians, the statement offers reassurance that supervised exercise therapy is safe.
"This is a very common question that patients ask because they are symptomatic with physical exertion and they become concerned that physical activity can somehow harm them," said Maya Guglin, MD, PhD (Indiana University Health, Indianapolis), a co-author of the document.
The committee reviewed a range of RCTs, which varied significantly in exercise type and duration from walking a few times a week on or off a treadmill, to walking with arm aerobics, biking, and even dancing. Most of the exercise-based therapies, though not all, were associated with some improvement in functional endpoints. Notably, all were safe.
"We came across improved consumption of oxygen—or improved peak VO2—increased exercise time, increased 6-minute walk distance, and improved quality of life. While this was not all achieved in the same trial, it was pretty consistent across these trials as to effect," Guglin told TCTMD.
"Improvement in the cardiopulmonary reserve is what was observed across almost the whole subset of trials, so it looks like the type of exercise is not that important," she added. "It is important, however, that people use their muscles and expand their exercise capacity and do it in a safe, supervised environment."
Guglin said the committee's goal was to expand the knowledge on nonpharmacological methods of treatment of HFpEF, in part because unlike heart failure with reduced ejection fraction (HFrEF), there are limited pharmacological interventions proven to be of significant benefit.
At the time the committee began reviewing the existing literature on supervised exercise therapy in HFpEF, data had not yet come out in support of the SGLT2 inhibitors empagliflozin (Jardiance; Boehringer Ingelheim/Eli Lilly) and dapagliflozin (Farxiga; AstraZeneca), which reduced HF hospitalizations in the EMPEROR-Preserved and DELIVER trials, respectively.
Review of Latest Exercise Evidence
The paper, with lead author and committee chair Vandana Sachdev, MD (National Heart, Lung, and Blood Institute, Bethesda, MD), was published last week in Circulation and in the Journal of the American College of Cardiology.
The committee identified 11 RCTs of adults with HFpEF who completed at least 1 month of supervised exercise training. Of those, eight RCTs (n = 258) had data available to calculate the effect of supervised exercise on the baseline–to–follow-up change in peak V̇O2. There was an increase of 14% in those randomized to exercise compared with a 2% decrease in controls (P = 0.002).
According to Sachdev and colleagues, an increase of peak V̇O2 > 6% to 7% is considered clinically meaningful.
Across the studies, total exercise time increased by as much as 21%, double the 10% increase that is considered clinically meaningful. For quality of life, scores on the Minnesota Living with Heart Failure questionnaire improved by 4 to 9 points depending on the study, with some interventions showing no improvement.
Importantly, adherence to prescribed exercise was high in most trials, at greater than 80%, although it declined over time in some studies. The committee said more research is needed to understand patient-specific barriers to enrollment and participation.
Last year, the AHA and the ACC released recommendations for supervised exercise training regardless of HF type. However, Medicare currently only reimburses cardiac rehab for patients with HFrEF. Despite this, the scientific statement says the magnitude of benefit that HFpEF patients can gain, both in terms of exercise capacity and quality of life, appears comparable to or potentially greater than that of patients with HFrEF or even PAD.
Sachdev and colleagues say their review of the available evidence suggests that HFpEF patients should not continue to be excluded from this coverage.
To TCTMD, Guglin said with a price tag far cheaper than pharmacologic therapies and significant evidence that improvements can be made in a relatively short period of time, supervised exercise should be considered in this patient population. She added that cardiologists and others who see these patients most often need to press for this option.
"Not only could patients see benefit from it, but they could perhaps come to expand their experiences of what they can and what they cannot do as patients with heart failure," she said.

Disclosures
Sachdev and Guglin report no relevant conflicts of interest.