Assessing Myocardial Damage in COVID-19: The Role of CMR
It's not an all-or-nothing situation, with experts agreeing that there are times when use of CMR makes sense.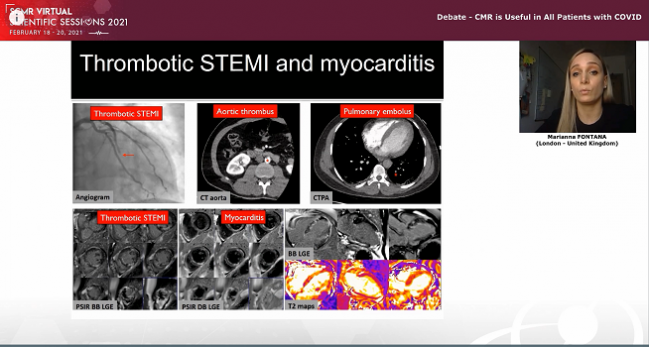 Should every patient with COVID-19, no matter how severe, get a cardiovascular magnetic resonance (CMR) scan to check for myocardial damage?
The short answer is no, but that doesn't mean the imaging modality can't play an important role during the pandemic, experts agreed during a debate and panel discussion held Friday at the opening plenary of the Society for Cardiovascular Magnetic Resonance (SCMR) virtual scientific sessions.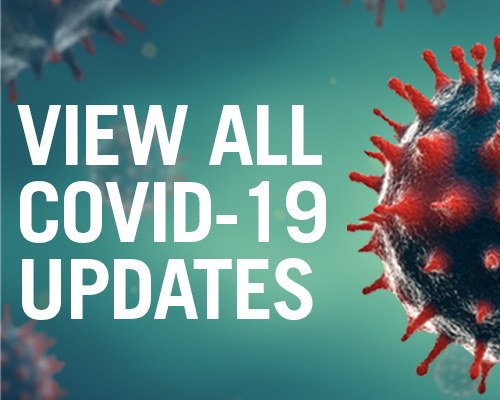 The frequency of myocardial damage associated with COVID-19—and how much it matters clinically—has become a hot and controversial topic following reports of myocarditis-like disease in patients with even mild COVID-19 and college athletes. There was a flurry of activity in the middle of September 2020, when a group of physicians released an open letter pressing societies to discourage CMR screening in asymptomatic people. Around that time, the American College of Cardiology (ACC) issued guidance on the use of imaging to evaluate cardiovascular complications in the setting of COVID-19.
The SCMR contributed to that document, and responded in a separate statement to the heated debate about how extensively cardiac imaging should be used in COVID-19: "In accordance with the ACC guidance document and in view of the current limited evidence, SCMR does not support the routine use of any imaging tests, including CMR, in asymptomatic patients with a known history of COVID-19 infection."
During the debate at the SCMR meeting about whether CMR should be used in all COVID-19 patients, neither presenter advocated for an all-or-nothing approach, and both identified situations in which use of the technology would make sense.
"Obviously we need to find the right balance," said Marianna Fontana, MD, PhD (Royal Free London NHS Foundation Trust and University College London, England), who was arguing against the idea of using CMR in everybody.
Advocating for More-Liberal Use of CMR
Eike Nagel, MD (University Hospital Frankfurt, Germany), was the senior author of one of the controversial early papers showing that among a cohort of COVID-19 patients, of which two-thirds never required hospitalization, 78% had CMR abnormalities 2 to 3 months after testing positive for SARS-CoV-2. The group later issued a correction after some errors were identified, but said the message of the study remained unchanged.
So there is something going on which is not good. Eike Nagel
At the SCMR meeting, Nagel was assigned to argue that everybody with COVID-19 should receive a CMR scan to check for myocardial damage.
He went over studies looking into myocardial damage in patients with COVID-19, noting that there are two phases to consider—acute and chronic. It's the latter, Nagel said, that the community will have to increasingly focus on as the pandemic drags on, to explore whether damage identified on CMR leads to problems like chronic cardiomyopathy and LV dysfunction.
Based on accumulated evidence, "A COVID infection can harm the heart in the same way as . . . diabetes or long-standing hypertension, or even more," he said. "So there is something going on which is not good. It doesn't mean they all have massive myocarditis. We're not talking about fulminant myocarditis. We're not talking about people who are going to have consequences from that very soon. But there is an effect."
The CMR findings do not relate strongly to symptoms, at least not early in the course of the infection, Nagel pointed out, meaning that it would be difficult to decide which patients to image based simply on their clinical presentation.
Despite his assigned side in the debate, Nagel stated, "I can't say everybody who is asymptomatic needs [a CMR scan]."
However, he added, patients with even a low level of symptoms, like shortness of breath while climbing stairs or reduced fitness, should be imaged. And those with a heavier symptom burden with things like palpitations, tachycardia, shortness of breath during daily activities, and atypical chest pain "clearly need an MR."
Then for certain high-risk groups, including athletes, pilots, and those with physical jobs, "I would be relatively liberal in opening up MR for those patients," Nagel argued.
In general, he said, "I think CMR should be used early to measure the damage, allow secondary prevention, protect from remodeling, and help patients to guide the direction they should take for their activity level and how to regain fitness."
Arguing for More-Judicious Use of CMR
Fontana advocated for more-limited deployment of CMR in the setting of COVID-19, bolstering her case with two new analyses from her research group.
The first, published Thursday in the European Heart Journal, focused on 148 patients who had recovered from severe COVID-19 requiring hospitalization and had elevated troponin during the hospital stay. They underwent CMR a median of 56 days after discharge from six acute-care hospitals in London and 68 days after their confirmed diagnosis.
Overall, 54% of patients had some type of myocardial damage identified: 26% had findings consistent with myocarditis-like scar, 22% with MI and/or ischemia, and 6% with both types of injury.
Screening in asymptomatic patients following nonhospitalized COVID-19 is currently not indicated. Marianna Fontana
Though myocarditis-like scar was common, it was limited in extent—in 88% of patients it was confined to three or fewer segments—and was not associated with impaired function. There was evidence of residual edema in 30%.
Of the patients with MI and/or ischemia, two-thirds had no prior history of coronary disease. While preexisting disease likely explains some of these cases, some of the damage likely occurred during the prothrombotic acute phase of COVID-19, Fontana said.
There was no evidence of diffuse fibrosis or edema in remote myocardium, she reported, pointing to the lack of differences in T1 or T2 between the patients and matched controls without COVID-19.
Since CMR is so useful in identifying the mechanisms of myocardial injury in patients with COVID-19, should it be used to screen all such patients? Fontana asked.
To dispute that approach, she presented prospective data from an unpublished analysis of 731 healthcare workers who underwent SARS-CoV-2 testing, with a comparison of 74 who were seropositive with mild illness and 75 who were seronegative. At 6 months, CMR revealed no differences in cardiac structure, function, tissue characterization, or biomarkers between the two groups. That demonstrates that "screening in asymptomatic patients following nonhospitalized COVID-19 is currently not indicated," Fontana said.
For now, she said, "for optimal allocation of societal resources," CMR use should be targeted to patients with severe COVID-19 and troponin elevations, patients with systolic dysfunction, and probably those with "long COVID."
Unanswered Questions
Experts speaking during the SCMR session agreed that there are many unresolved issues when it comes to the use of CMR in COVID-19, particularly around the clinical significance of the imaging abnormalities uncovered at various stages of illness or recovery.
We just need more evidence and more long-term follow-up to know exactly what we're dealing with. Robert Bonow
Nagel acknowledged that knowledge gap, too, but pointed out that signs of myocardial damage identified in his research have been shown to be prognostically relevant in other conditions, like nonischemic cardiomyopathy, coronary artery disease, and suspected myocarditis.
There remains a need to generate robust evidence to guide physicians in use of CMR to evaluate patients with COVID-19, Fontana said, noting that several large prospective trials are underway to provide insights into the clinical significance of the imaging abnormalities.
JAMA Cardiology editor Robert Bonow, MD (Northwestern University Feinberg School of Medicine, Chicago, IL), who served on the panel, agreed that "we still have a lot to learn. I don't think we really know exactly what the role of CMR is here. We don't know the full implications of what cardiac involvement means in these patients, either short term or long term."
Bonow said he would not use CMR routinely in the setting of COVID-19, consistent with the ACC's guidance, although he agreed with other speakers that there might be subsets of patients in whom it would make sense to perform CMR—those with ongoing heart failure or COVID-19 long-haulers with persistent symptoms like fatigue or shortness of breath, for example. "We just need more evidence and more long-term follow-up to know exactly what we're dealing with."

Todd Neale is the Associate News Editor for TCTMD and a Senior Medical Journalist. He got his start in journalism at …
Read Full Bio
Disclosures
Fontana reports funding from the British Heart Foundation.