Bullying in Cardiology: Has More Diversity Led to Backlash?
Power dynamics are shifting—professional societies can help cardiologists navigate what can sometimes be choppy water.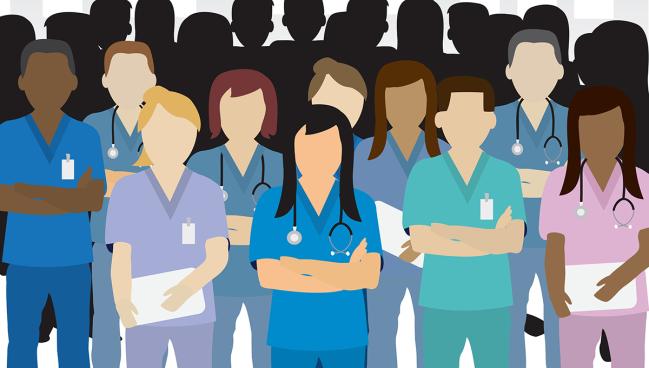 Cardiology conferences offer a chance to step into the spotlight, network among peers, learn, grow, and unwind after hours—now, thanks to meeting planners' efforts in recent years, these on-site opportunities feature an ever more diverse range of voices, both behind the podium and in panel discussions.
But as gender and racial/ethnic imbalances begin to tilt, with some senior (typically male, white) cardiologists less apt to hold the center stage, has the changing terrain led to an uptick in bullying?
It's possible, a range of professional society leaders past and present told TCTMD. However, the truth is hard to pinpoint, as the situation is likely more complicated, they said, with intimidation and belittling not always rooted in overt sexism and racism but sometimes arising from other power dynamics.
Everyone agreed such behaviors aren't restricted to the conference setting, and that no matter where bullying occurs, it stands to harm the cardiology workforce and, in turn, undercut patient care.
"If one only observed the isolated episodes of bullying at meetings, it would be bad [enough]. But, you know, you go to these meetings once a year, whereas the problem is much more widespread and documented widely across the globe, really," said Barbara Casadei, MD, DPhil (University of Oxford, England), past president of the European Society of Cardiology (ESC).
Bullying, she told TCTMD, stems from the intense culture of medicine, bad reactions to pressure, and sometimes even unrecognized burnout. It is also, she added, a manifestation of human nature's dark side: "We think that we can hurt the people that cannot hurt back. . . . A bully is a coward."
Sunil V. Rao, MD (NYU Langone Medical Center, New York, NY), president of the Society for Cardiovascular Angiography and Interventions (SCAI), said he'd read the recent "Over the Wire" blog post on TCTMD describing one anonymous woman's experience of being undermined by her home institution within hours of her time at the podium in a high-profile ESC session.
"It's alarming," he said. "I personally have not interacted with anyone who confided in me about anything like that. I have no doubt that it certainly happens. I mean, cardiology is still a very male-dominated field." Interventional cardiology, his subspecialty, is "even more so," added Rao. He suggested a first step would be getting a grasp on how often meeting-related bullying occurs.
Indeed, "the problem, as always, is somebody has to report it," a step that many people are reluctant to take, observed Mariell Jessup, MD, chief science and medical officer of the American Heart Association (AHA). If professional societies talk about this issue more openly and include it in written form as official policy, "then people hopefully will be empowered somewhat to say, 'Here's what happened, and this didn't go well,'" she said.
We think that we can hurt the people that cannot hurt back. . . . A bully is a coward. Barbara Casadei
Pamela Douglas, MD (Duke Clinical Research Institute, Durham, NC), past president of the American College of Cardiology (ACC), pointed out that meeting-related bullying is a known problem. Across several professions, there have been efforts to ensure conferences are safe places for women—Astronomy Allies, for instance, are vetted volunteers who aim to help astronomy-meeting attendees know where to turn when harassed. A few years ago, SCAI's Women in Innovations began discussing ideas for the cardiology realm, she added.
"There are a couple of issues around the meetings. There's the sexual harassment issue of people being away from home, away from spouses, drinking, going out for a nice dinner or going to a bar or whatever, and having hotel rooms," Douglas said. "And so there's a lot of stories about women being approached inappropriately in those kinds of settings. And that's just flat-out sexual harassment and that should be zero tolerance."
Then there are actions that dash career hopes, whether it's cliquishness that sidelines people from social occasions or senior faculty undermining a junior colleague who's attempting to share their research results.
The story of the more-junior female cardiologist getting pushback post-ESC for her success in a high-profile role is particularly "poignant," Douglas said. "It's somebody who's succeeding, who should be celebrated, but instead is being challenged" just as she starts to soar.
First Steps Taken
Several of the professional societies that host the major annual meetings have already taken steps to diminish bullying: both creating a better climate that indirectly discourages aggressive behavior and establishing policies that specify what's considered unacceptable behavior.
In 2021, after holding a consensus conference, the AHA and ACC together released guidance on professionalism and ethics. The expansive 53-page report addresses the need for equity and respect, with mentions of bias, harassment, discrimination, and racism, but not specifically bullying.
Jessup pointed out that the AHA's ethics policy emphasizes the need for respect of individuals involved in its work. Research grant agreements include a line about harassment, she added, as does the registration process for participants wanting to attend AHA meetings. Additionally, there have been internal, formal discussions on how to approach the issue.
All of this creates a culture shift so that people who experience harassment are less reluctant to report it, said Jessup. "Our position is, if we talk about it, it's in all of our agreements, and it's in all of our research, then people hopefully will be empowered somewhat to [speak up]."
Things are definitely changing. Patrick Myers
The ACC has worked at this from various angles, said Douglas.
For instance, the organization has revised its code of ethics "to be much, much stronger on harassment and discrimination and bullying. It was actually quite weak beforehand—it was mostly focused on, 'You shouldn't have sexual relations with your patients,'" she observed.
The newer version, said Douglas, is more explicit about what the ACC won't tolerate, such as "offensive remarks, sexual or emotional harassment, racism or discriminatory language or behaviors, intimidation, or verbal abuse," as well as who must abide by the rules: "faculty, members, attendees, speakers, volunteers, exhibitors, ACC staff and volunteers, and service providers."
Additionally, in 2022, the ACC released a policy statement titled, "Building Respect, Civility, and Inclusion in the Cardiovascular Workplace," for which Douglas served as chair. The comprehensive document explores how professional societies can help, proposes various policies that promote a positive work environment at an institutional level, and offers practical advice on topics like hiring strategies and confidential reporting systems. On the ACC website, the report is accompanied by additional tools: case studies, tips on how to be an ally, strategies on how to address "uncivil behavior," and more.
Casadei, too, highlighted resources that are available. During her time as ESC's president, the society began offering for its members to participate in the Women Transforming Leadership Programme. Outside of cardiology, the Wellcome Trust has done extensive research on supporting mental health in the workplace and built antiharassment policies into its grant-giving and research activities. Government agencies like the UK's National Institute for Health and Care Research, and the US National Institutes of Health, can also set expectations on a large scale. "The funders can actually have quite an impact," said Casadei.
And then, as noted by Jessup, there's the pivotal National Academies report on sexual harassment of women that spurred change with its 2018 publication.
From Policy to Practice
But there's a difference between drafting ideas and putting those into place as enforceable standards that, when violated, carry specific consequences.
It's simpler, relatively speaking, to know what to do when someone's behavior is out of line at an official event: those who are on the receiving end or those who witness the actions can approach someone they trust to come up with a plan for how to move forward.
"Both the ACC and AHA [meetings] have lounges for women, as well as early career and a bunch of other interest groups" that can serve as "safe spaces," Douglas said. "There are always people there and there is always content happening with faculty there. I would strongly encourage any women who feel that there is an issue to go to those lounges and find the most senior person they can, if they feel comfortable doing it. That is a place where people can listen."
When this behavior happens back at someone's home institution, though, it's very hard for professional societies to address it. In these situations, said Jessup, "if it's people back home that are giving them a hard time, then they need to go to somebody they trust back home," like their chief medical officer, a faculty advisor, or the human resources department.
Oftentimes there's "no one right answer" about how best to report, she said.
At the AHA, "those kinds of things tend to fall on my desk and then we sort out answers about what to do," Jessup said. "We get individual emails from people who feel like they're being harassed, either sexually or not. And if it's part of their AHA grant, then we do get involved. If it's in general, if they just say, 'Things are going really badly,' we tend to encourage them to go and report it and we give them ideas about [how to do so at] their own institution."
Rao also said that "obviously, we can't influence what happens in the workplace. That's not our role or our purview."
Certainly, though, if someone does experience bullying within the context of SCAI, "it's a small enough organization that I hope that people feel comfortable picking up the phone and calling and letting us know," he noted. "Again, I personally have not received any reports of anything like this within the organization."
Rao empathized with anyone going through this difficult experience, one that can be made even harder when the onus is on the bullied to come forward: "It's hard even to hear about these things because I'm sure that [even] those who are believed feel embarrassed and feel powerless. And so they certainly don't want to give off that image, right? Nobody wants to appear weak or appear like the victim.
"So we do need to have ways of reporting these things," he continued. "We need to have ways of investigating these claims, and we want to make sure that obviously the people who are being accused of this really did have the transgression. And then we have to have systems for keeping people who are reporting these things safe and creating an encouraging and supportive environment."
This is a period of real transition and one could even call it upheaval. So there's going to be some tension there, and we just have to expect that. Sunil V. Rao
If these concerns are substantiated, "it's really important for professional societies to think twice about whether that person [doing the bullying] should have a larger role within the society or have a role in the annual scientific sessions," said Rao.
Casadei noted that setting up procedures like these is, in some ways, the easier part of making change. "And then there is the more-difficult level—that is, how do you actually change the culture of the workplace? It is a little bit like the difference between cognitive behavioral treatment and psychoanalysis, right? So, you know, psychoanalysis is great, but does it work? I don't know. Cognitive behavioral treatment does," she said.
In other words, though it may be possible to mandate respectful behavior, at first it might not be possible to get everyone to internalize why that's important. Still, when "there is a line that cannot be crossed," eventually there could be a shift in mindset, Casadei suggested. "In some respect, you become a different person by not having outbursts of anger . . . and abusing your office, your position, your authority."
Burnout in Both Directions
Patrick Myers, MD (Lausanne University Hospital, Switzerland), secretary general of the European Association for Cardio-Thoracic Surgery (EACTS), said the same issues with bullying are seen in the surgical field, perhaps even more so. Since the dawn of residency programs, when young doctors in training lived at the hospital, "it's been in the surgical culture forever [for them] to be constantly available," at the beck and call of more senior surgeons, he told TCTMD. For those practicing in such a high-energy specialty, it can be hard to change that pecking order, said Myers, "but things are definitely changing."
Bullying isn't new, Casadei similarly stressed. Medicine has long given positive feedback—and still does—to people who act with confidence and assertiveness, rewarding them with success in the field. And now, with increasingly fewer chances to unwind, doctors experiencing burnout might be less kind to their peers.
"Fundamentally, we're all working under a lot of pressure, [which might] favor certain behaviors," she explained. "One might 'lose it,' so to speak, more easily than in an ideal situation where you have time to enjoy your work, enjoy the contact with patients and colleagues, the time to talk and also download about what worries you and all of this. That [downtime] was more common in the past and less so now."
Casadei continued: "It's not a justification for behaving badly. It's just a consideration that all of this is not necessarily conducive for best behavior. When people are happy, they tend to behave better."
Of course, the influence can move in the opposite direction: bullying can be a major source of burnout.
"People talk about work/life balance as part of being a physician well-being, but . . . like it or not, you spend most of your life at work," Rao said, "and so physician well-being has to include the professional environment as well." This doesn't apply just to cardiology, but also to medicine, he observed. "I think it's becoming increasingly clear, just like in other fields, that there is both conscious and subconscious bias. And it's really unfortunate to hear that sometimes that's manifest as bullying and making people feel unsafe."
A more supportive workplace will ensure better representation of women and racial/ethnic minorities that will, in turn, improve patient care, Rao added.
Culture Shifts, and Perhaps Pushback
The gradual disappearance of "manels," the ascendance of people from diverse backgrounds at major cardiology meetings, and more women leading program committees and the societies that host them: there are undoubtedly culture shifts afoot.
Myers said that, when last checked, 25% of EACTS members and 26% of attendees at the society's annual meeting were women. As cardiothoracic surgery evolves, "of course we have to adapt with that and be more open to diversity, not just gender equity, but diversity in general," he said, emphasizing that policies need to be put into place to protect the people most vulnerable to bullying.
It's possible that positive changes are inspiring some pushback, Casadei allowed, jesting that there are people who think Donald Trump's election in the United States can be blamed on the mere existence of a Barack Obama presidency. Some in medicine, she suggested, might be saying: "Who is paying attention to the white consultant, old fashioned with a bow tie [who] used to be so respected? And now all of these women and [other] people are coming through. . . . So maybe there is an element of that."
Rao said that although he also has not heard anyone openly questioning the lineup at a meeting, "I can certainly imagine a scenario where in the past someone who has gotten an invite to give three or four lectures at a major meeting now gets an invite to give one, and then they sort of scratch their head and say, 'Am I starting to become obsolete?' and then look and see that there's representation among the faculty.
"Can that cause some bitterness? Yeah, it probably can," he acknowledged. "But I think from the organizational perspective, from SCAI's perspective, for example, we think that increasing diversity in our faculty, having more representation is a positive thing and that's the direction that we need to go in. We certainly want to make sure that people at all stages of their career have an opportunity to participate in the scientific sessions and on our committees."
Right now, Rao said, "this is a period of real transition and one could even call it upheaval. So there's going to be some tension there, and we just have to expect that."
Who Gets the Accolades?
While a late-career, well-established cardiologist might be the one feeling he is being edged off his perch, the numbers say he is more likely to be recognized for professional accomplishments. It might be time, argued Mamas Mamas, BMBCh, DPhil, in his blog, that some traits get recognized and other behaviors devalued.
For Myers, it's an "eye-opening" concept to think about whether key thought leaders receive these honors without regard given to how they treat others. "That's just condoning these toxic behaviors: it shows them that it works," he said.
Yet the bully's behavior may only be known within the smaller sphere of people who work directly with them, Myers pointed out. "At medical meetings, we'll see people who are key opinion leaders," he said. "We know their work, but we don't know how they [act] on their daily rounds and in the operating room and so on. We get a snapshot which is probably the shiny side of what they would like to show. But a lot of people know that behind all of that there's quite a bit that's not so shiny."
For professional medical societies to address this, they need outside expertise, as the process of addressing bullying is beyond their usual scope, Myers said. "We're not experts of this. We're learning as we go." Whether it's through a position statement or some other path, he added, it must be said: "Here's what's not acceptable. . . . Any toxic behavior will forfeit people's ability to get an award or be invited to a meeting, to give an invited talk or things like that."
Societies do have a "key role to play" in setting standards, in that the desire to participate in these large annual gatherings is strong, said Myers.
In the meantime, it's important to reward the efforts of people who are contributing positivity and respect, sources told TCTMD.
The ACC, for instance, has awards that feature the achievements of mentors, teachers, scientists, fellows, cardiovascular team members, and leadership in diversity and inclusion. The AHA extends honors to both early- and mid-career professionals, including an award aimed at mentoring women cardiologists. The ESC recognizes young and nursing/allied professional investigators, while SCAI lauds peer-nominated cardiologists who've served as a "moral and ethical example for others" during their careers.
A woman who's publishing papers and has three small children at home and is taking call: I mean, Jesus, she's amazing. Pamela Douglas
Attention to diversity and inclusion can ensure that the people passionate about pursuing cardiology retain that ambition. "We are a great profession, but only because we can attract the best and the brightest," Douglas said.
Valuing emotional intelligence, resilience, and the ability to work hard—taking a holistic view of what it takes to be a cardiologist—will strengthen the field, she added. Instead of looking at things like test scores, it's about "figuring out who people are and what distance they've traveled, so to speak," Douglas explained.
"A woman who's publishing papers and has three small children at home and is taking call: I mean, Jesus, she's amazing," she said. "So why aren't we recognizing how phenomenal that individual is because of everything in her life? . . . We're giving her opportunities she's earned by being the person she is."
And women are increasingly getting the chance to shine, Douglas said, reporting that the proportion of female presenters at the ACC's annual meeting is now around 40%, nearly triple what it was just a few years ago, and every ACC committee has at least one female member.
"That visibility, that presence, normalizes things," said Douglas. "We can't change individual behaviors of individual leaders at home institutions, but we can make it the norm that women achieve side by side with men."
After Mamas' blog post in September referencing the incident at ESC, TCTMD reached out to the organization for an interview about what steps could be taken by professional societies to address meeting-related bullying. The ESC, in reply, declined to arrange an interview, instead releasing the following statement.
"Openness, inclusivity, and freedom of speech are the very foundation of the European Society of Cardiology's basic principles, the visibility of which is at its most prominent during ESC Congress, where thousands come together to feel empowered and informed by their experience," it reads. "The article in question triggered mixed feelings within our leadership; on the one hand, a sense of dread that this is happening in the workplace and goes beyond our sphere of influence as a medical society and on the other hand, a sense of relief that the ESC does not and will never identify itself with the toxic environment depicted."