CAC Found on Noncardiac CT Scans Linked to Prognosis
The study used an AI algorithm to quantify CAC, but merely identifying its presence could be useful, Matthew Budoff says.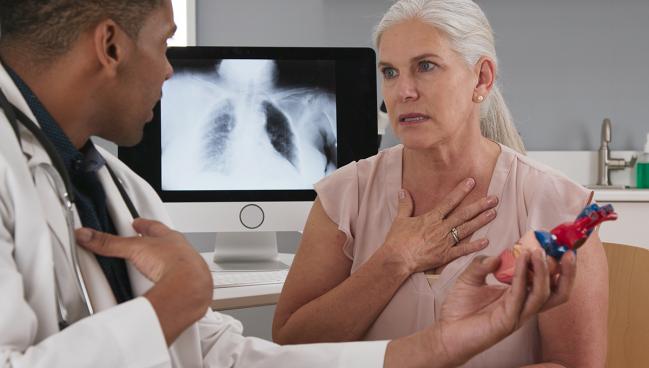 Incidental coronary artery calcium (CAC)—often at substantial levels as quantified by an artificial intelligence (AI) algorithm—is commonly found on nongated computed tomography (CT) chest scans done for noncardiac purposes, according to new data. And despite the fact that these patients were not being sent for coronary calcium scans, those found to have CAC levels of 100 or above had a higher risk of dying over nearly 5 years of follow-up.
For patients undergoing CT for conditions such as lung cancer, knowledge of their concurrent coronary atherosclerosis thus has profound implications for early prevention strategies, the authors argue.
"My biggest motivation in doing this kind of work is equity, because we know that the gated chest CT scans are not accessible to everybody," senior author Fatima Rodriguez, MD, MPH (Stanford University, Stanford, CA), told TCTMD.
While the cohort studied had no known heart disease, Rodriguez et al had still expected to find high levels of CAC in some people. But the sheer number who had small amounts of calcium was unexpected, she added. "We were surprised about how prevalent this was and how very few of these patients were actually on statins. . . . So this really shows an opportunity to start preventive therapy and hopefully prevent heart disease deaths."
This is the perfect example of how we can use artificial intelligence to guide clinical practice. Fatima Rodriguez
Commenting on the study for TCTMD, Matthew Budoff, MD (Harbor UCLA Medical Center, Torrance, CA), agreed. "It's nice to see that we can identify incidental coronary calcium and be able to hopefully not only predict future events, but use that as an opportunity to intervene in the future," he said.
The findings were published in the September 19, 2023, issue of the Journal of the American College of Cardiology.
CAC Associated With Death
For the study, Allison W. Peng, MD (Stanford University, Stanford, CA), Rodriguez, and colleagues pulled data from their institution's electronic health records on 5,678 adults (mean age 60.5 years, 50.7% women, 18.1% Asian, 13.0% Hispanic/Latinx) without atherosclerotic cardiovascular (ASCVD) or metastatic cancer. All underwent noncontrast, non-ECG-gated chest CT imaging between 2014 and 2019.
Just over half (52%) were found to have CAC > 0 using an AI-enabled algorithm, including 33.4% who had CAC ≥ 100. The latter cohort tended to be older (mean age 70.8 years), were more likely to be male (60.7%), and had a higher estimated 10-year ASCVD risk using the pooled cohort equation (23.8%) than the rest of the population. Notably, statins were used in only 26.1% of patients with CAC levels of at least 100.
Over a mean 4.8 years of follow-up, the primary outcome of all-cause death was more common in patients with CAC ≥ 100 compared with those with zero CAC (adjusted HR 1.51; 95% CI: 1.28-1.79). Additionally, risks of the composite endpoints of death, MI, and stroke (adjusted HR 1.57; 95% CI: 1.33-1.84) and death, MI, stroke, and revascularization (adjusted HR 1.69; 95% CI: 1.45-1.98) were both also increased for this cohort.
"This is the perfect example of how we can use artificial intelligence to guide clinical practice," Rodriguez said. "We know that coronary calcium is associated with events and identifying these patients and appropriately starting treatment is something that we can do."
Using 'Free' Information
Similarly, in an accompanying editorial, Roger S. Blumenthal, MD (Johns Hopkins School of Medicine, Baltimore, MD), and colleagues write that "this study demonstrates that by using artificial intelligence deep learning algorithms, we can easily quantify and measure CAC from noncardiac CT chest scans without any additional monetary or radiation-related cost to the patient."
This "'free' information" has been underutilized to date, and the findings highlight how AI can unlock it "to directly improve patient care," they continue. "The pragmatic use of this AI algorithm and increased uptake for reporting of incidental CAC has the potential to transform the appropriate allocation of primary prevention medications, motivate asymptomatic adults to make sustained lifestyle improvements, reduce the burden of ASCVD, and potentially reverse the recent trend of increased ASCVD in the United States."
The study is "a call to action for radiology to say, 'When you are reading a lung CT, you need to report incidental coronary calcium,'" Budoff said. "I don't know if we need to quantify it, but at least report that it's present—maybe at least mild, moderate, or severe—to give the opportunity for doctors and patients to act on this incidental finding."
He continued: "I don't see any detriment to telling a patient or doctor that the patient has a severe atherosclerosis as an incidental finding," he said. "Not only does coronary calcium identify the patient who might need additional therapy—things like aspirin, lifestyle changes, and statins—it also is a great motivator for patients behavior."
Both the Society of Thoracic Radiology and the Society of Cardiovascular Computed Tomography have been supporting this practice for several years now, Budoff added.
How to raise the issue of incidental CAC with patients needs more research and forethought, Rodriguez cautioned, noting that someone with very advanced disease unrelated to the heart might not need to be further burdened with bad news about their cardiovascular risk.
"We do not want to scare patients too much, we want to make sure that it motivates the shared decision-making with their clinicians about statins and also other things for their health," she said. The time and place to for those discussions also needs consideration, she said, adding that automated care pathways perhaps run by pharmacists and advanced practice practitioners could help improve outcomes for these patients.
Next Steps
Another interesting area of study revolves around creating a more-precise algorithm for quantifying CAC from chest CT scans, which typically have lower radiation, Rodriguez said. Because they share similar risk factors, "wouldn't that be great to have a joint cardiovascular and lung cancer program all together?" she asked.
Budoff said he would like to see this study replicated in other cohorts of patients. Still, the current paper "is a critical next step in the understanding that that these values carry important prognostic implications," he added, "even if they are found incidentally for other reasons."
He highlighted that "almost all of the coronary calcium work done to date has been in people who are undergoing coronary calcium scanning for specific identification of heart disease, so now it's nice to see similar a prevalence to what you might expect."
Hopefully, studies like this will make both radiologists and primary care physicians pause to check for CAC on any patient who receives a chest CT, Budoff said.

Yael L. Maxwell is Senior Medical Journalist for TCTMD and Section Editor of TCTMD's Fellows Forum. She served as the inaugural…
Read Full Bio
Disclosures
This work was supported by the Stanford University Human-Centered Artificial Intelligence Seed Grant.
Rodriguez reports receiving funding by grants from the National Institutes of Health National Heart, Lung, and Blood Institute, the American Heart Association/Harold Amos Faculty Development program, and the Doris Duke Foundation and has consulting relationships with Healthpals, Novartis, Novo Nordisk, Esperion, and AstraZeneca.
Peng, Blumenthal, and Budoff report no relevant conflicts of interest.