A 'Call to Action' for HF Trials: More Black, Hispanic Patients
The document, developed through the Heart Failure Collaboratory, explores barriers and offers solutions.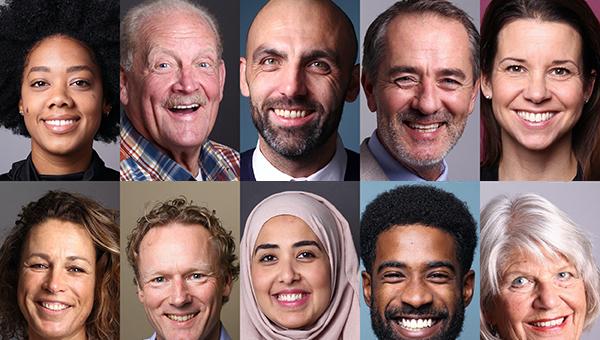 Much can be done to improve the racial and ethnic diversity represented in trials of heart failure (HF), according to the Heart Failure Collaboratory's new "call to action." The document delves into obstacles to enrollment, while proposing numerous solutions.
"Some racial and ethnic populations, particularly Black and Hispanic individuals, have a greater burden of HF, are less likely to receive optimal disease-modifying therapies, and are more likely to die from HF. Despite this excess risk, these same populations are often the least studied in HF clinical trials," Ersilia M. DeFilippis, MD (Columbia University Irving Medical Center, New York, NY), and colleagues write in their paper, which was published online recently in JAMA Cardiology.
The Heart Failure Collaboratory (HFC), a public-private partnership between the US Food and Drug Administration and a consortium of stakeholders, aims to improve the efficiency of clinical trials and foster the development of HF therapies.
Speaking with TCTMD, DeFilippis said the collaboration among regulators, industry, researchers, healthcare professionals, and patient representatives "is a really unique aspect [that] has stimulated a lot of excellent discussion." One of the HFC's five working groups focuses on "representative populations," both in terms of setting standards for enrollment based on HF phenotype (eg, race/ethnicity, sex, age, and clinical characteristics like ejection fraction) and creating novel approaches to trial recruitment.
This particular document, she said, was borne out of discussions first sparked by the American Heart Association's move in late 2020 to call out structural racism as a driver of CVD inequalities. During that time, amid protests and conversations about race around the United States, "I think we felt . . . we were well positioned to try and provide some kind of framework for how to approach this, for sustainable solutions, [by] engaging partners on all different levels," DeFilippis recalled.
Most consensus documents and guidelines now recommend four drug classes—an angiotensin receptor-neprilysin inhibitor (ARNI) or renin-angiotensin-aldosterone system (RAAS) blocker (ACE-inhibitor/ARB), a beta-blocker, a mineralocorticoid receptor antagonist (MRA), and a sodium-glucose cotransporter 2 (SGLT2) inhibitor—a complex and oftentimes expensive regimen that can be hard to achieve, especially in underserved populations with less access to care.
Importantly, "the potential benefit and survival gain with those therapies is really quite impressive," DeFilippis said, and additive. She pointed to a 2020 paper published in the Lancet that estimates a 55-year-old patient on all four agents, as compared with someone taking a beta blocker and a RAAS inhibitor alone, would stand to gain 8.3 years free from cardiovascular death or first hospital admission for HF.
In terms of day-to-day practice, though, physicians need to counsel each patient on what to expect. "Say you're seeing a Black patient with systolic heart failure in the clinic, and they're asking you about the safety and efficacy of these medications in patients who look like them: we want to have a robust body of data to be able to draw on," DeFilippis stressed.
This is not only to be sure the drugs work, but also to know if there are any signals of harm. For example, just 5% of patients enrolled in PARADIGM-HF were Black, partly because only 7% of participants in the global trial hailed from North America. Ten of the Black patients had an episode of angioedema, as compared with 44 non-Black patients. Yet, as researchers note in the International Journal of Cardiology, this amounted to rates of 1.8% versus 0.4%.
Having the evidence base to tell Black and Hispanic patients what to expect from various treatments is important. But so too are the connections that research endeavors can foster with communities, said DeFilippis. "When we are able to enroll patients in these clinical trials and they're introduced to more highly specialized care and broader care teams, I think it has a lot of consequences, both for the study and also for the overall engagement with the healthcare system. [This] I hope and expect would translate into better health outcomes, not just for their cardiovascular disease but other chronic illnesses, as well."
How are they going to make it to their appointments? How can they complete the tests we're asking—is this reasonable? How can we use telehealth? Ersilia M. DeFilippis
Over the past few years, as the HFC document notes, both the FDA and the US National Institutes of Health have begun taking steps to promote diversity in clinical trials. In 2017, for instance, the NIH began requiring that phase III clinical trials supported by their agency collect data on sex, gender, race, and ethnicity. This information must be submitted to the ClinicalTrials.gov registry, and in order to obtain grant funding, the distribution of these characteristics must reflect the target populations being studied.
"Notably the NIH policies affect only federally funded research," the paper points out. "Therefore, FDA policies and guidance are critically important as well to encourage appropriate representation for private industry and non–federally funded clinical studies and trials." As recently as November 2020, the FDA updated its guidance document on clinical trial diversity, which includes discussion about eligibility criteria and unnecessary exclusions as barriers to enrollment. Yet the FDA merely offers recommendations—there's no legal mandate to follow this advice.
Changes From Start to Finish
To surmount the obstacles to diversity, the HFC report offers strategies related to "research study design and site selection" as well as "patient, institution, and community engagement." And finally, it explores "changing the research paradigm." Each of these three themes is explored in detail, with suggestions for concrete steps to be taken.
The first step, the authors say, begins with study design. In addition to broad inclusion criteria, another option is capping overrepresented groups. And, in an aspect unique to HF, trials should consider different thresholds of natriuretic peptides for study entry, since Black individuals tend to have lower measurements of these biomarkers. Multilingual trial documents, materials, and staff should be available, a factor that could open doors to greater enrollment of Hispanic patients.
Globalization of HF clinical trials has created additional challenges when it comes to reflecting the racial/ethnic demographics of the United States, they note. Thus, site selection must be deliberate, and it may require "economic incentives to support centers," as well as engagement with investigators in other areas of the world.
For DeFilippis, a key area in need of work lies in addressing social determinants of health. When designing trials, these barriers must be kept in mind, she advised. "How are they going to make it to their appointments? How can they complete the tests we're asking—is this reasonable? How can we use telehealth?"
It's crucial, she said, to work with members of the clinical trial team who come from the relevant populations, not only to improve community engagement but also to understand what's feasible for study participants in terms of time, work obligations, and transportation. Cultural values, language, and neighborhood dynamics all matter, as well. The idea is to make taking part in studies more accessible, DeFilippis added. "Sometimes it sounds so simple, but it's still very difficult."
Then there's the bigger picture—the research paradigm.
"To improve inequities in HF clinical trials, we need to fundamentally reconsider the way we perform research and the regulatory environment. In addition to the aforementioned strategies, incentives at the sponsor, funder, and federal levels must be better aligned to promote diverse participant enrollment as well as a diverse research enterprise," the HFC report urges.
New policies could encourage diversity through "'carrots' such as streamlined regulatory review processes or extended patent life," the authors suggest. On top of working toward higher enrollment of Black and Hispanic trial participants, there's also a need to change the face of trial leadership, they stress: "Leadership from industry sponsors and professional societies can provide advances toward the career development of underrepresented clinical trial researchers and improve the chances of the increasing diversity among clinical trial participants."
DeFilippis told TCTMD that the HFC, in addition to broad advocacy efforts, is currently looking at ways to promote diversity in trial leadership and improve uptake of HF device therapies in underrepresented groups.

Disclosures
DeFilippis reports no relevant conflicts of interest.