Carpal Tunnel Syndrome Again Tied to Heart Failure: German Data
Among more than 160,000 patients, having the syndrome meant a higher likelihood of getting a HF diagnosis over 10 years.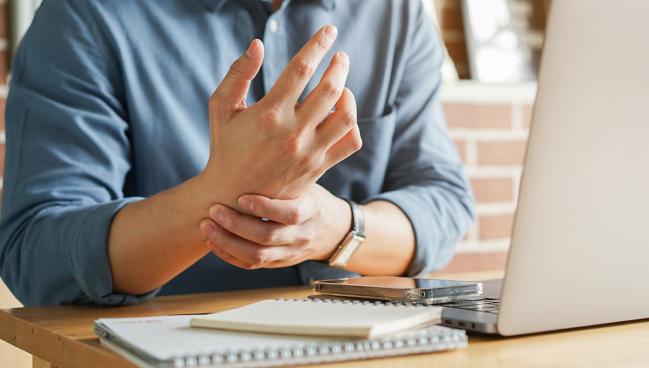 People with carpal tunnel syndrome are at an increased risk of developing heart failure within the next 10 years, according to an analysis of data on more than 160,000 individuals in Germany.
The observational findings, recently published as a research letter in JAMA Network Open, are the latest to confirm the link. Carpal tunnel syndrome can, in some cases, be caused by build-up of transthyretin amyloid deposits in the wrist, with its symptoms serving as a harbinger of transthyretin amyloid cardiomyopathy (ATTR-CM), which can ultimately lead to heart failure.
Mark Luedde, MD (Christian-Albrechts-University of Kiel, Germany), first author of the new report, said that ATTR-CM is quite rare and, on top of that, is often underreported. So, the researchers looked not only at ATTR-CM but also heart failure more broadly.
What their study shows, he told TCTMD, is that the number of heart failure cases seen in patients with carpal tunnel syndrome is "just too high" to exclusively be due to ATTR-CM. "We only show a statistical association. We can only speculate about [mechanisms]," Luedde cautioned. "But the numbers are too high to just think of amyloidosis as the reason."
Hopefully, the scientific community can begin to better understand what's driving the increased risk of heart failure, he said. "Epidemiologic studies are always the first step. They are always hypothesis-generating. But the difference is large, and we hope that our studies and others shed light on this."
Even now, carpal tunnel can serve as a screening tool, Luedde added. Their hope is that hand surgeons and general practitioners who see patients with the syndrome "think of this connection" and ask about heart failure symptoms, he said. "This would be great."
From Wrist Pain to Heart Failure
For the retrospective cohort study, Luedde along with senior author Karel Kostev, PhD (IQVIA, Frankfurt, Germany), and colleagues turned to the IQVIA Disease Analyzer to obtain data on adults from more than 1,200 general practices in Germany between 2005 and 2020. They propensity-score matched 81,898 patients with carpal tunnel syndrome to an equal number without the condition. Mean age was 53 years in both groups, and two-thirds of patients were women.
Within 10 years, 8.4% of patients with carpal tunnel syndrome were diagnosed with heart failure, as compared with 6.2% of those without the condition (P < 0.001), amounting to an incidence of 8.7 versus 6.2 cases per 1,000 patient-years.
Their results "point to a new role for surgeons together with general practitioners in the early detection of important internal diseases, a chance for better treatment, and an improved prognosis of these diseases," the researchers say.
Regression analysis also showed that individuals who had carpal tunnel syndrome were more likely to subsequently receive a heart failure diagnosis (HR 1.39; 95% CI 1.31-1.47). The association was similarly strong for women and men. Yet the added risk posed by carpal tunnel syndrome was only seen in patients aged 61-70 years and older than 70 years (each HR 1.48; 95% CI 1.35-1.61), not in younger groups.
A small minority of patients received a diagnosis of amyloidosis—47 of those with carpal tunnel syndrome and 17 controls—though the difference still was significant (adjusted HR 1.79; 95% 1.01-3.18).
"Early diagnosis of HF is a key to successful treatment, particularly for ATTR cardiac amyloidosis," the researchers note. Thus far, the US Food and Drug Administration has approved only one drug, tafamidis (Vydaqel and Vyndamax; Pfizer), aimed at slowing down ATTR-CM's progression—though its high cost has sparked criticism. Just this week, the company Bridgebio announced encouraging top-line results for acoramidis, an investigational compound that stabilizes the transthyretin protein in patients with the disease.

Disclosures
The researchers report no relevant conflicts of interest.